Celebrating with Merida & a Brave Inspired Birthday Cake
As an Amazon Associate I earn from qualifying purchases. For more details, please see our disclosure policy.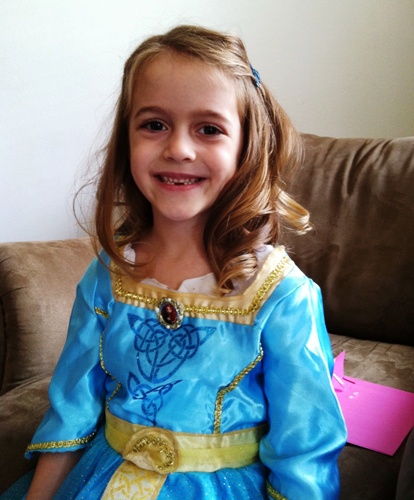 This week my big girl turned six. It's hard to believe. It seems like just yesterday that we welcomed our first daughter into the family!
It is only in the last few years that FishChick6 has clued into the advent of presents, cakes, and celebrations. She was rather perplexed when I didn't go shopping the night before her birthday. She thought she wasn't getting any gifts.
No, my dear, you are getting gifts. But I actually planned ahead this time and went shopping early. Ah, she knows me so well. And she was soooo relieved that we were, indeed, celebrating her birthday.
In honor of the big day, my sister came down to celebrate with us. We did some very girly things: gave the FishChicks a spa treatment, complete with bubble bath, toenail painting, and curly hairdos. We went dress shopping just us ladies. And we celebrated all the way around with a Merida/Pixar Brave birthday theme.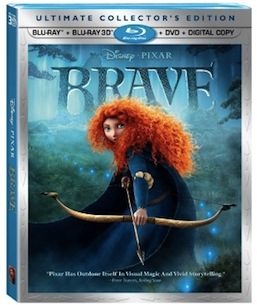 Months ago when the Brave movie was still in theaters, the girls and I went to see it. Loved it. All three of us sobbed, SOBBED at the end, even though we knew it was going to turn out okay.
In October when the Halloween costumes hit the stores, FishChick chose a Merida costume. She really, really wanted a bow, too. For her birthday she said. So, I planned ahead and bought it then so that I wouldn't forget or find out that they were sold out. See? Planning ahead….
On Wednesday she was thrilled to add the golden bow to her ensemble and proceeded to have an archery tournament with her brother who had a bow of his own.
It was so timely that the movie was released the day before her birthday. We received a review copy in the mail. My girls absolutely loved the opportunity to watch it again. I did, too. The three of us cried again at the end, even though we knew how it ended. In fact, I've seen it four times now, and I cry. every. time.
It is a great film with lots of take-aways. I'm personally inspired to be a mom who's "always there for my girls."
Tonight we had an animated discussion with the four younger kids (10, 8, 6, and 4) about why the movie was called Brave. It was fascinating, actually, to hear their different interpretations of what bravery is and how Merida demonstrated it. The film is rife with things to discuss at home with your kids.
Since we had the Brave theme going, I made a Brave birthday cake. You knew I had to. The idea and design had been percolating in my mind for months. It didn't take much in the way of special details, but I did spring for some figurines. They came in this book that I found at Barnes and Noble: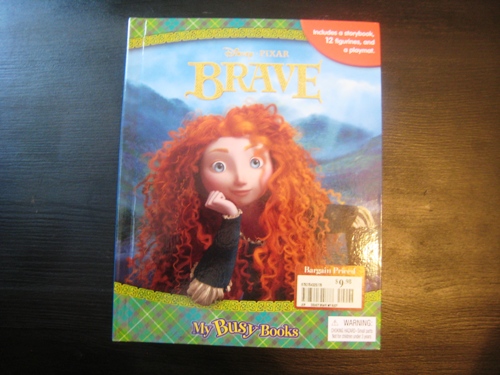 It was actually on the clearance table at B&N, so I think I paid about $6. It's a cute story book that comes with a dozen "action figures" from the film. FishChick chose three to place on the cake: Merida, Queen Elinor (as a bear), and the horse.
Honestly, I had a great time recreating the movie in cake form. I baked up a Sconehenge* (scones to represent the stone formation that plays a big role in the movie) as well as found little "wisps" in my baking supplies. (They were actually blue Christmas light candies from Wilton, but they are perfect wisps!)
Here's another view: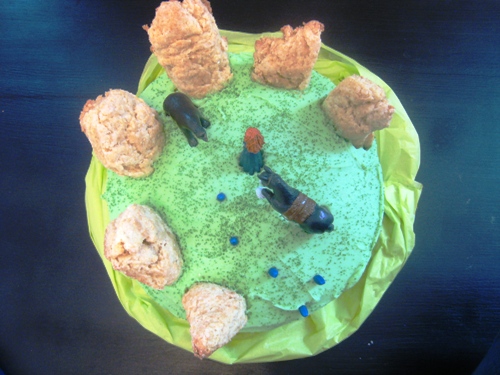 Needless to say, I was pretty excited that it turned out as cute in real life as it was in my mind. (That doesn't happen very often.)
Should you want to recreate this cake on your own, here's the brief 411. You'll need:
One layer cake or sheet cake, frosted with green frosting and sprinkled with green sugar
Five or so scones baked in oblong and triangular shapes (use this recipe if you don't have a fave)
Five blue Christmas light candies from Wilton (These may be discontinued. Use any blue candy you like)
Figurines from the film Brave (there are lots to choose from, including those from this book)
Putting together this kind of cake is super simple. You could even buy a bakery cake if you want to save time. I use a mix, but make my own buttercream frosting. It takes less time that hauling everyone down to the store. Kids love to help make this kind of cake!
For more tips on using candy and toys to top cakes, check out my tutorial: Bake Your Cake and Eat it, Too. Want to see more themed cakes, scroll the Cake archives. I'm particularly proud of the Oreo cookie asphalt for Cars.
If you're looking to host a Brave celebration of your own, bake a cake, watch the movie, and print out these fun activities to do together. An archery tournament would be pretty cool, too.
Have you seen Brave?
What do you think?
Disclosure: I received a review copy of the film. All opinions are my own.
* Thanks to Micha for the pun.