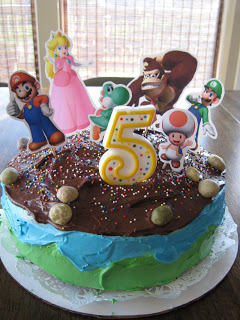 Every December 23rd without fail, my mom calls her younger brother, my Uncle Ed. She could wait until the 25th when she calls the rest of the family. But, she calls him then, too. You see, today, the 23rd, is his birthday. (Happy Birthday, Uncle Ed!)
While I don't have a sibling or child with a birthday near the holidays, I do have a brother-in-law, father-in-law, and nieces who do. And from what I've heard, it can be a little challenging to make a birthday special when it falls between Thanksgiving and mid-January. Either everyone is wrapped up in holiday plans or they're too broke to make merry for a birthday. Often well-meaning friends and family try to lump the occasions together which doesn't always make the birthday person feel "special."
How can you avoid the Birthday Blues at Christmastime?

Plan Ahead – Last year my sister got blindsided and found that, all of a sudden, her husband's birthday, Christmas, New Year's, and two girlie birthdays were upon her in a matter of a few days' time. She learned that preplanning was the key to her success this year. We have a similar phenomena in the Spring when Mother's Day, my birthday, our anniversary, and three FishKids' birthdays occur in a five week period. I have to have a plan to survive with a smile on my face.
Make Each Holiday Special – It can be tempting to present a gift that is a combination birthday/Christmas gift. Many friends with winter birthdays have said they preferred that the day be acknowledged separately. Yes, it can be a little more work or cash at the holidays. Just shop in June and you'll avoid some of that.
Bake a Special Cake – Yes, December is full of sweets. But, there's something so fun about having a special cake. It's a magical thing — and a great break from pumpkin pie and Christmas cookies. For inspiration, consider buying my cake book that is full of cake themes for a wide range of ages and interests. Or browse the cake archives.
Don't Use Wrapping Paper with Santa On It – It's easy enough to buy solid colored paper in the holiday section. In fact, it's a more prudent choice anyway. Buy solids and you can use it all year long.
What do YOU do to make birthdays special at Christmas time?
Related Reading:
Amy's Deliciously Pink Princess Party made her daughter's December birthday special and included Christmas elements into the theme without seeming overly Christmas-y.
Nichole shares how she lays down the law regarding her son's birthday six days before Christmas.