Buy Christmas Shoebox Supplies Throughout the Year
As an Amazon Associate I earn from qualifying purchases. For more details, please see our disclosure policy.
With school supplies and kids' clothing priced super low right now, it's a great time to shop for Operation Christmas Child or other shoebox ministries that will take collections at the holidays. This guest post from Carrie shows you how to make the most of current summer sales: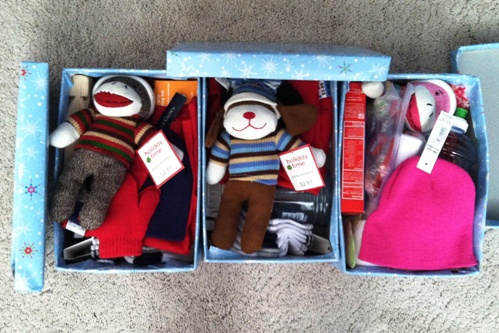 Sometime last year, I realized that my Scottish ancestry was finally beginning to catch up with me. Some people call it being "cheap," but I prefer to think of it as embracing my heritage. Having participated in Operation Christmas Child from the inaugural year to present day, I've discovered some ways to pacify my penny-pinching Scotch side, even while I'm packing more shoeboxes than ever. It's better known as "the thrill of the hunt" and there's not much that makes me do the Scottish jig with more enthusiasm than finding a bargain.
Back to School Shoeboxes
If you've been thinking about packing a box this November, now is the time to take advantage of the back to school sales. On a recent run to Target, I used a $5 reward gift card I'd earned, to purchase:
Crayons — $0.25
Pens — $0.50
Pencils and sharpeners — $0.50/each
Colored pencils — $0.75
Writing pads or paper – $0.99 (I splurged – they had them for as low as $0.25)
Calculators (solar are preferred, but more expensive) — $1.00
Pencil cases — $1.00
So, in case you missed that: I stocked up on household necessities that I would buy normally, received a $5 gift card, and got school supplies for my shoebox for FREE. If you coupon, this deal is even sweeter.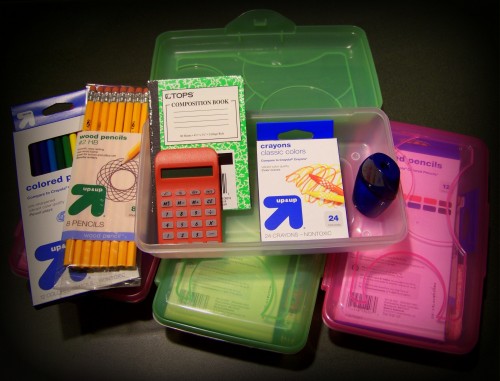 End Caps and Clearance
My family laughs at my end-cap stalking and red sticker scores – but there are some amazing deals to be found! Now's the best time to scoop up flip-flops for as little as 25 cents, dresses, shorts, bathing suits, t-shirts, floppy hats, and sunglasses. Last year, I scored in the boys department with swim trunks for under $2.
And Don't Forget the Dollar Section…
Some of the best deals on simple toys, jewelry, character-themed notebooks and pens (Disney, Hello Kitty, Peanuts) can be found in the Target dollar section when they start clearing out for fall. In fact, it's not unusual for them to quickly hit 75% and 90% off because they need the space. And when the starting price is $2.50 or $1.00, you're looking a lot of inexpensive shoebox filler!
It may still be 90-degrees where you live, but it's time to think outside the box (if you'll pardon the pun). Grab a storage tub and plan ahead, snatching up deals year-round so that when Collection Week arrives, you're not left paying full-price to fill one box when you could have filled five by shopping the sales.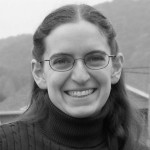 – Carrie adores culture, coffee, books, British mystery shows, and her husband of 13 years. She's spent time in Africa, southeast Asia, and Alaska, and now works from home as a social media book launch project manager.
In her spare time, you can find her blogging at Carrie's Busy Nothings and What's On My Nightstand.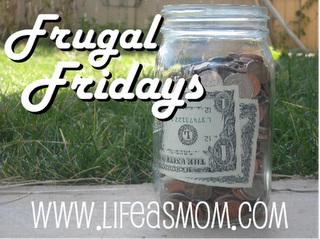 This is Frugal Friday. In an effort to make these weekly financial discussions more interactive, I'm no longer posting a link-up. Feel free to leave a link in the comments. But better yet, chat with us on today's topic.
Do YOU stock up on school supplies for other uses than school?
Let us know in the comments.