Toy Story 3 Birthday Cake
As an Amazon Associate I earn from qualifying purchases. For more details, please see our disclosure policy.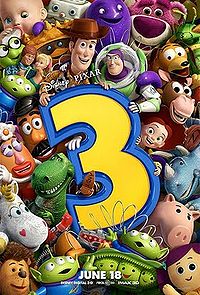 I don't think we even had kids when we saw the first Toy Story. And I think FishBoy13 was about 2 when we took him to see Toy Story 2 at the theatre. He was terrified. Obviously, we cared more about the story than he did.
But, the Toy Story films have been near and dear to our hearts as our family has enjoyed them for years via VHS tape. Yes, we're that old.
Now, Toy Story 3 opens tomorrow. And I'm very tempted to splurge next week and take the whole gang. We never go to the movies, but I have a feeling that this could be a fun ride.
Do you (or your kids) love Buzz and Woody as much as we do? Then it's time to make a Buzz Lightyear Birthday Cake. This is so easy, it's not even funny. Truly.

To Infinity and Beyond!
One special tool you'll need is the Wilton Sports Ball Cake Pan. Yes, you could use two glass mixing bowls, but this pan really makes it easy to make a 3-dimensional cake. It comes with metal rings to rest the cake pans on. I've used this pan multiple times: The Death Star Birthday Cake, the Lego Bionicle Thornax Cake, and the Pokemon Pokeball Cake. And I'm sure I haven't explored all the options yet.
What You'll Need:
cake pans to make a sphere cake
cake mix, prepared according to package directions
1 canister frosting or 1 batch homemade frosting
black paste food coloring – you can buy a package of all the colors or just buy a small jar of black
candy pebbles
one Buzz Lightyear action figure

How to Make a Buzz Lightyear Birthday Cake
Bake your cake according to cake pan directions. Then frost with grey-tinted frosting. I think it's best to use paste food coloring as it gives you sharper, more vivid colors than regular food coloring.
Let your kids toss on some candy "space rocks" and then pose Buzz on his planet, asteroid, meteorite, what have you.
Your kids will have a blast making this cake with you, and you'll be so proud of yourself.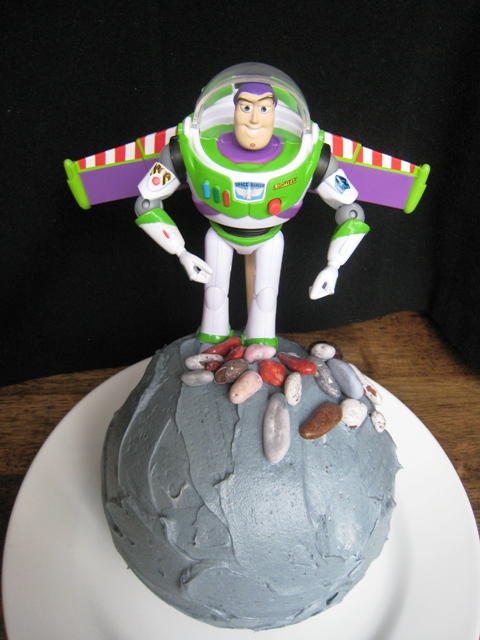 For more fun, themed birthday cake ideas, come back later for The Birthday Cake Roundup!