Easy Angry Birds Birthday Cake (Ultimate Recipe Swap/Birthday Cake Round-Up)
As an Amazon Associate I earn from qualifying purchases. For more details, please see our disclosure policy.
Learn to make an Easy Angry Birds birthday cake that will wow your kids.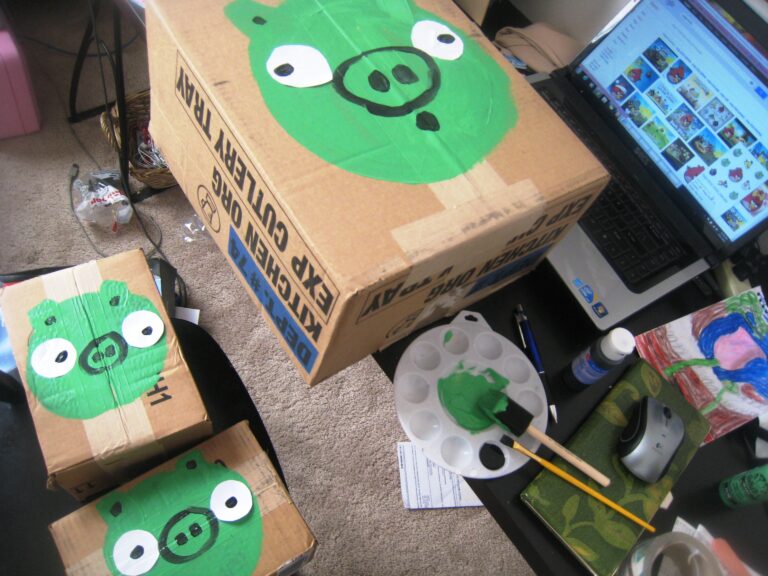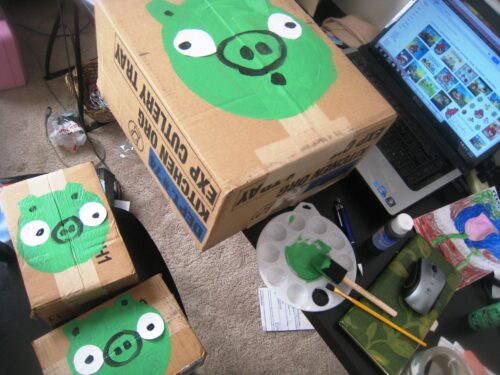 Want to save this post?
Enter your email below and get it sent straight to your inbox. Plus, I'll send you time- and money-saving tips every week!

I've baked three birthday cakes in the last ten days or so. In fact, I baked those three birthday cakes in the span of four days. I'm all caked out!
But we had a good time. FishBoy8 and FishBoy10 had a joint birthday party. Rather than let them hem and haw about a cake theme, I made an executive decision and declared it an Angry Birds party. I didn't get too out of control. We had one planned game: water balloons with green pig targets.
And of course, an Angry Birds Cake: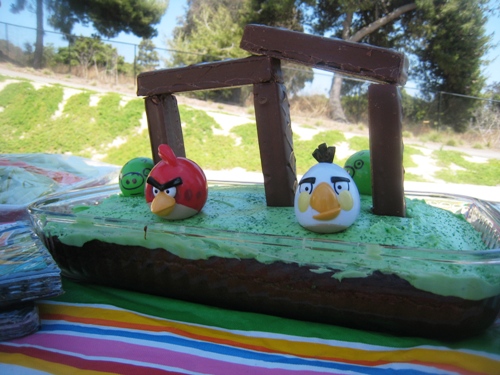 This was probably the easiest cake on the planet.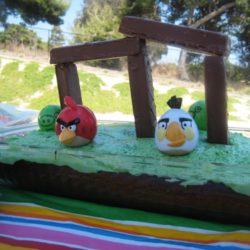 Print Recipe
Angry Birds Birthday Cake
Decorate this fun birthday cake with an angry birds theme.
Equipment
1 sharpie marker

3 green superballs

2 plastic Angry Birds toys
Ingredients
one 9×13 cake

baked and cooled

one batch Buttercream Frosting

tinted green

green colored sugar

5

Milky Way candy bars
Instructions
Frost the cake. Sprinkle the colored sugar over the top of the cake.

Unwrap the candy bars. Insert three candy bars vertically into the cake, about 3 to 4 inches apart. Place the two remaining candy bars atop these "posts".

Draw pig faces on the green Superballs. Place the pigs on the cake.

Place the Angry Birds on the cake.

Have a happy birthday.
Notes
Nutritional values are approximate and will vary depending on the cake and decorating items you choose.
Today's the Birthday Cake Round-Up! We've been doing this for four years now. It's such a fun way to swap ideas for creative birthday cakes. Please only link creative birthday cake ideas. Thanks!