Book Review: The Dangerous Book for Boys
As an Amazon Associate I earn from qualifying purchases. For more details, please see our disclosure policy.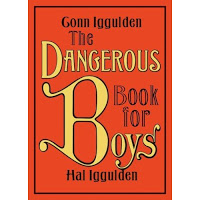 Last winter our boys received this wonderful book as a Christmas gift. It is full of stories and projects, and well, dangerous things for boys to do. Timers and tripwires to construct, knots to tie, potato cannons to build, you name it, the directions are there.
This book is the all-around BOY handbook. And since we specialize in boys around here, it was the perfect gift for us.
Fishboy11 has poured over the book for hours on end. Some of his favorite activities include how to build a bow and arrow, how to make marbling paper and the special section on coin tricks. Check out the book description to see the great breadth and scope of BOY-friendly activities.
My favorite part of getting this book?
The day my eldest was trying to fold the paper hat that was diagrammed in the book. Unfortunately, he was struggling with following the diagram. FishPapa came to help, as did Yours Truly. While FishPapa was stumped, I remembered the same activity from my Girl Scout handbook many moons ago and was able to successfully create a paper hat.
A few minutes later, my husband said, "You know. There's something wrong with this picture. The book is entitled, The Dangerous Book for Boys. Yet, a girl had to help us do it!"
We got a great laugh out of it. And they've said the book is now off-limits to me.