Make A Nature Frame for Your Fall Photos
As an Amazon Associate I earn from qualifying purchases. For more details, please see our disclosure policy.
Upgrade your family photos by learning just a few simple tricks. The Ultimate Photography Bundle offers you an education in a box.
Collect specimens on your nature walks this fall to turn into a fun frame for autumn photos. Life as MOM contributor, Janel, shows you how.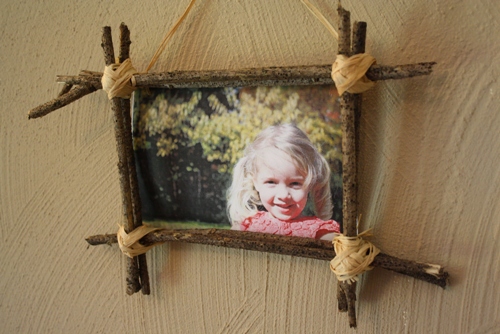 Now that Fall is here, the weather is cooling off, and it's a perfect time for taking walks and enjoying the changes in nature. I can't wait to head out for a nature walk with the girls when the leaves begin to change color. Hopefully, I won't have to wait too long!
Whenever we go for a walk, my girls nearly always end up collecting sticks. Of course, they want to bring them home, so we've got quite the collection in our yard. I've discovered that sticks make a terrific (and FREE) art supply!
You and your kids can use sticks collected on a nature walk to make a cool frame for your Fall photos or artwork! This is a great project to work on with your kids since two sets of hands make this project a bit easier. However, if this project seems a bit too complex for your little ones, you can do the assembly on your own and then have your kids decorate the frames. Either way, it's a fun, frugal, fall craft!
How to Make a Stick Frame:
Supplies:
photograph or artwork
paper & pen
sticks
raffia or yarn
scissors
decorating supplies such as glue, glitter, leaves, acorns, shapes cut out of paper, etc.
hot glue gun
Instructions:
Decide how large you want your frame to be and make a template. To make a frame for a 4 x 6 photograph, draw a 4 x 6 rectangle on a piece of paper. To frame your child's artwork, use the piece of art as a template or a piece of paper that is the same size.
Break sticks to an appropriate length for the size frame that you want to make. Each stick should be longer than what you plan on framing by at least two inches. You'll need eight sticks — two sticks for each side of your frame.
Place your frame template on a flat surface. Cut four pieces of raffia (about 6-inches long) and lay them on a diagonal at each corner of your template.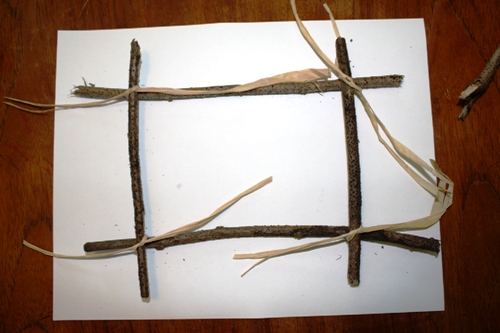 Put two sticks over the horizontal lines on your template. Then stack two sticks on top of the horizontal sticks but lying on top of the vertical lines – just like you're building with Lincoln Logs. Tie each raffia piece to secure the basic frame. You can move the sticks a little bit to adjust their placement if needed.
Stack the remaining two horizontal sticks on top of the frame and tie in place with the raffia. Repeat with the remaining vertical sticks. Adjust the placement of the sticks if needed. Snip off the excess length of raffia.
Secure each corner of the frame by wrapping yarn or raffia around it. Tie off in the back and snip off the excess length of raffia.
Have your child to decorate the frame with glue and embellishments. Allow to dry.
Use hot glue to affix your photograph or piece of artwork to the back of the frame. To hang your frame, tie a length of raffia to both ends of the top of the frame.
–Janel is a stay-at-home mom of two daughters and a "law school wife" in Virginia. Raised in a budget-conscious and DIY-minded family, she blogs about motherhood, crafts, and living on a law school budget at Life with Lucie and Ella.
What kid-friendly craft ideas do you have for Fall?