A Preschool Education at Home
As an Amazon Associate I earn from qualifying purchases. For more details, please see our disclosure policy.
Not going the traditional preschool route? That's okay. You can provide your toddler with what he or she needs and still enjoy being home.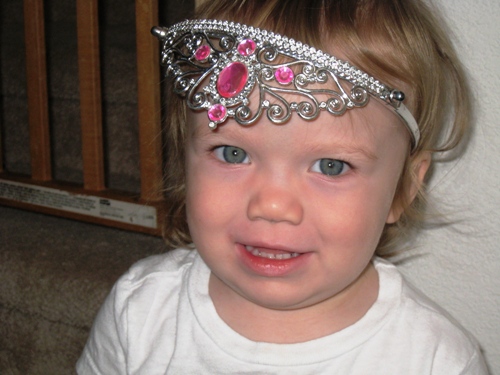 Preschoolers and toddlers are loads of fun! Granted, there is spilled water, torn books, potty training and a few more messes than with older children. But, there's also an innocence and a joie de vivre that is infectious. Our littles can be so fun!
They are amazing learners, too. Young children observe and mimic and learn about their world through imitation. Just this weekend, FishBaby-Almost-not-a-Baby-Anymore helped FishPapa make coffee. It was remarkable to watch her grab a sponge, wipe up the spilled grounds, and hold her hand at the edge of the counter to catch what fell over the edge!
Genius, for sure!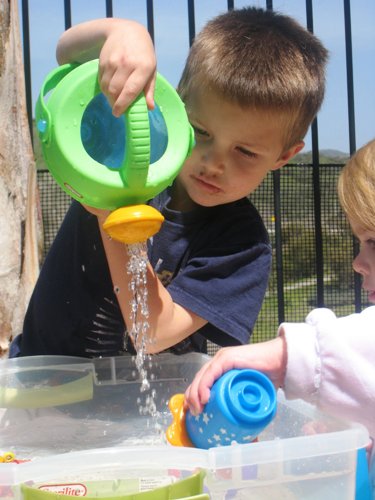 Lots of Learning
As we begin our homeschool year, I find that in addition to students in 8th, 5th, 3rd, and 1st grades, I also have two young preschoolers in my charge. Exciting times, for sure!
My mother has spent her life training preschool teachers and she is an amazing mentor, if I do say so myself. At first it was a little odd to her that we weren't following the traditional route to Early Childhood Education. But, after 13 years of watching little ones learning in our home, Nanna's on board with our homeschooling journey. My mom has been a huge support to me and a great source of information for teaching my younger children at home.

Easy Does It
When my eldest was a toddler, I had the time, energy and enthusiasm to teach him trigonometry, physics, and Latin. It didn't take long to realize that all the advanced things I wanted him to learn were excessive, unneccessary, and unrealistic.
I was eager, to be sure. I bought books like Slow and Steady Get Me Ready" target="_blank" rel="nofollow noopener">Slow and Steady, Get Them Ready and all the other early learning resources recommended in The Well Trained Mind, hoping to find "the right way" to teach him at home. What I found after much trial and error — and some wise counsel from my mom — is that I didn't need a book so much as I needed a philosophy and an atmosphere rich in literature and other learning opportunities.
We decided that we wanted the preschool years to be full of educational play. We wanted to foster a love of learning and an excitement to explore. Now, with a teenager, I think I can say our experiment is working. While FishBoy13 doesn't love to have a to-do list of things to study every day, he loves to learn new things and soaks up experiences and remembers them.

Creating a Rich Learning Atmosphere at Home
Here are some of the things that are a part of our preschoolers' education at home:
Regular Library Day
Choose a day and time of the week that works into your family's schedule and go weekly if you can. If your local library has reduced hours, check around. You probably won't have to go far to find a location that fits your time frame. Once there, head straight to the children's section. In my experience, the children's librarians are always available to help you find things. Our favorite branch has a subject index binder for finding picture books according to topics. Learn how to use the computerized catalog as well so that you can find stories based on your children's interests. While you should choose several to read together, perhaps according to a certain theme, allow your little ones to choose books off the shelf that look interesting to them. Scan them before checking them out; you will be surprised at the wide range of acceptability among children's books. You don't want to take home a book
that would frighten your children or fall outside the moral guidelines of your home.
Storytime
As you familiarize yourself with the library, determine when their weekly toddler storytime happens. This is a great way to meet other families, expose your child to good literature, and watch him develop in a social setting.
Playdough
Playdough is the ultimate entertainment for little kids. I well remember my sisters and I spending hours and hours at the kitchen table making pretend cookies and cakes.
I also recall my first round of clay play when my oldest child was a toddler. I hadn't played playdough in years, but it was so fun and so therapeutic. Kids — of all ages — can use their imaginations and create all sorts of things with playclay.
Contrary to popular belief, you do not need to purchase the fancy toys or even the clay itself from the store. Chop a 1-inch wood dowel into little hand-sized rolling pins and add some plastic knives and cookie cutters into the kit. Make your own playdough. Or if you want to win Mother of the Year, make yourself one of these playdough kits like my sister did.

Dress up and Pretend Play
We have a huge box of costumes that we have collected over the years. Post-Halloween sales are great for this. Granted, with four boys, we're a little short on girly stuff. But, we've got lots of pirates, cowboys, Roman soldiers, and Jedi stuff for the FishChicks to pretend in. All our children have loved to spend time pretending about far off places and reenacting the stories that we read in books.
We've also made it a point to have a play kitchen — even for boys — and building tools — even for girls. Small plastic dishes and pretend food as well as plastic goggles and pretend drills are not only great fun for young children, but also fuel the imagination.
Real Kitchen Play/Work
All my children have loved to help out in the kitchen. They are often found on a chair, making Papa's coffee, helping to stir the pancake batter, or assisting in loading or unloading the dishwasher. Including children in kitchen tasks is not only fun, but it is also teaching them valuable life skills and helping them grow in independence.
Looking for kitchen inspiration? Check out In the Kitchen with Kids for recipes and kitchen tips to last you all year long.
Painting
There is a variety of choices out there. The simplest is to provide your child with large paper, chubby brushes and washable poster paint. An easel is great if you have access to one. Cover all surfaces carefully with newspaper or plastic trash bags. While this activity does take a great amount of patience on the part of the parent, it provides an amazing amount of satisfaction to the kid. Allow your child to simply explore the medium of paint. You will be amazed at the modern art he creates.
Drawing
Our four year old spends hours with pencils, crayons and plain computer paper. Don't feel like you need to provide "instruction". Merely sit down with your own supplies and create simple drawings. If you just don't feel equipped for the task, check out Drawing With Children by Mona Brookes for some great ideas.

Coloring and Crafts
While my kids love coloring books, I try to follow my mom's advice in making sure they have plenty of blank paper and crayons to create their own shapes and doodles.We have a stack of recycle paper to draw from as well as a large bin of crayons, including these muffin tin crayons.
When I have an ample supply of patience, we also practice cutting, pasting, and crafting. Williamson books are some of the best for easy crafts for small people. I particularly love Little Hands Paper Plate Crafts and The Little Hands Art Book.
I've found that a child's skills and stage of development in coloring and drawing really do vary from child to child. Don't be impatient if your two year old draws "better" than your four year old. Chances are your four year old is advanced in some other areas.
Cutting and Pasting
Most kids don't need (or want) a lot of structure and direction when it comes to creating collages. Provide your little ones with old magazines, duplicate photos, construction paper, child safe scissors, and a glue stick or washable glue. They will spend hours cutting and gluing. Offer supervision and instruction over glue and where to place it. On the paper is better than on the kitchen window or your heirloom dining table.
Park Playdays
When weather permits, get outside! Try a different park each week. Make a note of your favorites. Invite friends to meet you or make new ones based on the other people sharing the park with you that day. Take drinks and snacks so that you can establish yourselves there for a few hours and not rush off. If you live close enough, walk or ride bikes. Enjoy the fresh air, the exercise and being outdoors together.
Lite Brite
Yes, there are five million little choke-able parts to this toy. But the kids absolutely love it! So, provide careful supervision, not just for the choking hazard, but also for fire safety. There is a small light bulb inside the Lite Brite. This activity is a great way for little ones to learn their colors and practice small motor control. Doing it together also provides an opportunity for conversation.

Building Toys
Truly, young children don't need toys with lots of bells and whistles. My favorites include good, sturdy wood toys that are hard to break but encourage creativity and hand-eye coordination. A simple set of wood blocks are great. My mom said once they were the only toy you need.
We also enjoy our train set, often combining the blocks to build whole cities. Little people, Legos, and Playmobil are other toys that kids can play and learn with for hours on end.
Stories and Extension Activities
This is probably my favorite part since I love to read. It has been a huge joy to me to explore good books with my kids. From my tot to teen, we enjoy cuddling and reading together.
Adding an extension activity to your reading helps you solidify the story and concepts you've just read. In the same way that my little people enjoyed eating Magic Monkey Bananas after a reading of the story of the same name, so can you create crafts, snacks, or other activities to further explore the books you're reading with your little one.
Mom clued me into a number of books that are bibliographies of great books for children, organized according to topics and age, some even including extension activities. If you're stumped for what to read to your kids, check out Toddle on Over, A to Zoo, and Story Stretchers.
For more ideas, browse the different themes of Camp Wannalaffalotta.

Nature Walks and Other Hands On Activities
While nature-loving does not come naturally to me, it's growing on me. It is something that we can all enjoy as a family. Hiking the nearby hills, exploring the tide pools, or walking along the beach are full of learning opportunities for our children. Even a walk around the block is thrilling to little people. Just be sure to stop and smell the roses.
Meanwhile, back at the ranch, we can ride trikes, play in a sandbox, use sidewalk chalk, or splash in a homemade water table.
Field Trips
There is an abundance of fun and interesting sites to see in your own neighborhood or city. Review a local city guide or inquire from friends where they like to explore. Some ideas to consider are zoos, animal parks, historical sites, science museums, and children's museums.
Get a Routine Going

If you're creating a preschool experience at home, you're obviously not going to be able to do each of these things everyday. Instead, get a routine going.

Print – Print out this simple weekly activity grid or try this preschool planning sheet with a little more detail. (Make sure to turn off your pop-up blocker.)
Plan – Fill in two or three blocks per day. Pencil it in and be flexible. Remember to vary the activities from day to day to keep things fresh and exciting. Playdough will get old five days in a row.
Look at the week – Consider a weekly routine. Perhaps Mondays are library and errands day. Tuesday, Wednesday, Thursday feature activities at home. Friday is for a field trip.
Consider the day – Determine a rhythm for your day. You could have breakfast, do chores, and do one activity before snack. Do another activity before lunch and then call it a day. Or you could add another activity after lunch before nap. Do what works for you, your preschooler, and your family.
Be steady, but flexible – Try to be consistent, but don't beat yourself up if the best laid plans, don't go according to plan. If you both just want to read stories one day, then go for it. Cuddle up and make some memories. If the weather is beautiful, but it's an "at-home" day, ditch the schedule and enjoy the sunshine.
These are some of the ways we have built a preschool experience at home. I find that often my big kids want to be a part of what the little kids do. They remember these fun times from their own toddler years. Love that!
More Homeschooling Ideas
This post was originally published on August 16, 2010.