Creating Emergency Bags for Your Children
We are a participant in the Amazon Services LLC Associates Program, an affiliate advertising program designed to provide a means for us to earn fees by linking to Amazon.com and affiliated sites. We participate in other affiliate programs as well. For more details, please see our disclosure policy.
The following is written by LifeasMOM contributor Lauren:
photo source: Nasa
My husband and I are preparedness-type people. It's difficult for me to imagine being unable to feed my children in the event of a major disaster. So I want to be as prepared as can be.
While we have enough food and water for an unexpected event, I think our most valuable resources are our emergency bags.
Why stock an emergency bag?
It is very unlikely that we'll ever use our emergency bags. In fact, I honestly hope that we never need to! But in the event that we must leave our house quickly, we have a loaded 3-day bag that will help make life more manageable.  Whether it is a natural disaster such as a tornado or an event such as a fire or prolonged gas leak, my family can survive with their emergency bags.
I consider these bags to be insurance for us. While I hope to never use them, I want them available in case we do find ourselves in need.
What should you stock in your emergency bags?
When making emergency bags for your own children, the contents of each bag are going to vary greatly. My baby's bag looks very different than my 6 year old's bag, for example.
To decide what the bags should contain, it is best to sit down with pen and paper. Brainstorm about what your child needs over the course of a typical 3-day period. Which of those items do you consider essential? Make a list and then buy all of your items.
Here's a detailed list of the contents of our emergency bags to kick-start your own ideas:

The Baby (9 months):

20 diapers, full container of baby wipes, Infant Motrin, small bottle of baby wash, burp cloths, baby blanket, 6 onesies, 3 pairs of long pants, 2 pairs of zip-up pajamas, 3 pairs of socks, sunscreen, baby food, bottles with formula (even though I exclusively breastfeed), 6 bottles of water, 2 small teething toys, infant cup/bowl/spoon, small flashlight, $20 in small bills

The Toddler (2 ½ years):

8 pairs of underwear, 3 night-time diapers, 3 pairs of shorts with shirts, 2 pairs of footed pajamas, 3 pairs of socks, shoes, 3 small hairbows, brush, toothbrush/paste, small container of liquid soap with washcloth, 9 bottles of water, food, sippy cup, sunscreen, Motrin, Benadryl, 2 small books, large Ziploc bag, small flashlight, $20 in small bills

4-year-old:

3 pairs of shorts and shirts, 3 pairs of underwear, 2 pairs of pajamas, 3 pairs of socks, shoes, 3 hairbows, brush, toothbrush/paste, liquid soap with washcloth, 9 bottles of water, food, sunscreen, Motrin, Benadryl, books, notepad with small pack of colored pencils (no crayons-they melt!), large Ziploc bag, small flashlight, $20 in small bills

6-year-old:

3 pairs of shorts and shirts, 3 pairs of underwear, 3 tshirts, 1 pair of pajama pants, 3 pairs of socks, shoes, baseball hat, toothbrush/paste, liquid soap and washcloth, 12 bottles of water, food, sunscreen, Motrin, Benadryl, maintenance asthma meds with spacer and Rescue inhaler, books, notepad with pencil, deck of cards, large Ziploc Bag, small flashlight, $20 in small bills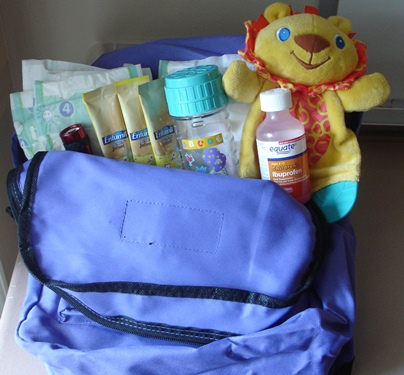 How to Make Your Children's Emergency Bags
Each individual in your family needs an emergency bag. It's important that each person have their own bag since they are stocked based on age and specific needs. Follow these tips when building your bags:
Choose a different color bag for each child.
Assign your child a bag color and make sure they know which color is theirs, if they're old enough. For example, my son's bag is blue and he knows that he is responsible for it. If your Bags are different colors, you can quickly see at a glance if any are missing.
Brainstorm what the bags should contain.
When brainstorming necessary items, remember that the goal is not luxury here. One or 2 small toys could be helpful, but a whole art/crayon set is over the top. Think in very practical terms: What does my child need? (Food, medicine, clothes)
After buying your items, pack your bags carefully with your children.
Making emergency bags is an excellent teaching time for your little ones. Go over reasons you would need to leave your house in an emergency. For preschoolers, count each item to make sure there are enough available. For older kids, let them help you decide what actually goes in the bags. Make them as responsible for their own items as possible.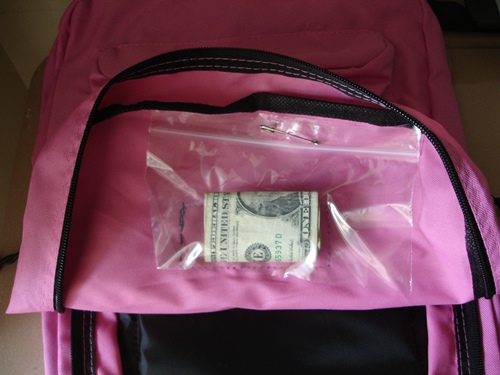 Store your emergency bags in an obvious place.
Make sure everyone in your family knows where your bags are located: your spouse and your older children. Store them in an area that is easy to get to in a hurry. Since they'll contain food, your bags need to be stored inside in a relatively cool place.
Schedule dates to review your bags.
It is a must that you routinely review and inventory your emergency bags. Food expires, seasons change and children quickly grow out of clothes. Summer clothes are minimal help to your little ones if it's 30 degrees outside.
For my toddler and baby, I review emergency bags once a month since they grow so quickly and their food issues change frequently. Once children reach the age of 4 or 5, I go through bags once every 3 months or so.
The most essential part of this step is writing your review time on the calendar to ensure you actually do it!
Does your family have emergency bags?
Have you ever needed to use them? What are your best tips for preparing and implementing emergency bags?
–

Lauren Hill is the 'Mama' behind Mama's Learning Corner, a site that features all kinds of educational ideas and tips as well as free printable worksheets. She is the mom of four young children and loves to learn alongside them.