An Easy Way to Secure Furniture for Safety
As an Amazon Associate I earn from qualifying purchases. For more details, please see our disclosure policy.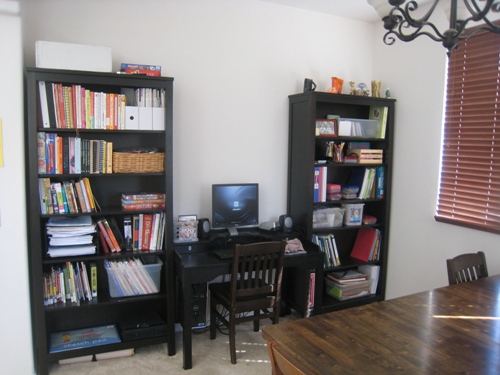 When I was little, my family home had a den. Yes, that's what we called man caves in the 70s. My dad had his desk, his big black vinyl armchair, and the TV in this room. My sisters and I spent a lot of time in this room; duh, the TV was there.
It had wall-to-wall shelving, another characteristic of the 70s. It was filled floor to ceiling with books.
Until the day that I tried to climb the shelves to get something higher up.
You know the story. My sisters and I were buried in an avalanche of books — and my mother got a few more white hairs.
I've always remembered that image, and thanked God that no one was killed, maimed, or injured. Yet, did that make me diligent to secure my own shelves to the wall?
No, it didn't.
How easy is it to mean to do something and then not do it? How easy would it have been for one of my kids to attempt to climb our schoolroom shelves and knock it all down? And earthquakes? Yeah, those suckers would fall right over if the Big One hit.
Since this is a room we use a lot, this was an important thing to remedy.
Securing furniture for safety
Last month when we were staging for life, we also took some safety measures as concerns our tall furniture. It's so easy. There really isn't an excuse for not taking care of it today.
But, you knew that already.
OK, admittedly, it was a pain to empty all those schoolroom shelves, but I was putting old books in storage anyway, so it was a perfect time. And a little pain now can prevent a lot of pain later. Life lesson for me to remember.
Securing tall and or heavy furniture to the wall can prevent serious accident or injury.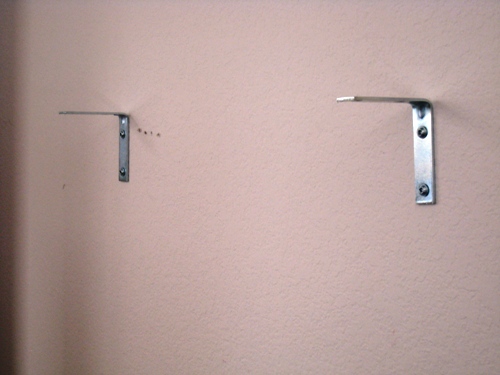 These L hooks are available at any hardware store. The ones that FishPapa bought are about 2 inches in each direction.
Measure the height of your furniture and mark that on your wall. Secure the L hooks to the wall studs with screws at the marked level. (Screws hold better than nails. It must go into the stud.)
Shove your furniture (book case or dresser) up to the wall and then screw the top of the L hook into the furniture. Like this: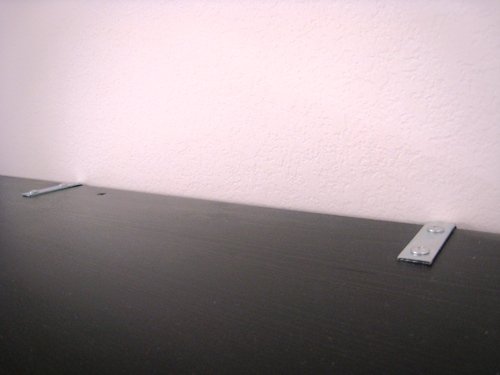 Easy peasy. Those suckers aren't going anywhere easily. And I rest a little better knowing that should someone get the urge to climb, ahem, it might not be such a big deal.
Do you secure your furniture for safety?
Disclosure: I am not a home-safety expert nor do I profess to be. Please use your own common sense and best judgement to secure heavy furniture for safety. You are the one responsible to keep your children safe.