Planning Quality Time with Each Child
As an Amazon Associate I earn from qualifying purchases. For more details, please see our disclosure policy.
Planning quality time with each child, particularly in a large family, can be tricky. But, it's not impossible. And it's SO worth the effort!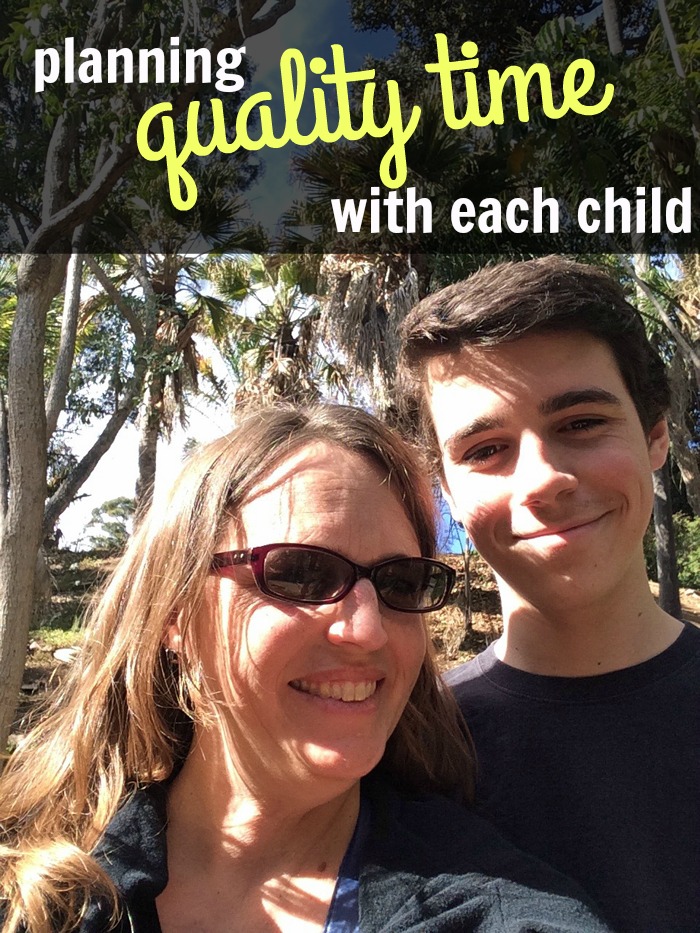 We were driving home from Santa Barbara this weekend. FishChick napped most of the way thanks to the Dramamine that saves us from vomit along the way. She woke when we pulled up at In-N-Out Burger for lunch.
The first words she says, in that beautiful, fresh-from-nap, rested voice are, "Mama! There are only four days left until my coffee walk!"
Be still my heart. You see, coffee walks are something I came up with a few weeks ago as my new and improved adaptation of Lunch Lessons. Each week one child goes on a walk with me to our local Starbucks. It's a good walk, almost two miles round trip. We get exercise, plenty of time to talk, and a little treat in the middle.
And how beautiful that this is the thing that she thinks of and shouts about upon waking from a nap!
I share this story not because I am such an expert at planning quality time with my kids. Au contraire. I've been hit or miss with this practice over the years. But, now that I'm getting up there in age 😉 I'm realizing how important this is and WHAT A BIG THING IT IS TO MY KIDS.
Planning Quality Time with Each Child
Are you wondering how to plan quality time with your kids? Like with each child individually? This can be tricky, particularly in a large family when there is not always a lot of margin in the day or in the budget. When you had that first baby, you had plenty of one-on-one time, but as more children join the fold, it can be a little tricky to make sure that everyone gets a piece of Mom.
However, I do suspect that parents with one child still struggle to make sure they're getting intentional "face time" with their kid, so we'll consider it a universal challenge. Just as married couples need to be intentional about their time together, we parents need to be intentional to connect with our children as individuals as well.
We all know that quality time is a good thing for kids and parents alike, but how do we pull it off?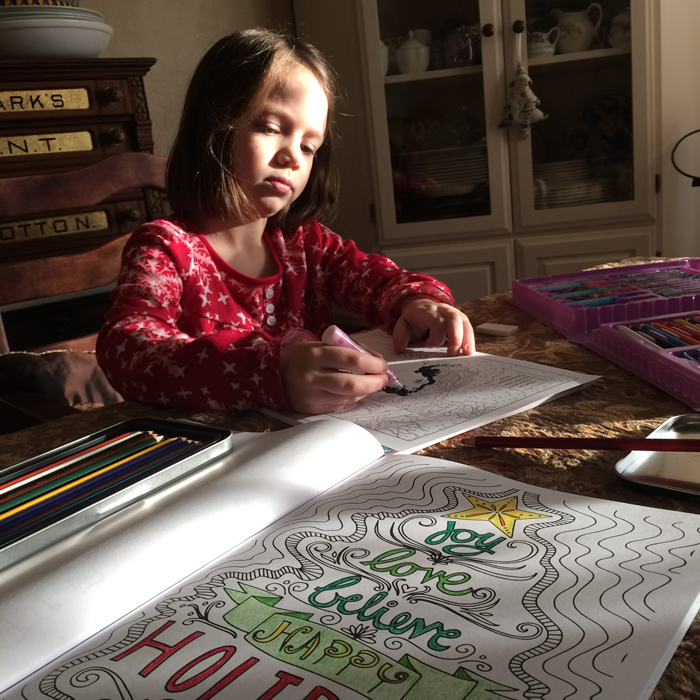 What's working for us now:
Dinner with Dad
About two years ago, my husband made it a priority to set aside one night every week to take one child out to dinner. This works on a rotating basis and the kids know whose turn is whose each week. This is on the calendar like clockwork, illness and holidays excepted.
I plan meals that night that my husband or the child in question don't like. 😉 Haha!
Lunch Lessons
Prior to our trip to France, I primed the kids for international dining, using forks and napkins, and ordering in a restaurant by taking each child out to lunch for "lunch lessons". They loved this experience and it really did help us prepare for the trip.
After we got home, it kind of fell by the wayside, but the kids requested that it return a couple weeks ago. I started out doing it again with lunch until I realized that my time and money budgets don't have that much room in the week for a lengthy lunch out each week. So, I did some tricky maneuvering and we landed on….
Coffee Walks
I am intent to get exercise every day, including long walks. There just so happens to be a Starbucks near where I was walking. Light bulb! Now, one child a week accompanies me on the walk and we stop at Starbucks, sit and chat and eat a treat, and then walk home. Not only are we both getting exercise, but we're getting a lengthy time to chat. It's working super well!
FishBoy11 was not eager to walk the first time, but by the end, after we'd unpacked all kinds of fears and goals, he thanked me multiple times as declared that we should do it more often. I consider that a win.
Now, these methods for individual quality time are working for us in this season for a number of reasons.
We have the extra $15 in the budget for FishPapa to have fast food with each child on a 6-week rotation and the extra $5 for me to take someone to Starbucks.
We have three babysitters in the mix to allow me to leave kids at home while I go walking with just one.
This might not be the case for all moms and all budgets. So what else can you do?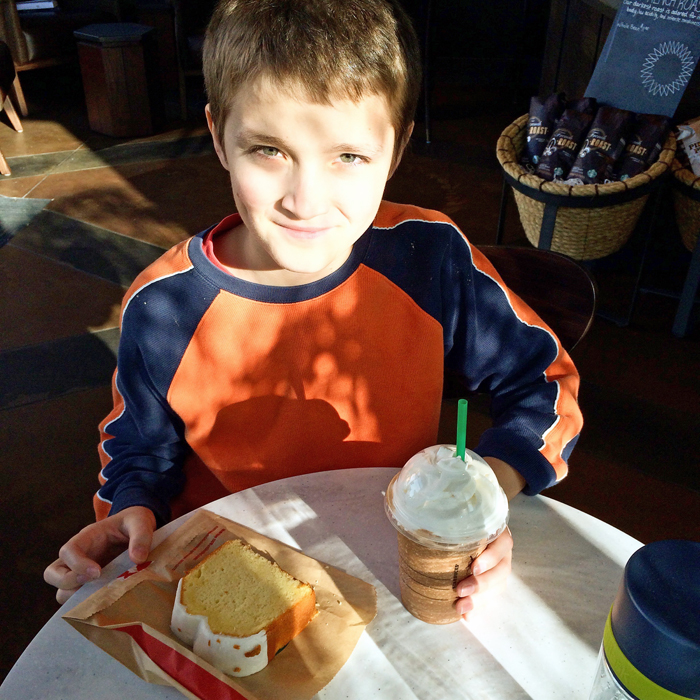 Mom + Child Errands
One of the gifts my husband has given me over the years is the opportunity to run errands by myself. Believe me, there have been plenty of times when I grocery shopped with six kids in tow, but whenever possible, he has given me a free pass to go by myself.
If you don't already ask this of your husband, consider doing so. And then once you get in the swing of it, take just one child with you, so that you can chat, grocery shop together, and basically do life together, one-on-one. While grocery shopping might not seem like "quality time" on the face of it, it can be a good experience for both of you, particularly if you're making it a point to converse and catch up.
Baby's Naptime/Late Nighters
The baby/toddler naptime is a great chance to catch up with an older child, play a game, read a book, or otherwise connect in a focused, individual way. I know some parents without nappers who let the kids take turns, one child staying up later than the others to hang out with the parents, watch a movie, read a book, and connect that way.
Daily Tasks
Without leaving the house, spending extra money, or sacrificing alone time, you can still grab snatches of time to connect with your child and spend quality time. Color together while the others are busy. Play a game in addition to homeschool lessons. Prepare dinner and tell stories.
There are lots of ways to make daily tasks fun to enjoy together. My kids (generally) love to cook or help with projects. Usually the problem is making it a focused individual time. Each family will find what works for them when they make it a priority.
Carpe diem
You may not be able to work it out like clockwork to make quality time with each child. There are seasons for everything, and sometimes it just doesn't work out the way you want.
However, when we keep our eyes out for opportunities, we find that there really is time to take the Birthday Boy out for a mocha or to go for a walk without the whole herd, or just to find a quiet corner to chat and read a book.
I'd love to hear what works for you and your family to plan quality time with each kid. Please share it in the comments!
How do YOU plan quality time with each child?
I shared these tips originally in a Periscope broadcast. You can follow me @jessicagfisher. I produce a morning broadcast every weekday morning at 7 am PST. Check out past scopes here.