DIY on a Dime: Embroidery Floss Eggs
As an Amazon Associate I earn from qualifying purchases. For more details, please see our disclosure policy.
Looking for a fun craft that adds to your spring decor? Life as MOM contributor Janel demonstrates how to make "yarn eggs" with the more economical embroidery floss.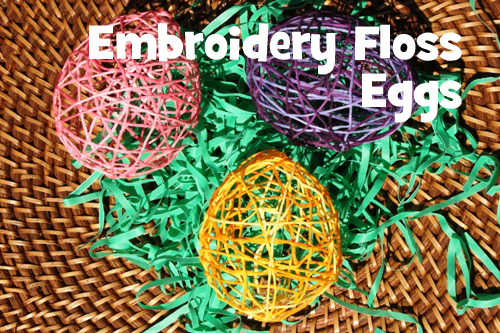 This is a fun, albeit somewhat messy, craft that your kids will enjoy making. It's a tad advanced for the young ones to do without significant help. However, it's probably within an older child's abilities. You might just want to offer a bit of assistance when finishing off a thread.
I decided to use embroidery floss rather than yarn for this craft because I wanted to make a bunch of different colors. For me, it was much more economical to buy several skeins of embroidery floss at less than $0.40 a piece rather than large skeins of yarn at over $3.00 each. However, if you have yarn on hand, you can use that in place of the embroidery floss too.
How to Make Embroidery Thread Eggs:
Supplies:
skeins of embroidery floss of various colors (I used variegated thread)
scissors
small bowl
white glue
water
water balloons
baby wipes or paper towels for easy clean up
plastic wrap or waxed paper
paper clips
Directions:
For each small egg, you'll need at least one skein of embroidery floss. Cut your embroidery floss into manageable lengths — about an arm's length.
In a small bowl, make a mixture of white glue and water. Since embroidery floss is rather thin, you'll only want to dilute the glue slightly to make it more manageable to use, approximately 3 parts glue to 1 part water.
Lay a piece of plastic wrap on your work surface to protect it. Blow up a water balloon into an egg shape and tie it off. Personally, I think smaller eggs look cuter, but make whatever size suits you.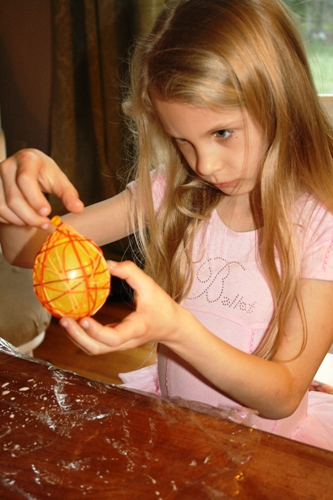 Dip a length of embroidery floss in the glue mixture and saturate it. Use your fingers to remove the excess glue. Wrap the thread around the water balloon. Wrap it in various directions and keep the floss taut. Repeat with other threads, making sure to tuck the end pieces under another piece of thread. Continue adding threads until you get your desired look.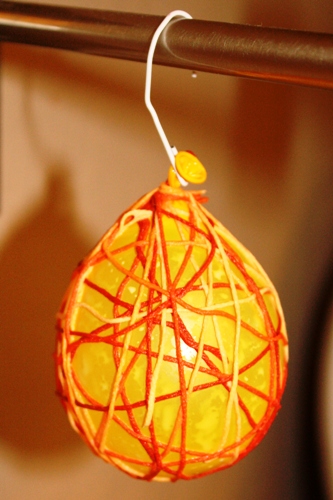 Create a hook out of a small paper clip. Tighten one end of the clip around the knot of the balloon. Form the other end into a hook and hang the balloon until it dries. (I used a laundry rack.) Be sure to place some plastic wrap (or other disposable material) beneath your hanging balloon to catch any drips of glue while it dries.
Once the glue has dried and your egg shape has hardened, pop the balloon and remove the rubber pieces.
Place your eggs in a bowl or basket as a decoration, or thread fishing wire or yard through them to create an egg garland.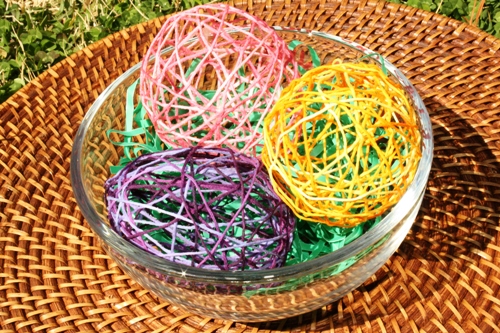 –Janel is a stay-at-home mom of two daughters and a "law school wife" in Virginia. Raised in a budget-conscious and DIY-minded family, she blogs about motherhood, crafts, and living on a law school budget at Life with Lucie and Ella.
DIY on a Dime
This is part of the DIY on a Dime: Easter. For more easy and frugal ideas for celebrating the holiday, check out the list.