DIY on a Dime: Easter Confetti Eggs
As an Amazon Associate I earn from qualifying purchases. For more details, please see our disclosure policy.
Easter is a time of celebration, of new life in Christ. Confetti Eggs are a fun way to celebrate with friends and family.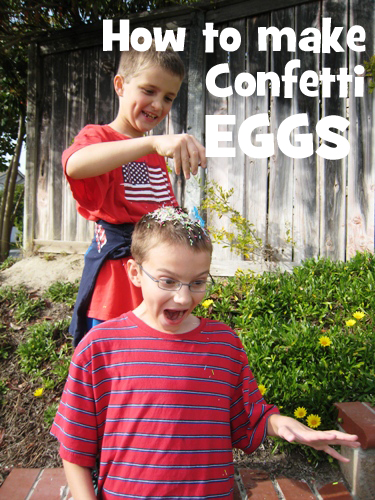 It might surprise some people to know that we don't play Santa, the Tooth Fairy, or the Easter Bunny at our house. I grew up with all those traditions as did FishPapa. In our early years of parenting, we went back and forth on it, struggling with pressure (either real or presumed) from family, church, and culture.
We settled on maintaining the integrity and religious significance of Christmas and Easter by not playing Santa or the Bunny. On a case by case basis, we've kept some traditions, like stuffing stockings or decorating a tree. (Our kids know that the gifts are from us.) We've abandoned others, like gifting Easter baskets or pretending about the Easter Bunny. These are our family's choices.
Please realize that I respect every family's right to choose how they observe a holiday. We've had friends — well, their children — tell us we were near-pagans for having a Christmas tree or hiding plastic eggs, and others who have thought we were too uptight for drawing lines where we have. We're okay with that. We know Him in Whom we have believed.
Somewhere along the line I made peace with these things, but in the early years of parenting it was a rough road to walk. Today we've found our comfort zone. I hope you have, too!
For Easter that involves centering the celebration on Christ, but also incorporating eggs and elements of Spring into the landscape of our celebrating as a symbol of the New Life we have in Christ.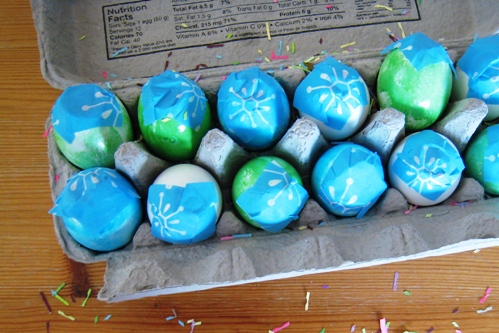 I do believe that Easter should be a celebration. Not only has Christ died in my place for the forgiveness of my sins, but He has also conquered death to rise again and sit at the right hand of the Father, interceding on our behalf.
Easter is a celebration!
And what's a better symbol of celebration than confetti?! That makes these confetti eggs a fun little tradition to add into your Easter traditions.
Also known as cascarones, confetti eggs are a tradition within Mexican culture, a sign of celebration. It's said to be good luck if you get an egg cracked over your head. While used during Carnival in Mexico, US and Mexican cultures have blended to make them a natural fit for Easter celebrations.
Confetti eggs are super easy to make and a fun thing  to add into your Easter planning. They are made with regular household items, so they won't cost you much but time.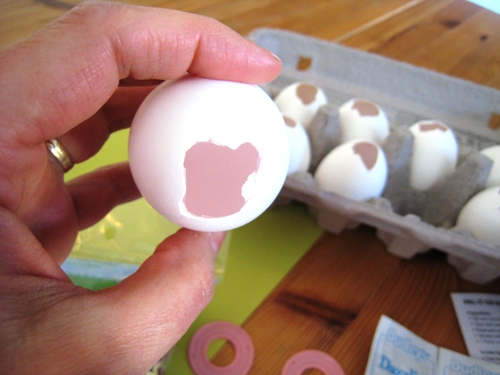 You might think that you need to blow out a dozen eggs to get the hollow shell. I always noticed that that tedious project also seemed to blow out my ear drums. For this project, I saved a few eggshells every time I made breakfast. Instead of cracking the egg in the middle, I would crack it at the tip, break away some of the shell, and shake the egg out of the hole at the top. This made the process of hollowing out the eggshells super easy.
I bought the confetti at Walmart for a little more than a buck. If you've got a paper shredder — or a toddler — you can make your own. You can also empty out your three-hole punch.
I reused some tissue paper we received in a gift bag, making it a pretty cheap activity.
How to Make Confetti Eggs:
Supplies:
hollowed out egg shells
egg dye or paint, if desired
confetti, purchased or homemade
tissue paper
glue stick
Directions:
1. Hollow out the egg shells by cracking the egg near the tip. Break away enough of the shell to allow the egg to pass through. Rinse well with warm water and allow to dry completely.
2. Dye or paint the eggs, if desired. Again, allow to dry completely.
3. Fill the eggs with the confetti.
4. Cut tissue paper squares to fit the opening of the egg. Run a glue stick around the edge of the opening, cover with the tissue paper and smooth it down to stick.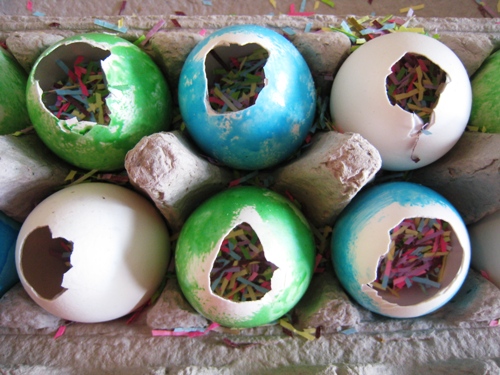 Confetti eggs are a fun, light-hearted accent to Easter or any other celebration, like birthdays or weddings.
DIY on a Dime
This is part of the DIY on a Dime: Easter. For more easy and frugal ideas for celebrating the holiday, check out the list.