Homemade Finger Paint
As an Amazon Associate I earn from qualifying purchases. For more details, please see our disclosure policy.
Mix up a batch of cheap and easy homemade finger paint and let your kids get creative with this simple craft from Life as MOM contributor Janel.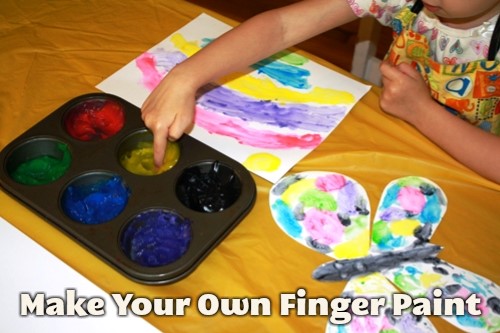 Photo Source: Janel
When my eldest was about three, we got a set of Crayola Color Wonder Finger Paints. You know, the clear kind that change color when you put them on the special Crayola paper. Well, at the time my daughter really liked "lip stuff" like Carmex. Specifically, she liked to smear it all over her face and eat it if she got her hands on a pot of it. Let's just say that the Crayola finger paint looked far too much like lip stuff to her young eyes. So, the finger paints went in the trash.
Instead, I learned how to make my own finger paint using ingredients in my pantry. It just takes a few minutes to cook it on the stovetop. It doesn't have the same consistency of store-bought paint — it has more of a gel-like feel to it that will increase as it cools more. It will still work as paint, just spread it a bit more with your fingers.
Young kids will love watching you create the colors. The first time we mixed the colors, my little one exclaimed, "That's so cool! Mom, you're amazing!" You don't get that kind of praise with store-bought paint!
As with any painting experience with kids, prep your work space for easy clean-up by following these tips to stress-free painting. Then, hand them some finger paint paper or cardstock and create. We made some freehand paintings, handprints, and a butterfly cut-out. Get creative and have fun!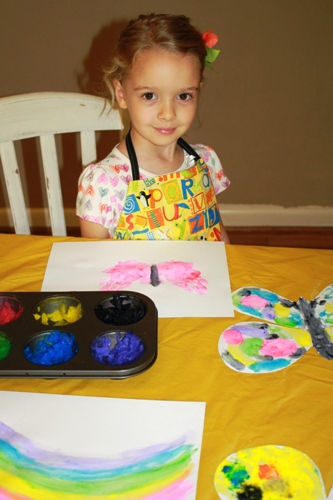 Homemade Finger Paint
Prep Time: 10 minutes to make paint
Supplies:
1 cup cold water
1/4 cup cornstarch
1 Tablespoon light corn syrup
food coloring – I used Wilton's Icing Color gel pots
small bowls, ramekins, or muffin tins
finger paint paper or cardstock
masking tape
Instructions:
In a small saucepan, combine water and cornstarch. It will resemble milk. Over low heat, slowly cook the mixture for about five minutes while stirring with a silicone spatula.
As it cooks, it will thicken up and turn slightly translucent. It will look like a slightly clear, white-ish gel. Remove it from heat as soon as it thickens up. If you overcook it, it will turn into an unusable gelatinous solid.
Stir in the corn syrup.
Divide the finger paint into muffin tin cups, small bowls, or ramekins.
Use food coloring to create a different color in each cup.
Let your kids create a masterpiece with the homemade paints and cardstock or finger print paper.
NOTE: The paper might curl as the paint dries. To help your creations dry flat, use a little masking tape to hold them down as they dry.
Other Kid-Friendly Crafts:

–Janel is a stay-at-home mom of two daughters and a "law school wife" in Virginia. Raised in a budget-conscious and DIY-minded family, she blogs about motherhood, crafts, and living on a law school budget at Life with Lucie and Ella.