Season Your Meals with Love
As an Amazon Associate I earn from qualifying purchases. For more details, please see our disclosure policy.
Looking for a fun gift to make with your children? Life as MOM contributor, Janel, offers a great suggestion for "seasoning meals with love."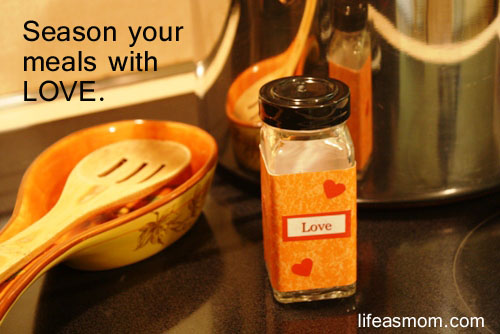 Several years ago, Maggie, one of the mentors at my Mothers of Preschoolers group, shared how she made her meals with love. She had an adorable little spice shaker with the word "LOVE" emblazoned on the side. As she was cooking, she made a show of adding some "love" to her family's dinner. Her little ones just loved it.
Although Maggie purchased her "love" shaker somewhere, these are easy enough to make on your own. This is a fun craft to make alongside your child. It's also easy enough for an older child to make on his own and give as a gift to a loved one who enjoys cooking. Once your shaker is ready, have your littles help you put love in the jar by blowing kisses inside and sealing it up.
How to Make a "Love" Spice Shaker: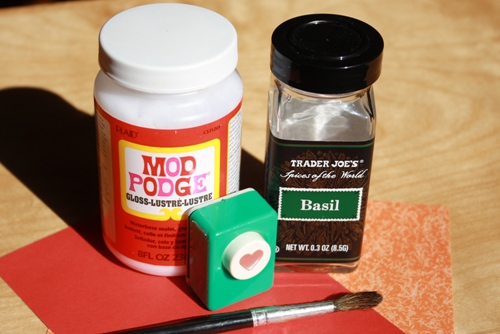 Supplies:
an empty glass spice shaker — I like the ones from Trader Joe's because they don't have any identifying marks on the lid and their labels remove very easily.
scrapbooking paper
pen or computer/printer for the LOVE wording
Modge Podge sealer
paintbrush
Directions:
Clean the empty spice jar and remove the label. Dry the jar thoroughly.
Cut a strip of scrapbook paper so that it is long enough to wrap around the jar. (Mine was 2.5 inches x 6.5 inches.) Write LOVE on the front of it or print out the wording on the computer. Decorate the label in any other way that you wish.
To secure the label onto the jar, paint a thin coat of Modge Podge Sealer on the back of the label. Wrap the label around the jar, and remove any air bubbles that might be under the label. Then, give the top a coat of Modge Podge as well to seal it. Allow it to dry completely.
Fill up your jar with love by blowing kisses inside and seal tightly. Season your meals with love as needed!

–Janel is a stay-at-home mom of two daughters and a "law school wife" in Virginia. Raised in a budget-conscious and DIY-minded family, she blogs about motherhood, crafts, and living on a law school budget at Life with Lucie and Ella.
How do you get your kids involved in the kitchen?