DIY on a Dime: Make a Giant Poster
As an Amazon Associate I earn from qualifying purchases. For more details, please see our disclosure policy.
Make a huge poster for just a few bucks by visiting an unexpected place: your local office supply store. The following tutorial is written by Anne Bogel, from Modern Mrs. Darcy.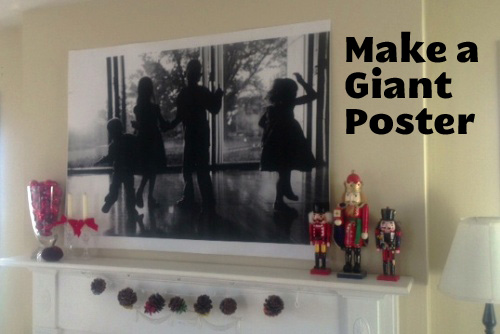 I've recently discovered a fun–and cheap–way to get a lot of bang for my decorating bucks. It's called an "engineering print," which is a fancy name for a large black-and-white photocopy. When put to use for decorating, these engineering prints provide an easy, fun, and cheap way to adorn your walls.
These engineering prints make amazing posters for gifting. Blow up a picture of the kids to give the grandparents. Preserve your child's favorite memory to hang on their wall. Enlarge a favorite quote. You can customize these however you wish.
Making your own poster is simple.
Here's how to do it:
Find a photo you love that will look good in black and white. Get a 4×6 print or put the digital file on a flash drive. I wanted to enlarge one of my favorite shots from a recent (and long-overdue) family photo session.
Head to the copy and print counter at your local office supply store and ask for an "engineering print." (Call first to verify they offer this service.) Specify the size you want. Prices vary slightly by location; these are the prices at my local Staples:
18 x 24 $1.79
24 x 36 $3.29
36 x 48 $6.59
Option A: Just give it.
Roll it up, tie it with a bow and call it a day. You made your poster! Your recipient can choose to frame it or just sticky-tack it to the wall.
It's not essential, but I prefer to mount my poster onto plywood for greater durability.
Option B: Mount the poster.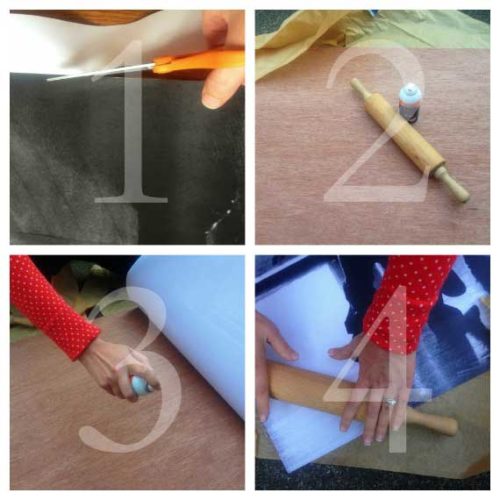 What you need to mount your poster:
A thin piece of plywood cut to the proper size. I got mine at Home Depot for $5, and asked them to cut it for me.
Spray adhesive (I used Elmer's Craft Bond spray adhesive)
rolling pin
How to mount your poster for greater durability:
Trim your print, if necessary.
Protect your work area with newspaper so you don't get spray glue everywhere. Spray the adhesive evenly in one corner of the board. Carefully line up the corner of your poster with the corner of the board. Smooth with rolling pin.
Working from the corner, spray another section with spray adhesive and roll to smooth.
Repeat the spray/roll process until the poster is affixed to the board.
Creating a large poster shouldn't cost you more than $15 and a little elbow grease. You just know it will make a great gift.
— Anne Bogel loves strong coffee, long books, and big ideas. She puts a timely spin on timeless women's issues at her blog Modern Mrs Darcy. Head here to get her free guide Paper Gains: A Guide to Gifting Children Great Books from Modern Mrs Darcy. 

DIY on a Dime
This is part of the DIY on a Dime: Great Gifts series. For more easy and frugal gift ideas, check out the list.