DIY on a Dime: Lavender Hand Scrub
We are a participant in the Amazon Services LLC Associates Program, an affiliate advertising program designed to provide a means for us to earn fees by linking to Amazon.com and affiliated sites. We participate in other affiliate programs as well. For more details, please see our disclosure policy.
Lavender Hand Scrub comes together in minutes and for cheap, but seems like such an elegant gift.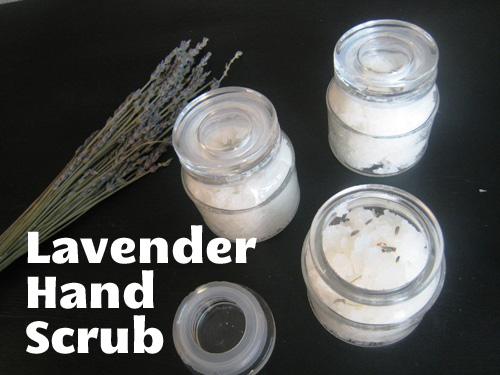 A few weeks ago I took one of the boys to the mall, something that happens maybe once a year. I was looking for little gifts for the Girls' Dinner Party I hosted. Besides, See's Candy is at the mall, so I had to go.
On a whim we walked into the bath and body store. The smell was overwhelming — so much so that my son got a headache in the first five minutes. He waited outside while I got the gifts quickly and hightailed it out of there.
Don't get me wrong. I love yummy-smelling things, but to have all those scents — and chemicals — in one place, made it clear that there must be a better way.
Seeing how easy it was to mix up a Lavender Milk Bath, I tried my hand, literally, at making a Homemade Lavender Hand and Foot Scrub that's great for exfoliating dry skin. It's both sweet and salty, thanks to the sugar and salt I used as exfoliants. The "carrier" oil is sunflower, both affordable and blessed with a long shelf-life. (Other oils can go rancid quickly.)
Add a few drops of lavender essential oil and a sprinkle of lavender flowers for looks, and you've got an all-natural beauty product that you've made for just pennies. Plus, it only takes minutes to mix it up.
(You can use a different essential oil if you'd rather.)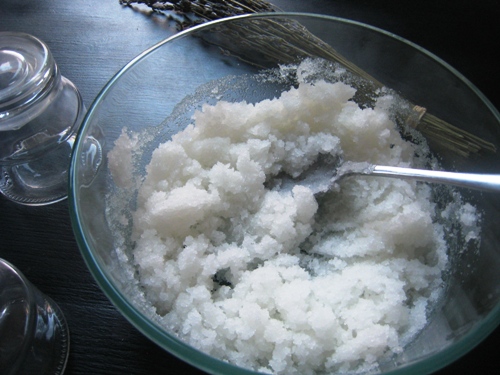 Recipe: Lavender Sweet and Salty Scrub
Ingredients
1 cup sugar
1/3 cup salt (fine grain sea, table, or epsom)
1/2 cup sunflower oil
10 drops lavender essential oil
airtight storage jars
lavender flowers, optional
Instructions
In a large mixing bowl, combine the sugar and salt.
Stir in the oils.
Spoon the mixture into jars. Sprinkle with flowers, if desired.
Label with a note to use within 6 months.
Preparation time: 5 minute(s)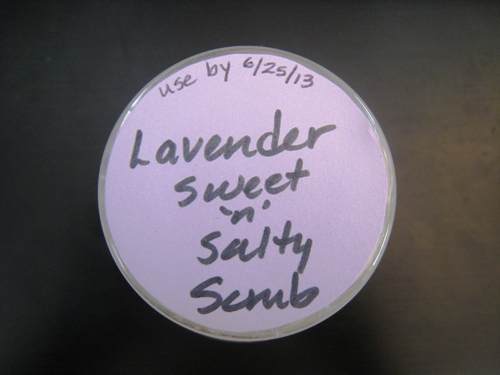 Be sure to put a label on your jar which includes an expiration date. If you use sunflower oil, you have at least six months until it might go rancid.
DIY on a Dime
This is part of the DIY on a Dime: Great Gifts series. For more easy and frugal gift ideas, check out the list.