How to Make Lavender Hand Scrub
As an Amazon Associate I earn from qualifying purchases. For more details, please see our disclosure policy.
Lavender Hand Scrub comes together in minutes, an easy and affordable gift that feels special and smells amazing.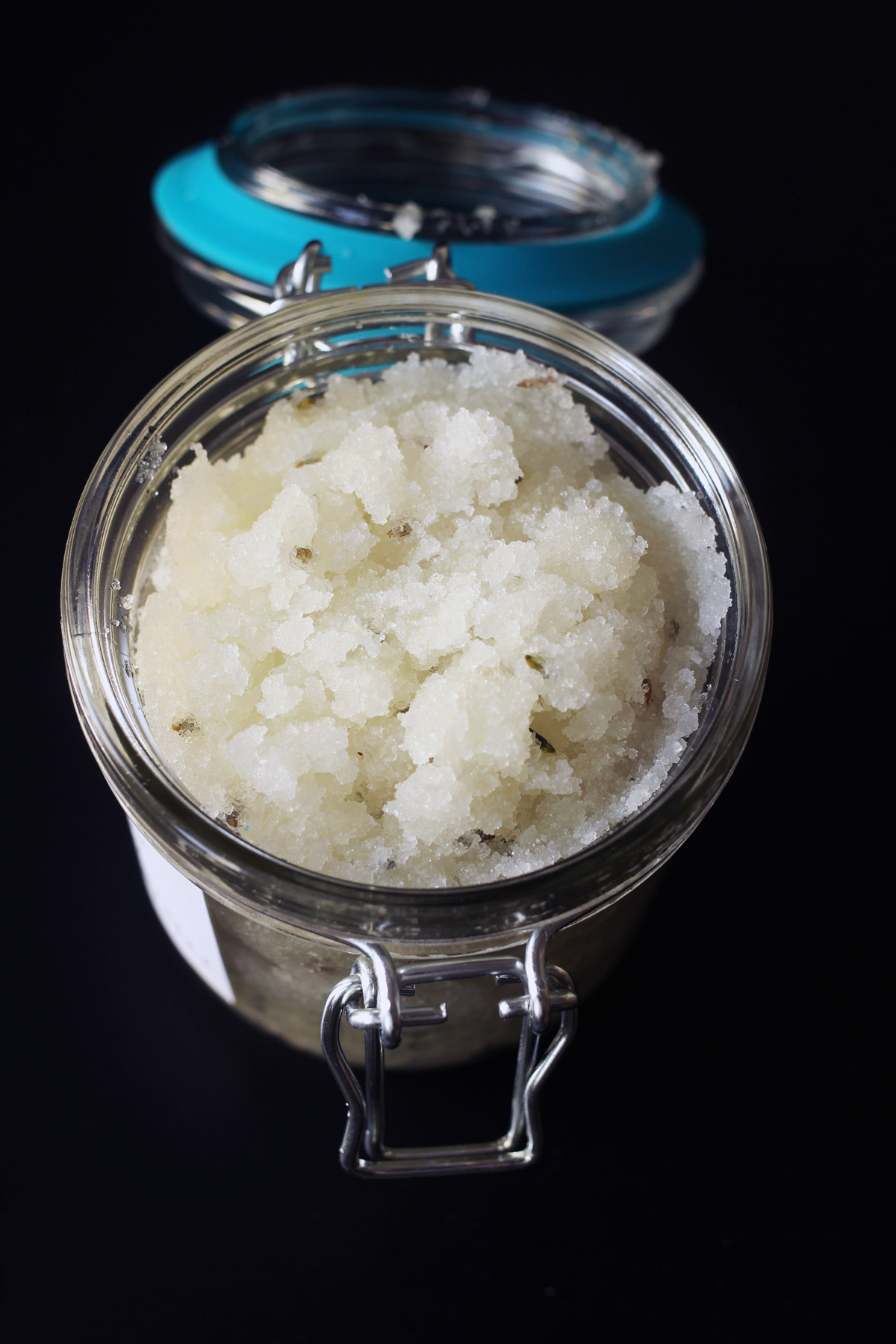 Want to save this post?
Enter your email below and get it sent straight to your inbox. Plus, I'll send you time- and money-saving tips every week!
On a whim one day I walked into the bath and body store at the mall. The smell was overwhelming — so much so that my son got a headache in the first five minutes. He waited outside while I got what we came for quickly and hightailed it out of there.
Don't get me wrong. I love yummy-smelling things, but to have all those scents — and chemicals — in one place, made it clear that there must be a better way.
Seeing how easy it was to mix up a Lavender Milk Bath, I tried my hand, literally, at making a Homemade Lavender Hand and Foot Scrub that's great for exfoliating dry skin. It's super easy to make and definitely an affordable DIY.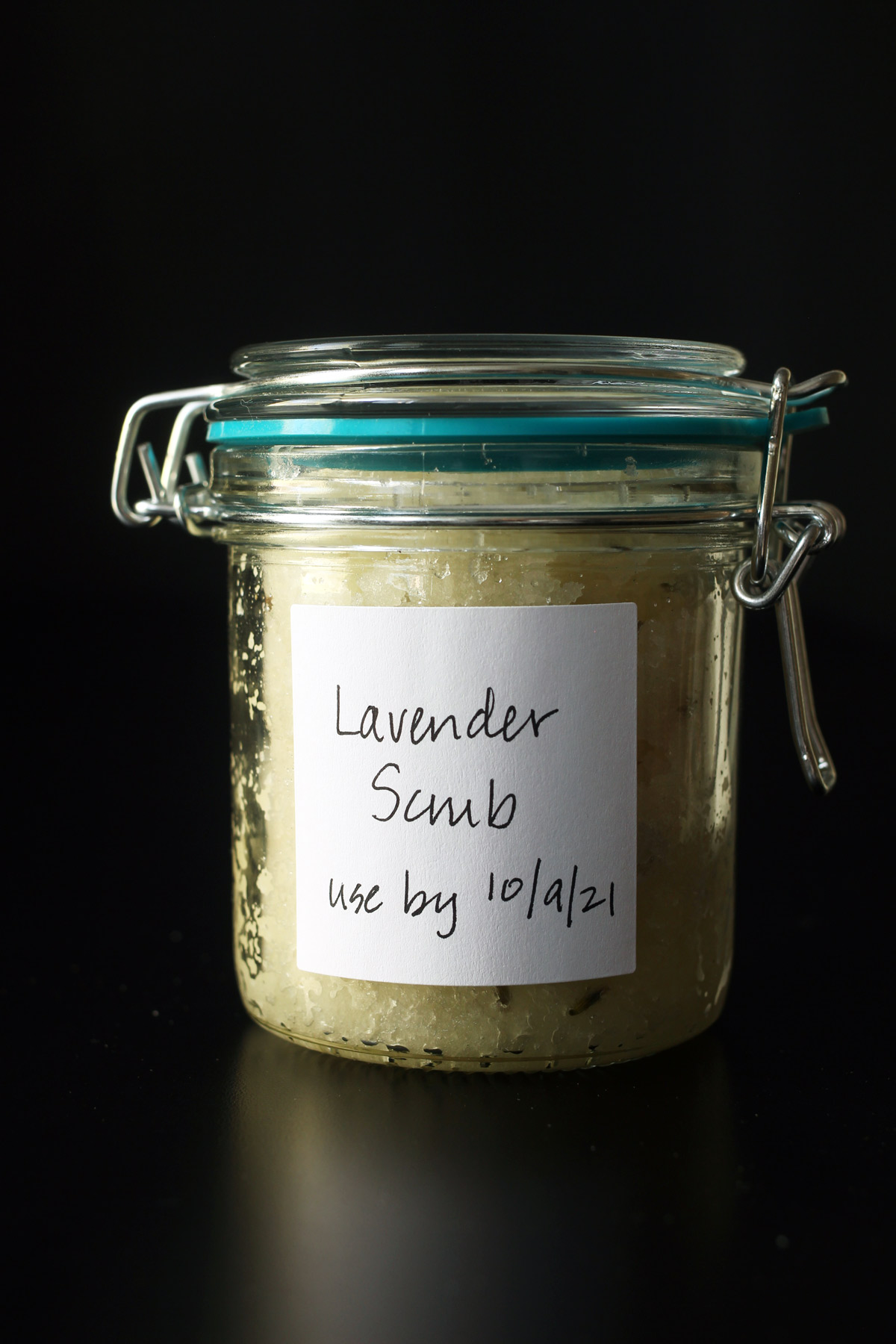 What is hand scrub?
Hand scrub is a paste made from oils and exfoliants to both moisturize and soften your skin. They also help remove dead skin cell buildup.
Uses
Use a quarter-size amount of salt or sugar scrub every once in awhile on hands, elbows, and feet. Rub a small amount into your skin, gently massaging it in, and rinse.
As this is slightly oily, take caution in the shower or bath, being sure to rinse well to avoid slipping.
A salt or sugar scrub is not for daily use as exfoliating too much can irritate or damage your skin. Do not use it on your face. Avoid using it on sensitive or sunburnt skin. Those with lavender allergies should avoid this specific recipe.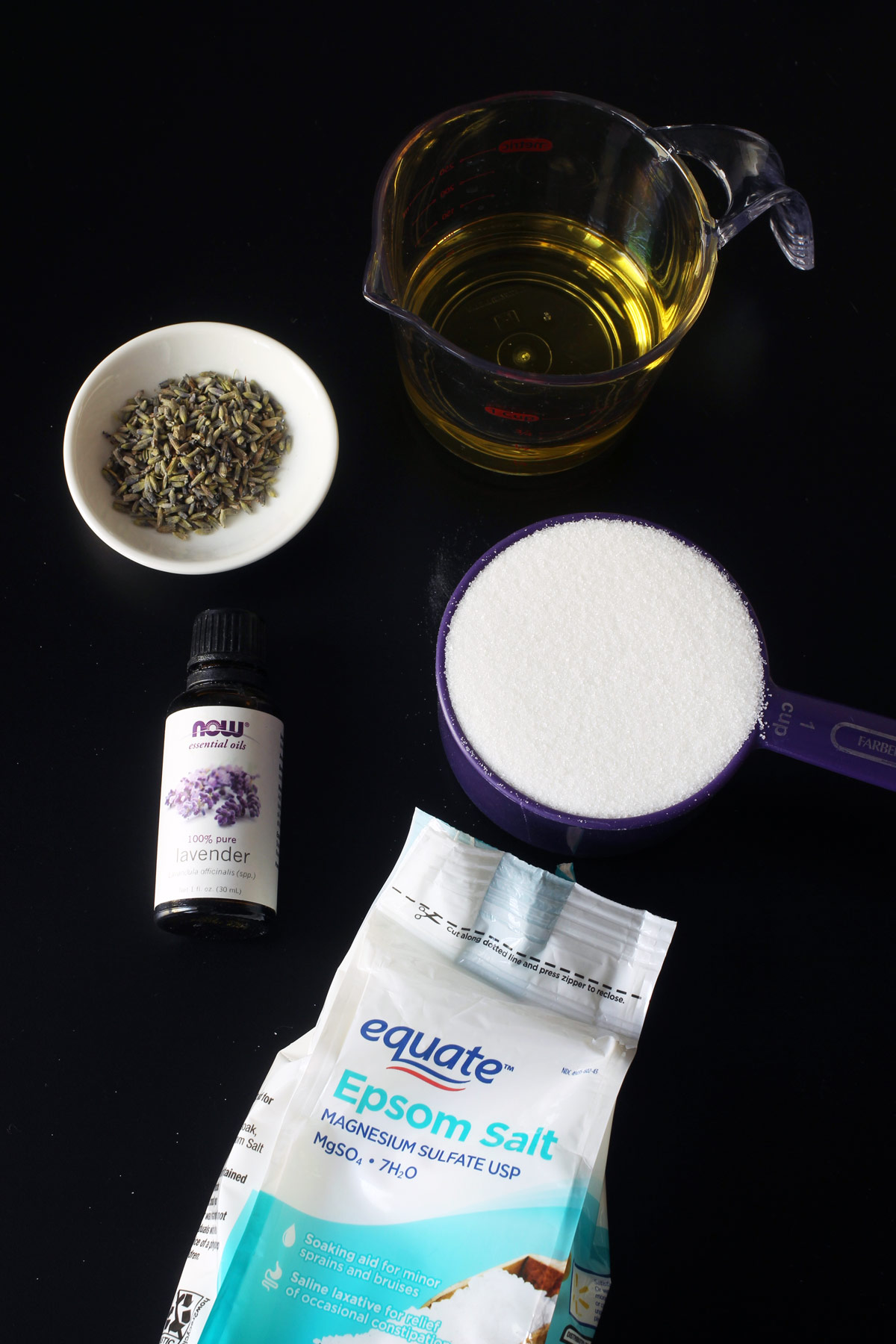 Ingredients
As always, please use common sense and discretion when making a home remedy or beauty product. Read the packaging carefully and be mindful of any health concerns. This scrub is for external use only. Please keep it away from children.
Exfoliant – the grit in sugar and salt acts as an exfoliant to remove dead skin cells. You can use granulated sugar as well as brown sugar, the latter has a slightly softer texture and is said to be gentler. You can also use salt, such as fine grain sea salt, table salt, or even epsom salt.
If you use epsom salt, as I have here, be sure to read the medical warnings on the package. Some medical conditions caution against the use of epsom salt.
Carrier Oil – Essential oils are not to be applied to the skin neat, but instead need to be combined and diluted with a carrier oil. There are several carrier oils to choose from; what's best for you will depend on your skin type.
Essential Oil – Obviously for lavender hand scrub, I'm using lavender essential oil. You can use a different essential oil if you'd rather, such as
Lavender Flowers – Dried lavender flowers added to the scrub offer a visual cue as to its contents and make the scrub prettier. They are an optional addition.
More DIY on a Dime
This is part of the DIY on a Dime: Great Gifts series. For more easy and frugal gift ideas, check out the list.
This post was originally published on December 11, 2012. It has been updated for content and clarity.