Gift Guide for Kids 6 to 12
As an Amazon Associate I earn from qualifying purchases. For more details, please see our disclosure policy.
A gift guide for kids 6 to 12.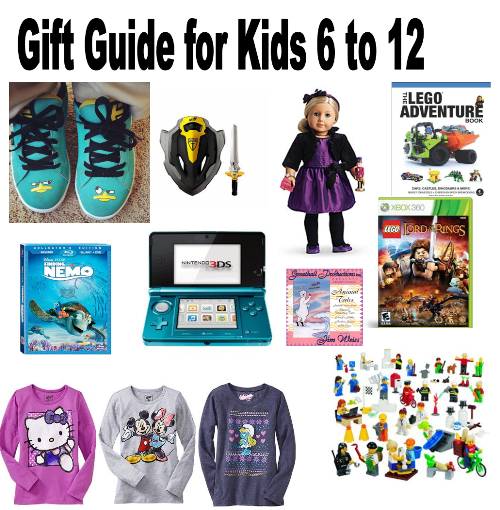 Last week I shared my gift ideas for kids 6 and under. This week I'm here with some recs for kids 6 to 12. I currently have 4 of those, so I guess we could say that I have first hand knowledge.
At the same time, we don't indulge in a lot of trendy toy purchases, so you won't see me recommending those. (Let's face it, I live in a cave, so I don't know what all those trendy toys are!)
All the same, here's what you might find under our tree in this season of life:
Cool Shoes
It's amazing what a fun pair of shoes can do for a kid. My girls were thrilled this fall when I let them choose their own ballet flats. When Etnies sent my 8 year old a pair of Perry the Platypus shoes to review, he was just giddy over them — so much so that he declined going to the park when he couldn't find this particular pair of shoes. Apparently, they are quite important to him — and we need to work on some attitudes, too.
While I don't advocate spending more than you can afford on footwear or buying kids "whatever they want" all the time, I think these kinds of experiences do matter. My mom still remembers having to wear sneakers to her sister's First Communion when all the other girls had nice shoes. If it fits the bill and tops your kid's list, go for it.
Character t-shirts
My kids have always enjoyed character tshirts. From Dora and Bob when they were toddlers to Minions, Captain America, Iron Man, or Lego Darth Vader, these are the tshirts that are worn and loved the most. I usually add to their collections on birthdays and Christmas.
And the younger kids are thrilled when an older sibling grows out of a fun shirt.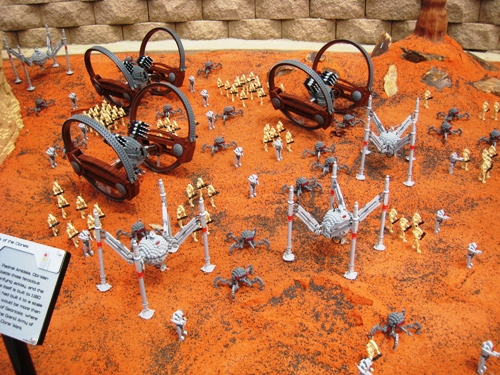 Legos
You knew this one already, didn't you? Legos thrill kids in this age group. They are also the target age of the Legoland theme parks and for good reason. Lego bricks are a perfect fit for this set.
However, experience has shown me that many children would rather a few inexpensive sets instead of one large one. I think they realize after a time that pieces in the big set go missing and make them harder to play with. My younger guys typically request or buy with their own money smaller sets that are easier to put together and more in their budget.
Lego books
Lego books are genius because they help you build a multitude of things without having to buy a specialized set. I recently received the Lego Adventure Book, The Unofficial Lego Technic Builder's Guide, and The Unofficial Lego Builder's Guide to review. These are thorough compilations of designs and instructions.
I bought the first Builder's Guide for one of my boys a few years ago. He ran into a snag in not having enough pieces to draw from. Consider buying pieces in bulk.
There are also books that tell you every factoid under the sun about the different series. Last year I bought my boys LEGO Harry Potter: Building the Magical World and LEGO Star Wars Character Encyclopedia. These are highly visual and informative books that the kids love. And the minifig that comes with each one is a total win.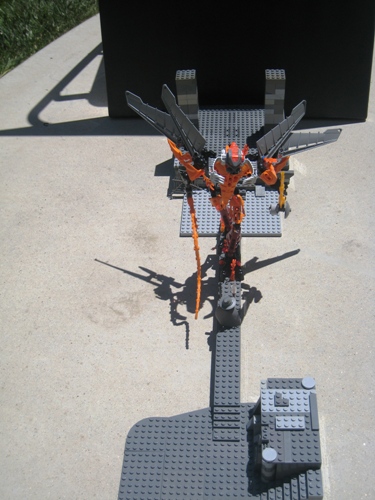 Dolls
I now have a girl big enough to really care about dolls and dressing them up. My girl is also finally old enough to know what she wants to do with her money. We've been saving her birthday monies for six years and it now counts into triple digits. A nice doll set-up is on her list this year.
Many of you have told me what a hit the American Girl dolls are with your girls. I have friends whose daughters have loved on theirs for ten years. Some of you even have yours from childhood. (Alas, I was too old for American Girl dolls when they first hit the scene, so I don't know them first hand.
Others have reported great success in buying similar dolls from Target or other stores. Either way, dolls are a great choice for girls this age, provided that they are interested in them in the first place.
Audio books
Our kids have always enjoyed hearing music and audio stories. I told you last month about our experience car schooling to great works of literature. Over the years we've enjoyed listening to The Hobbit and The Chronicles of Narnia while we drive.
My kids in this age set have enjoyed listening to stories in bed at night, especially when they weren't strong enough readers to tackle those books on their own. Recently we've added Greathall CDs to the mix as well as my ten-year-old's Pandora stations.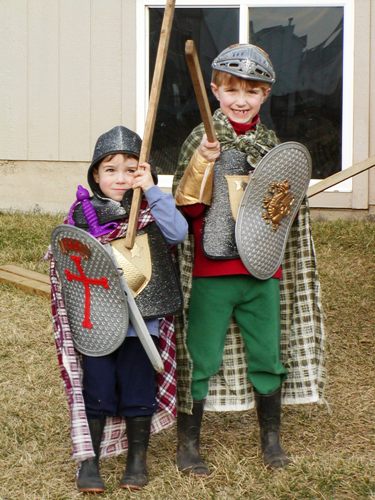 Toy Weaponry
I know families have differing opinions on toy weaponry. Ours has often been of an historical nature, featuring reenactments of St. George, Davy Crockett, or the Three Musketeers. We've always been stocked with a sufficient arsenal of Nerf swords, shields, and dart guns. Honestly, they'll craft their own out of sticks of wood, so I'd rather have soft foam.
Boys or girls, all kids I know seem to enjoy this play. And I've witnessed quite a few dads and uncles get into the action.
Movies
As you know we're a movie family. We don't go to the cinema often, but we have built a little collection of movies: VCR, DVD, and now Blu-ray. I haven't quite gotten to the point of letting go of those video tapes yet, but the VCR is on its last legs, so that day is coming.
It's been great fun to review sample copies of re-releases that get put on Blu-ray. It's such an improved viewing experience! Recently,  Finding Nemo was put onto this new format as well as in 3D. Very cool. I remember FishBoy15 being about 6 when we first saw that film and it continued to be a favorite of his for years.
Other favorite movies include The Amazing Spider-Man, The Avengers (and all the accompanying films), The Harry Potter series, Star Wars, Fantastic Mr. Fox and Madagascar 3.
Video Games and Systems
Years ago my eldest son saved his pennies to buy a used Nintendo 64. It was surely as old as he was. We both admired his fortitude and perseverance to save up the funds and to hunt on Ebay for the right system. A few years later, the boys pooled their resources to upgrade to a used Game Cube. Eventually Wii arrived.
Over the years each boy has been responsible to buy his own gaming system, but there've been times when we bought a special game for a birthday or Christmas. This year I heard that the Lego Lord of the Rings is one that they have a hankering for. (We are loving the fact that Lego and Middle Earth have made friends.)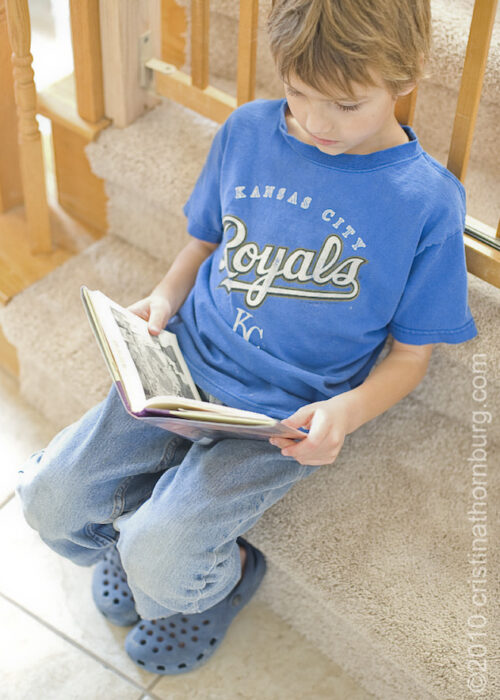 photo source: Cristina Thornburg
Books, books, and books
You know what a book worm I am. I know that if the gadgets and movies are turned off, my kids will turn to books. I'm so glad and thankful for that.
All my kiddos in this age range, except my youngest are able to read chapter books and novels without assistance. The younger crowd enjoys Nate the Great, The Imagination Station, and The Magic Treehouse, while the older crew have devoured The Wingfeather Saga, the Harry Potter series, and the multitude of books written by Rick Riordan.
Though the love to read on their own, they're also happy to have me read aloud.
Time spent with YOU
Lastly, I'm reminding you — and myself — that kids really do just want our time. I'm reading a book right now that emphasizes this and encourages being intentional every day to just hang out with your kid. It's easier to buy a present. It's harder to carve out time each day to just be together.
What gift has been a hit with your 6 to 12-year olds?
Disclosure: This post does include Amazon affiliate links. If you make a purchase through those links, I am paid a small amount in way of advertising fees. Where indicated I have received product to review. All opinions are my own. I would not mention these items unless I truly thought they were valuable assets to your home.