Thanksgiving Scavenger Hunt for Kids
As an Amazon Associate I earn from qualifying purchases. For more details, please see our disclosure policy.
A Thanksgiving Scavenger Hunt for Kids can be a fun distraction for kids, getting them out of the house and exploring nature, or making good use of time stuck inside when weather dictates.
Download these indoor and outdoor versions of a Thanksgiving Scavenger Hunt and let the kids run wild – ish.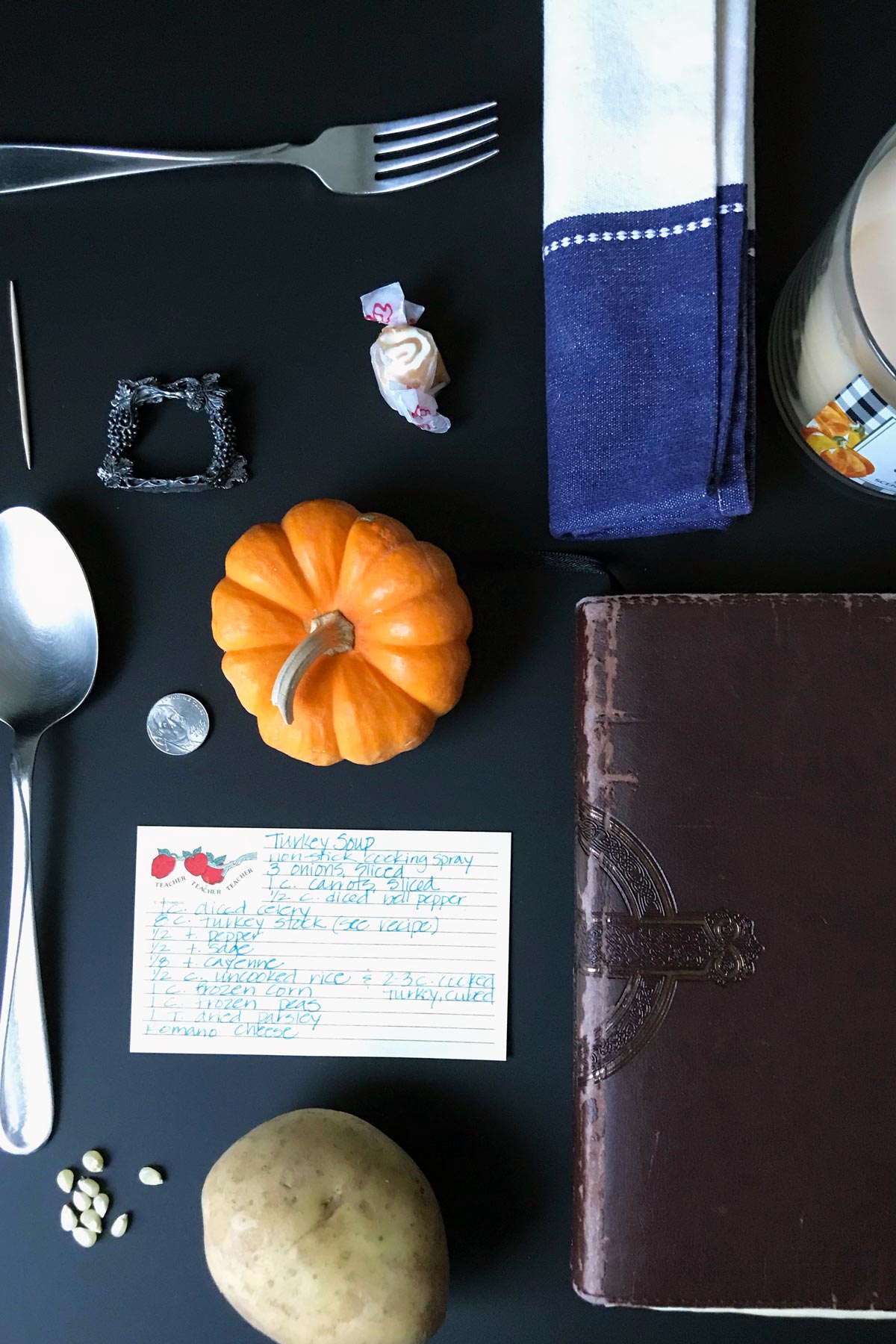 Thanksgiving can be a wonderful occasion for getting together with family and friends. I have fond memories of us kids riding rough and wild all over the house while the adults talked and the roast turkey cooked. It seemed like the ultimate holiday.
It can also be a day when kids may be out of their element, visiting family they rarely see, or spending the day in a home that's not their own.
Having a Thanksgiving Scavenger Hunt ready to let the kids run wild and focus on other things can be a great way to break up the day. When the children have collected all the things, you can settle them down with a Thanksgiving Crossword Puzzle & Word Search or even bust out the Thanksgiving Read Alouds.
There are plenty of ways to keep the folks at the Kids Table happy on a day that might be out of the ordinary. If there's time before the feast, be sure to make Cinnamon Roll Turkeys together.
Get the Printables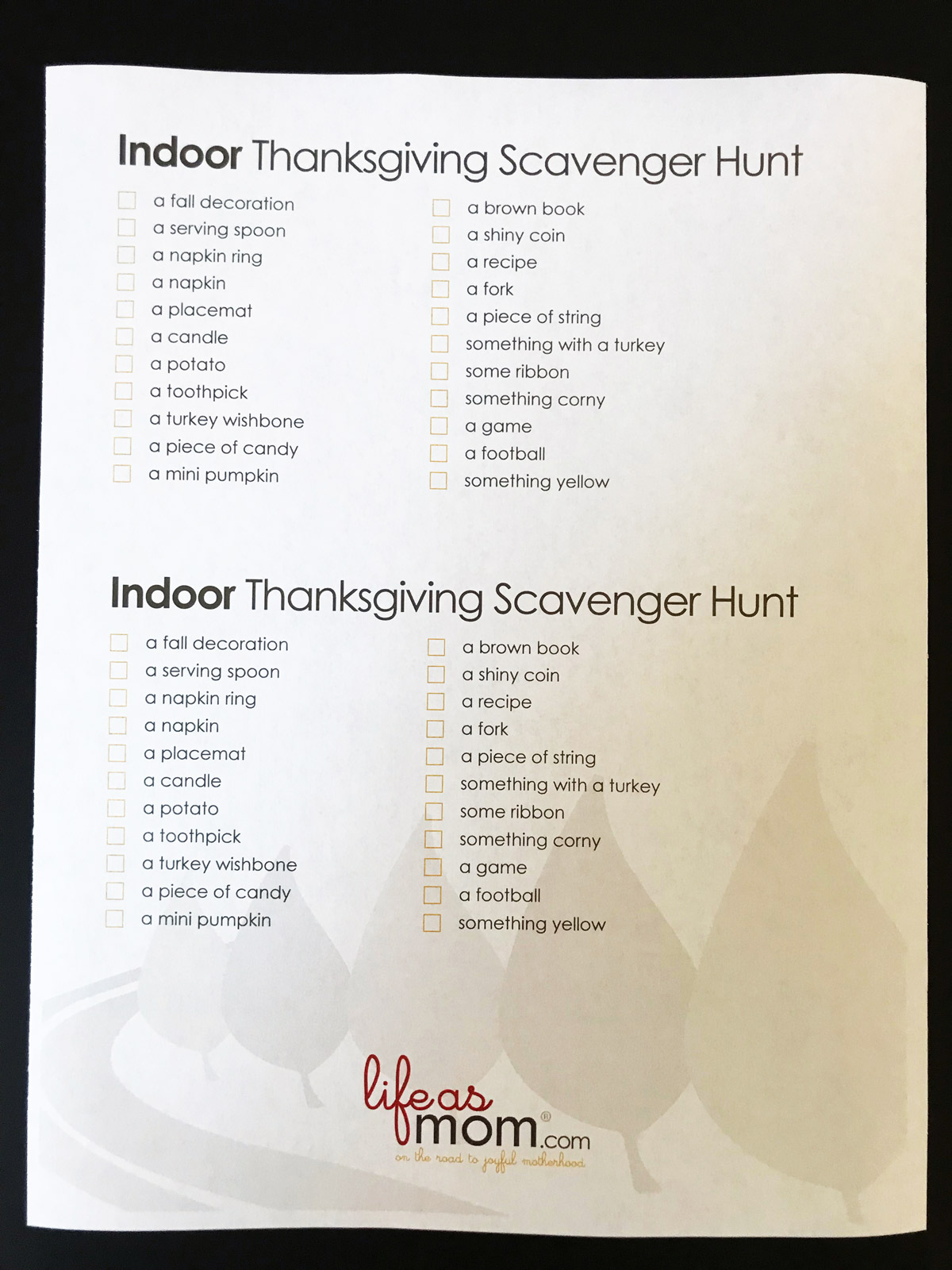 We've put together two different versions: an outdoor nature-themed scavenger hunt as well as one that you can play indoors in case of inclement weather.
Click here to subscribe to the Life as Mom newsletter and get instant access to our free printable library, including the free Thanksgiving Scavenger Hunt printables.
Download the two versions of a Thanksgiving Scavenger hunt and then print the one you need.
Cut each sheet apart so that you have two copies from each page.
You can break into teams for more camaraderie. Include all ages to make it more fun.
Tips for Success
Determine clear boundaries where kids can hunt for their Thanksgiving Scavenger Hunt, especially if some of the children aren't familiar with your location.
Plant several copies of the items to collect, at least indoors. You don't want fist fights breaking out over who found the single mini pumpkin. Obviously, you won't likely have more than one turkey wishbone, but you could plant some pictures or drawings of one here and there.
Always make sure children are accompanied by an adult in unknown locations and especially outdoors.
Note that the outdoor Thanksgiving Scavenger Hunt features items to collect as well as things to observe. If you are scavenging in a park or preserve that asks you not to collect things, please respect the guidelines and instruct kids to observe the items on both lists.
FAQs
What is a scavenger hunt?
A scavenger hunt is a game that can be played indoors or outdoors where participants are given a list of items to hunt for.
How do you keep a scavenger hunt safe for kids?
In earlier times, one might have gone door-to-door in the neighborhood, asking for the items on the list, but nowadays, for child safety, we recommend hunting in a park or preserve for nature-themed items or sticking to one's own home or yard.
Should you hide items for a scavenger hunt?
Ideally, your list will include regular household items (for indoor hunts) and easily observed items in nature. If your list of items includes difficult-to-find items, then by all means plant a few of each item. This also reduces competition which can be a good thing, depending on the age and personality of the participants.
More Thanksgiving Fun
This post was originally published on November 19, 2014. It has been updated for content and clarity.