Gift Guide for Teen Boys
As an Amazon Associate I earn from qualifying purchases. For more details, please see our disclosure policy.
A gift guide for teen boys.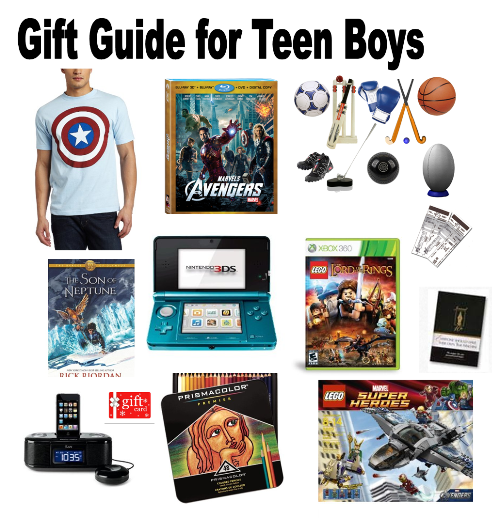 I spent a little time shopping this past weekend, but I haven't quite made even a dent in my holiday shopping. But, I have ideas. Oh do I!
So far this season I've shared a gift guide for kids 2 to 6 as well as one for kids 6 to 12. Last year, I shared guides for gifting to boys and gifting to little girls. Today's gift guide is for the teen boy in your midst.
Teen girl? I have no clue. I can't help you there. I only have a teen boy. Though some of these gifts are clearly unisex, I'm guessing that girls have lots of other interests. Though, I think that this Lavender Milk Bath would be great for the young ladies.
While I was putting together the above graphic, my boys kept coming in the office to peek at what I was doing. I think they thought I was shopping for them. They all agreed that these were very cool gifts for a teen boy.
Character T-Shirts
As I mentioned in an earlier gift guide, character tshirts are always a hit. Seeing as my husband, in his 40s, loves to shop for cool tshirts, I'm going to guess that it's an interest that never grows old. You'll be amazed at some of the very cool and funny ones out there.
Movies
We are big time movie fans around here. Some of my eldest son's favorites include both Sherlock Holmes, Game of Shadows, The Avengers (and the Marvel Universe movies that lead to it), The Bourne movies, and The Lord of the Rings.
A Journal
I've been journaling since I was a teenager. I don't consider it a girly thing, but a fabulous tool to sorting out thoughts and feelings. My boys have all been eyeing my moleskin notebook as if they're going to take it, so I know the interest is there.
Recently I received a copy of Journal 10, a ten-year bound journal. It's dated with each page holding room for ten year's worth of entries. So, you can see where you were on this date five years ago, for example. The spaces are all fairly small, so there's no need to be intimidated by a large blank page. I think this makes a perfect journal for teens. (Use the  code JN002 to get 10% off your order.)
Music Players and Docking Stations
Years ago hubs and I saved up to Generation 2 iPods. I crack up at how much has changed in six years. We still have them. And we've added to the collection by buying used devices on Ebay, so that our kids can listen on their own. I want our home to be filled with music.
We've also tried to find a way to set up docking stations in each room so that kids aren't destined to use ear buds and tune the rest of us out. Hubby has found the proper size stereo plugs so that we can plug ipods into simple speakers.
You don't need something special, though a dedicated docking station that charges and amplifies music is very handy. FishPapa bought me one for Mother's Day and I love it. (So do the kids, so it's a gift everyone enjoys).
iLuv sent me an alarm clock with bed shaker to test out. I love this for kids! Not only can my son play his favorite songs, but the bed shaker — and TWO alarm settings — make sure he gets up on time.
Sports Equipment
A couple of Christmases ago, in an effort to get our kids outside more, we gave the kids vouchers for sports equipment. We went shopping, and they came home with a variety: roller skates, skate boards, and disc golf equipment. A sports voucher was on my big guy's Christmas list this year, so I'm pleased to know that our efforts worked!
Art Supplies
While your teen boy may be too old for "crafts", chances are, he may still have an interest in expressing his creativity. I've found that having proper equipment makes a big difference, so we've purchased good quality colored pencils, sketch pads, and watercolors to encourage our budding artist.
Lego
My uncle is in his fifties and still laments the fact that he gave me his original Lego pieces. My brother, age 26, still gets down on the floor to build with my kids. And I've witnessed many a grown man exclaim in wonder, walking through the Legoland Miniland.
All that to say, some men never outgrow their love of Lego. If yours is one of those, Lego is a win under the tree this year.
Video Games
Again, video games are as adult an interest as they are for kids. The gaming systems that we own are an interest for all, including my husband. Our running joke is that he really, really wants a PlayStation 3 so he can play the new NHL13 hockey game that doesn't come on the Wii.
That said, your teen boy would probably love a new game or a gift card to Game Stop.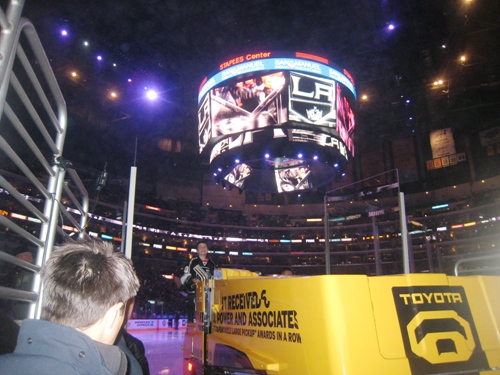 Gift Cards and Event Tickets
As kids get older, experiences or contributions toward a bigger ticket item are much appreciated. That's when gift cards and event tickets make great gifts. Last year hubs took each of the bigger boys to a LA Kings Hockey game. He had extended time with just one child and they made memories that I know will last forever. One boy even got to ride the Zamboni!
Books, books, and more books
We are a family of readers. There are some books that we cherish and want to read again. There are some books that my boys fight over and hide from one another.
One child was getting upset over his brother's treatment of a beloved series of books. I promised that when he moved away from home, I'd buy him his own set. It was that important to him.
Some favorite books by my older guy include The Lord of the Rings, the Harry Potter series, masses of Rick Riordan, and The Wingfeather Saga.
Time to Hang
Lastly, but most importantly, find ways in the new year to spend more time just hanging out. I know it's hard. And sometimes it doesn't seem like our teens really want to. But, I believe my friend Cathy when she says our teens need us more now, not less.
My son just walked in the room to tell me he finished reading To Kill a Mockingbird, one of my all-time favorite books. It was important to stop what I was doing and talk with him about it. Even if it was only a couple minute conversation.
Cathy is a wise woman, so I believe what she says, kids do want time with their parents, even if it's hard.
So, that's my take on shopping for a teenage boy.
What did I miss?
Disclosure: This post does include Amazon affiliate links. If you make a purchase through those links, I am paid a small amount in way of advertising fees. Where indicated I have received product to review. All opinions are my own. I would not mention these items unless I truly thought they were valuable assets to your home.