DIY on a Dime: Salt Dough Candle Holders
As an Amazon Associate I earn from qualifying purchases. For more details, please see our disclosure policy.
Kids love to make gifts for others. Spend an afternoon with your kids creating a special Valentine's gift for a loved one. Learn how to make these inexpensive candle holders from homemade salt dough in this tutorial from Life as MOM Contributor Janel.
Don't forget to check out our other cheap and easy DIY projects for kids and families.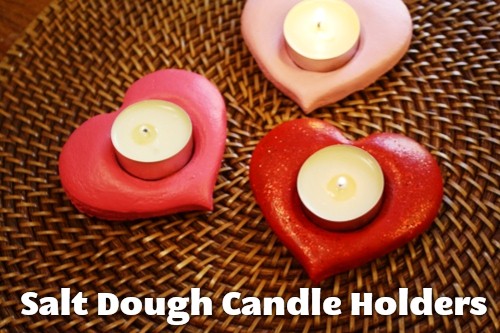 Kids love playing with playdough and painting their own masterpieces. This DIY Salt Dough Candle Holder is a great combination of the two!
This craft is very child-friendly so get them involved. The salt dough is seriously simple to make from ingredients that you can find in your pantry. Have the kids help you measure and mix up the dough. The kids can also shape the candle holder is easily with a heart-shaped cookie cutter. Once the candle holders are baked and cooled, let the kids decorate them however they wish.
How to Make Heart-Shaped Tealight Candle Holders
Supplies:
one recipe salt dough (see below)
heart-shaped cookie cutter, about 4-inches wide
tealight candles
baking sheet
metal spatula
craft paint, glitter, or other decorating supplies
Directions:
Divide salt dough into four equal balls and place on a baking sheet.
Flatten each ball into a circle that is just big enough for the cookie cutter. Cut a heart shape out of the dough with a cookie cutter. Gently wiggle the cookie cutter and then remove it along with the excess dough.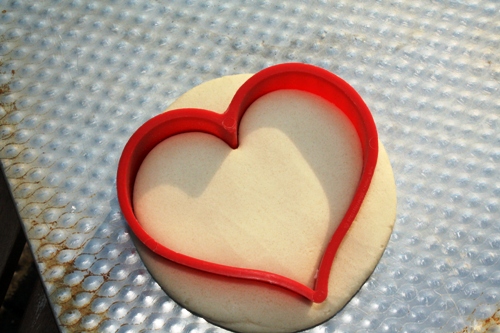 Press the tealight candle into the center of the heart shaped dough. Gently wiggle the tealight to make the circular indentation slightly larger than the candle. Remove candle and use your fingers to smooth out the indentation and enlarge it more if needed.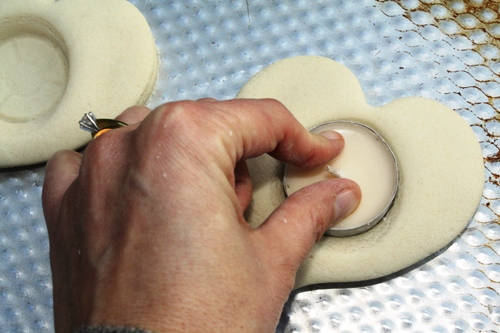 Bake the candle holders in the oven at 250 degrees for about 3 hours or until dry. Use a metal spatula for easier removal from the baking sheet.
Decorate your candle holders with craft paint or other decorating supplies. If you choose to use glitter, you may wish to coat your candle holder with a sealant like clear spraypaint so that your candle holder doesn't "shed" glitter. Let dry completely.
Place a tealight candle in your candle holder and enjoy!
Salt Dough
makes enough dough for four (4-inch) heart-shaped candle holders
1 cup flour
1/2 cup salt
1/2 cup lukewarm water
In a bowl, combine the flour and salt. Add the water and stir to combine well. (Don't use hot water as this will make the dough too sticky.) Knead the dough for about 5 minutes.
Note: Because this dough contains salt, it may hurt to knead it by hand if you have cuts on your hands or hangnails on your fingers. If this is the case, you may want to wear gloves or use a stand mixer to knead the dough.

–Janel is a stay-at-home mom of two daughters and a "law school wife" in Virginia. Raised in a budget-conscious and DIY-minded family, she blogs about motherhood, crafts, and living on a law school budget at Life with Lucie and Ella.

DIY on a Dime
This is part of the DIY on a Dime: Valentine's Day. For more easy and frugal gift ideas, check out the list.