Make Homemade Lavender Soap
As an Amazon Associate I earn from qualifying purchases. For more details, please see our disclosure policy.
Want to do a fun and simple craft that you can use in real life. Make homemade lavender soap!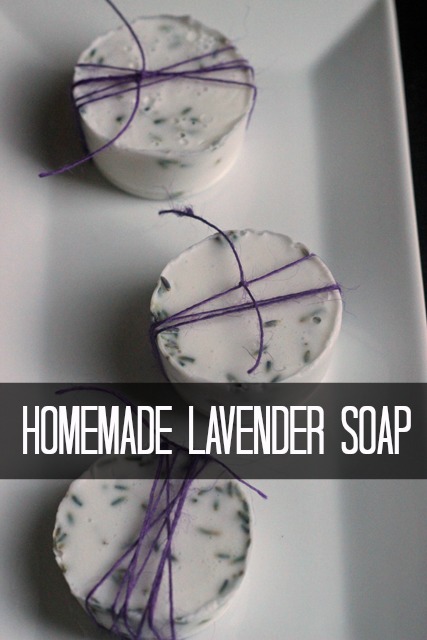 My daughter loves to make crafts. I was the same way — until I hit college and realized that many of the crafts I had made became just clutter.
That's when I took up cooking! Ha! I could be creative in a very practical way.
FishChick8 and I made these little soaps today. I had purchased the supplies at Christmas and had meant to make soaps then, but well, you know, life. Anyway, we made them today and it was a fun and easy craft that serves a purpose. We're running out of soap at every sink this week!
I made this type of hand soaps years ago when I first put together spa kits for the lady friends and family. You can make your own  At-Home Spa Kit. These soaps make a great addition to the lavender milk bath and lavender hand scrub. The whole lavender trio would make a great Valentine's gift to give or pin the idea for Mother's Day or Christmas.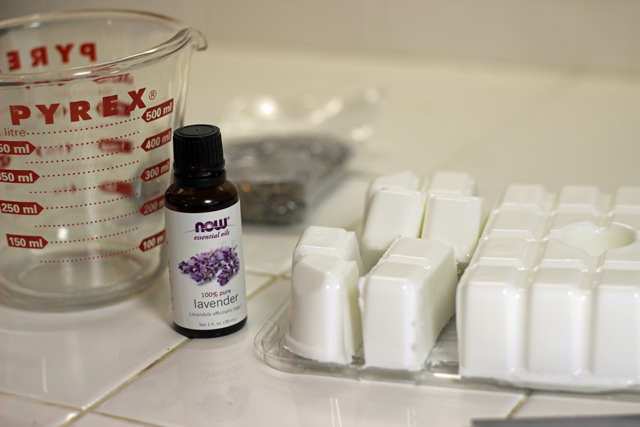 How to Make Soap
If you're really fancy, you can follow Renee's tips for making soap from scratch for real. I am not so brave, so I bought goat's milk glycerin soap at Michael's. I already had the lavender flowers and the lavender essential oil. Instead of buying fancy molds, I used plastic cups. The soaps were a little tricky to get out of the cups, but it worked and I used up something that I already had.
Follow the directions on the soap base packaging. In our case that meant cutting the scored bar into cubes and melting them in the microwave in a glass dish. Once it was melted, we stirred in lavender oil and lavender flowers. Then we poured it into the cups and let it harden.
I've used oatmeal and other essential oils as my stir-ins in the past.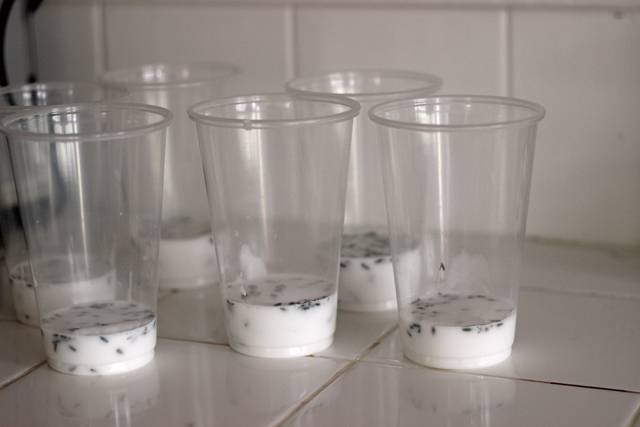 The kitchen smelled really lovely while we waited. After a few hours, we removed the soaps from the cups. Now they're ready to give as gifts — or to restock all the sinks.
This isn't the cheapest way to obtain a clean body. I bought the soap base with a coupon at Michael's, paying $6.50 for the 2-pound package. We've used one pound to make six small rounds. They cost about 50 cents a piece which isn't super cheap; it would have been more if I hadn't already had the flowers and oil. Since we got "the craft experience" combined with soap we can use, it works out okay.
If you're not into the whole "cobble-together-your-materials-from-all-ends-of-the-house", you can also buy a soap kit that comes with everything you need and you don't have to rip your plastic cups to shreds in order to get the soap out. Want to skip the microwave method? Try my friend Stephanie's instructions for making soap in the slow cooker.
Have you ever made soap?
Disclosure: