DIY on a Dime: Make a Playdough Kit
As an Amazon Associate I earn from qualifying purchases. For more details, please see our disclosure policy.
Learn how to make homemade playdough and package it up as an inexpensive but FUN gift for kids from Life as MOM Contributor Janel.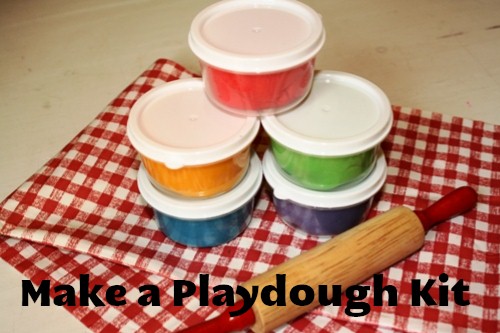 When I was a kid, my mom always made our playdough. She'd make a HUGE batch of it and then let us do the coloring. We'd each get a ball of uncolored dough and have to knead the food coloring into it. We loved it even though the kneading gave our hands quite a workout!
(Note from editor: The kneading also dyed our hands the same color as the food coloring! Janel and I are sisters, by the way.)
When my eldest was in preschool, I learned how to make playdough myself. It's ridiculously easy. It makes a wonderful gift for little ones when you package it up with a few playdough tools like a rolling pin and cookie cutters. If your kids want to give it as gifts to their friends, get them involved and work side by side to make the dough. They'll love helping you color it.
What you'll need to create a playdough kit:
Playdough in various colors: We've provided an easy cooked playdough recipe below. You can either color your dough with liquid food coloring, Wilton Icing Colors, or powdered unsweetened Kool-Aid. If you use the Icing Colors, you can make hard-to-find colors like black and brown. It is easiest to make if you color it as you cook it — you don't have to knead it very much at all this way. Also, you might want to include the recipe with the gift as well!
Small containers with lids: You can keep it simple and just store the playdough in ziptop bags. Or, if you want to get a bit fancier, buy small plastic containers with lids. The containers you see here were just $1 for a package of ten at The Dollar Store. Each one of these containers holds 0.29 cups. They hold about three times the amount of playdough as the mini Playdoh canisters do.
Rolling pin: A child's rolling pin makes a fun addition to the kit. If you can't find one, you can create your own by cutting a thick dowel into your desired length.
Placemat: A placemat that can fold up for compact storage works well. Make your own by cutting a rectangle out of vinyl that you buy off the bolt (I found some at Ace Hardware) or try cutting up a cheap vinyl tablecloth.
Cutting Utensils: Find some fun cookie cutters that your gift recipient will love, or just throw in a plastic knife. Check to make sure that the plastic knife isn't too sharp for little ones to handle.
Storage Container: Find a container with a lid that is large enough to hold all of the playdough and accessories.
Homemade Playdough
Makes one regular-sized canister of playdough or three small (0.29 cup) containers.
Ingredients:
1/2 cup flour
2 Tablespoons salt
1/2 teaspoon cream of tartar
1/2 cup water
food coloring
1 1/2 teaspoons oil
1 1/2 teaspoons imitation vanilla extract
Directions:
In a non-stick skillet, whisk together the flour, salt, and cream of tartar. In a measuring cup, use food coloring to dye the water. Add colored water and oil to the pan and stir to combine with a silicone spatula. Stir and cook over medium heat. As the dough cooks, it will start to clump. When it is almost done, add the vanilla and continue stirring. As it gets closer to being done, the dough will become smoother and the color will intensify a bit. When it is cooked, remove from pan, cool until you can handle it, and then knead it until it is soft and pliable. Store in airtight containers.
Kool-Aid Option: You can omit the food coloring and vanilla and replace them with a packet of unsweetened Kool Aid powder. Just mix in the powder with the water. Be advised that not all flavors work equally well. Lemonade is not yellow enough so you'll have to supplement with additional food coloring, and Grape is not a very pretty purple. However, the Tropical Punch is FANTASTIC and smells soooo good!


–Janel is a stay-at-home mom of two daughters and a "law school wife" in Virginia. Raised in a budget-conscious and DIY-minded family, she blogs about motherhood, crafts, and living on a law school budget at Life with Lucie and Ella.

DIY on a Dime
This is part of the DIY on a Dime: Great Gifts series. For more easy and frugal gift ideas, check out the list.