How to Give a Kindle Book Gift (& Why It's Awesome to Do So)
As an Amazon Associate I earn from qualifying purchases. For more details, please see our disclosure policy.
Wondering how to give a Kindle Book gift? Or even why you should do so? The kindle is an amazing bit of technology! And its ebooks makes great gifts.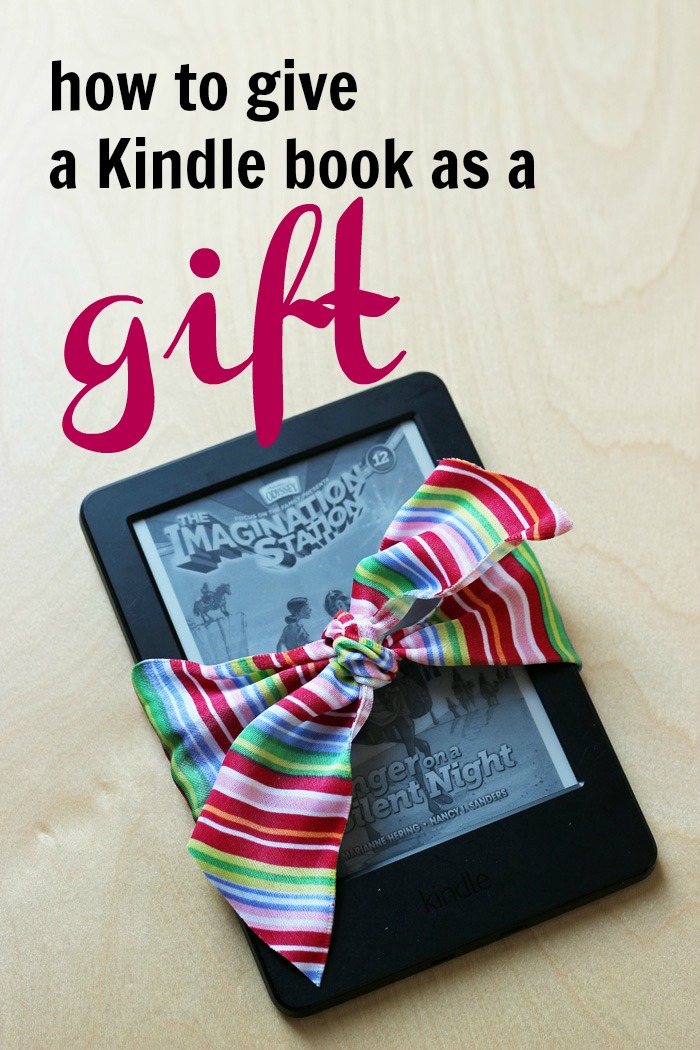 I am a huge book lover. I've always loved books, particularly those that I can spend all day — or all night — reading  without interruptions. Yes, I've been known to stay up all night reading a book. I'm wasted the next day, but it has usually been worth it to read without interruptions.
Books have always been something I've happily invested in. I've learned so much, been encouraged, and grown from what I've found in the pages of books. I am happy to give books as gifts because I know that they can be invaluable.
Currently, we have a LARGE walk-in closet that houses most of our books. But, I've downsized a lot over the years. Books take up space. Plain and simple. I've narrowed our collection down to favorites and those that we absolutely need to have for school purposes.
Going forward, I'm doing a lot of my book investments in Kindle format. I love our Kindle e-readers for many, many reasons. Let me count the ways.
On my rest day, I can buy a book in seconds and move to instant rest and relaxation mode.
I can transport any number of books without hurting my back. This is great for road trips and vacations, but equally nice for waits at the doctor's office.
I can instantly hush a bored child by handing him the Kindle and its 100s of books. We currently own 223 books that we've slowly purchased over the last 4 years since we entered the age of the Kindle.
Reading on the go is as easy as a click of a few buttons.
Kindle books are often cheaper than the paper versions.
Kindle books can't get lost like paper versions. No rebuying a book for school.
More than one child can read a Kindle book at the same time. No fighting.
We can check out Kindle books from the library and not worry about returning them. No late fees!
With Kindle Matchbook, I can buy the Kindle version of paper books I already own for cheap! This means I can downsize our physical library or have a backup copy for $3 or less.
With Kindle for iPad and Kindle for iPhone, we have a myriad of "readers" available to us to read books whenever and wherever.

A Kindle makes a great gift.
The Kindle has been my gift of choice this year. I bought my five homeschool kids each a Kindle Fire for their school work this year. It's been a great asset to their learning in so many ways.
Recently, my aunt was diagnosed with another cancer. She's going to be house- and bed-bound for some time as she pursues treatment. I've got a Kindle Fire on order to set up for her so that she can read, listen to music, or watch movies whenever where ever.
There is a whole range of Kindle devices to choose from, but I've found the standard Kindle fire (currently on sale for a very low price) to be more than sufficient for our needs.
While we have a couple ipads and iphones that we can use the Kindle app on, I still enjoy the fact that Kindles are so affordable that I could buy each kid one.
We have both Kindle glare-free touch screens and Kindle Fires with special offers. The special offers means that ads for books show up when the screen is asleep. I worried that these might be inappropriate for kids, but for the most part they've been fine. I've been very happy with the purchases.
Prices can range on the Kindle. I've paid between $20 and $40 per device, always on sale.
A Kindle Book makes a great gift, too.
Kindle books make amazingly affordable gifts. Often times Kindle books are much, much cheaper than regular books.
Do you know how to give a Kindle book as a gift?!
Giving a Kindle book gift is quick, easy, requires no shipping, no storage, and is often less expensive than a paper alternative.
I know there are plenty of good reasons to buy paper books, BUT, for a quick and easy, dare I say, LAST MINUTE gift, Kindle can save your bacon. Or at least your gift-giving reputation!
And yes, it's totally allowed to give a Kindle book gift. It's all part of the ordering process.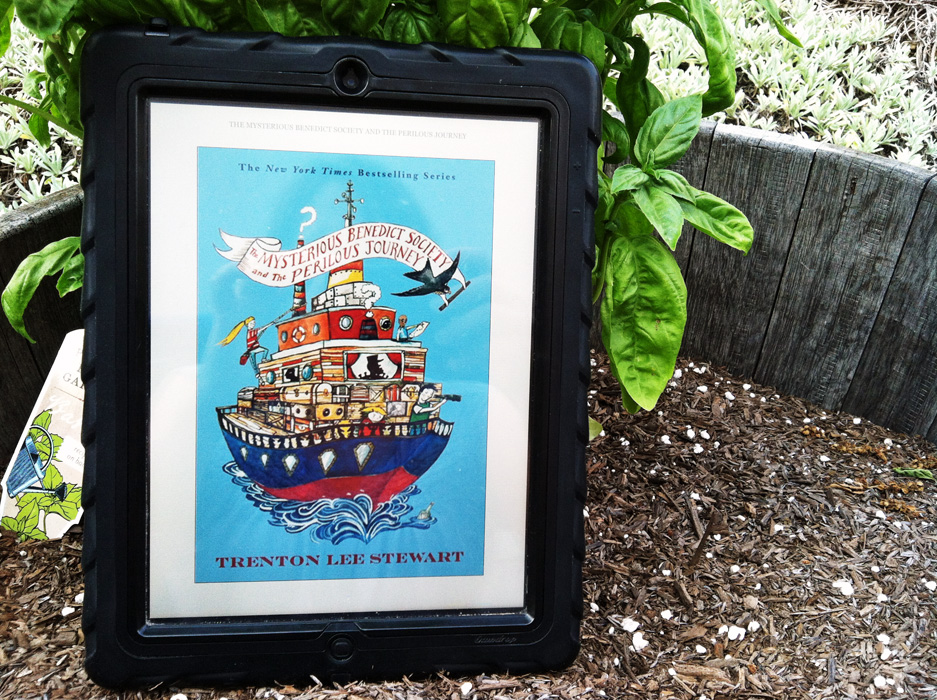 How to Give a Kindle Book Gift:
Here's your step-by-step, easy-peasy pictorial on how to gift a Kindle book.
1. Find the book you want to order.
Hey! How about a fun, new cookbook?! 😉
Or a family read-aloud?
Or a book to encourage you in personal growth?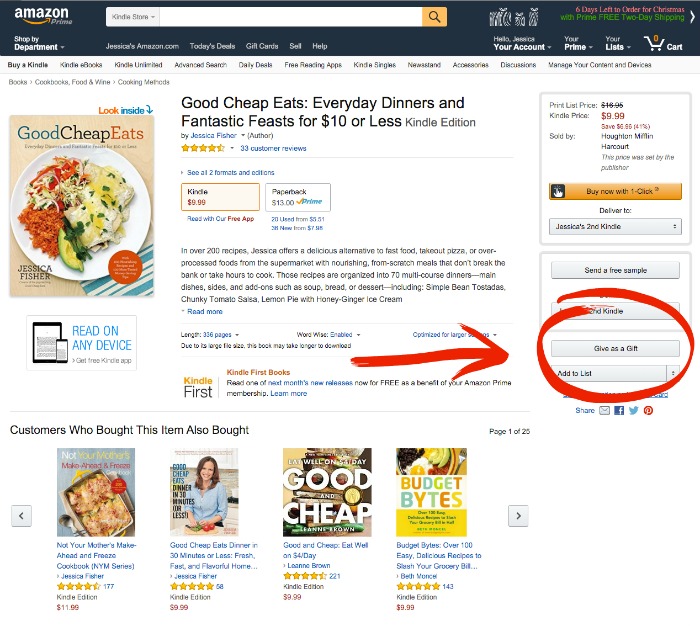 2. Instead of clicking "Buy now", click "Give as a Gift".
Once you choose your gift, you'll get a screen like this: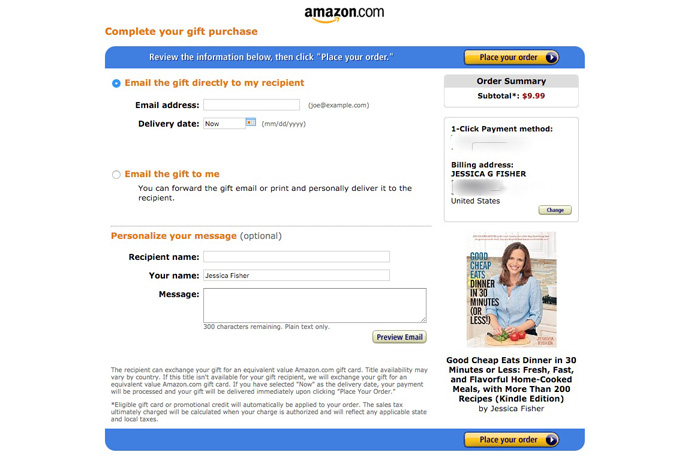 3. You now have two options.
You can email the purchase directly to the person. Fill out their email address, schedule a delivery date, and then personalize your message with their name and your greeting to them.
You can have Amazon email the kindle purchase to you. This means that they will send you an email you can print out and then stick into a card, a stocking, or whatever. It includes a redemption code so the recipient can add the book purchase to their kindle after they receive your gift.
What if they already have the book or want a hard copy? They can exchange your gift for a gift card of the equivalent value. Not the nicest option if you bought them a bargain basement Kindle book, so choose wisely. 😉
4. Once you will out the different fields, place your order and you are good to go.
That was easy, right?
Giving a Kindle book as a gift couldn't be simpler. They make for great gifts without a lot of hassle. My kids love to read this way. So do I.
Have you ever given or received a kindle book gift?