Evaluate Your Home's Strengths (Zone Defense)
As an Amazon Associate I earn from qualifying purchases. For more details, please see our disclosure policy.
Assessing the playing field, that is, evaluating the strengths and weaknesses of your home can help you enact a game plan for organizing that will help you win against clutter and disorder.
Ready to get into the game? Last week, I gave you a sneak peek into our game plan this year for organizing our homes. We're going on Zone Defense and will be working on a different area of home/life each month.
Prior to a game, the athletes and their coaches study the field. What are the playing conditions? What are the strengths of the opposing team? What are their weaknesses? How can we position ourselves for success?
So, while you are probably antsy to just dig in and deal with your messes, now is the time to think about what you want to accomplish in this year. Take an inventory, if you will, of your home today, and sketch a vision of what you want it to look like – and how you want it to function – in the future.
Task #1 – Take this week to survey the playing field: inventory your home and its strengths and weaknesses.
Jot down the answers to these questions so that you have a clear picture of what you're going to tackle.
You can also download worksheets with these questions here. You'll notice that they will coordinate with your OLAM pages. 😉
Home Inventory Questions
What are the problem areas you face in daily cleaning?
Where does clutter tend to pile up in your home?
Is it easy for you to get ready in the morning? If not, what do you think is the problem?
What is your favorite room of the house? Why is that? (You're going to want to think about this, so that you can duplicate that feeling in other areas of your home.)
What room do you avoid at all costs? Describe this room and think about what annoys you about it. What would you need to do/buy to make it better? (We want to solve this problem and keep it from spreading throughout the house!)
Which cleaning tasks do you avoid like the plague? Chances are you can make these jobs easier with a little decluttering and organizing.
Where do you hide your clutter? (Yeah, that's gonna have to stop.) And why is that? Are you rushed? Don't know where to put it? Lazy?
Are there parts of your home that are broken or in need of repair or a makeover? Keep a running list. If they are urgent, make plans to fix them now. If not, chances are we'll cover it in the coming weeks.
Is it too much stuff, failure to put it away, or plain disorganization that holds you back from having a home you love?
As you think through these questions, try to be honest with yourself. Knowing your problem areas will better help you to solve them and to redesign your home to fit you and your family.
Personally, I want to get to the root of the problem. Rather than continually move my messes around, I want to prevent them from happening next time.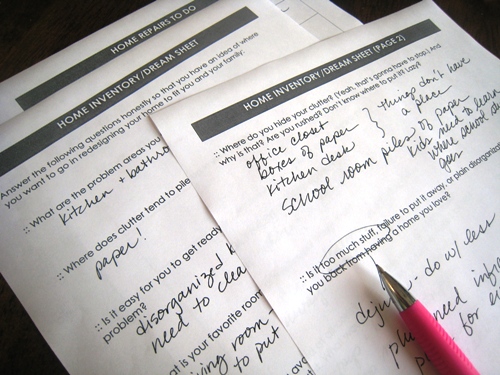 What kind of player am I?
For myself, I know that paper is my arch rival. I was able to list at least four locations where paper rules the field. I also know that we have a combination of too much stuff as well as some tweaks we could make to increase the functionality of each room, like coat pegs in the entry way.
I've got these in mind, as well as trying to be honest about my own situation and habits. I know that I tend to hold onto stuff because I worry that I will have to pay a stupid tax and rebuy it later. Or, I'm just sentimental about the item in question.
Clearly, decluttering isn't just about stuff. Emotions are a key player in this game.
My hunch is that once we get the ball into play, though, we'll be okay. Successes often build on one another.
What's your strength? What's your weakness?