Teaching My Boys to Cook (Eat Well, Spend Less)
As an Amazon Associate I earn from qualifying purchases. For more details, please see our disclosure policy.
Teaching my boys to cook is a great way for us to eat well and spend less, while they live under my roof as well as after they fly the nest.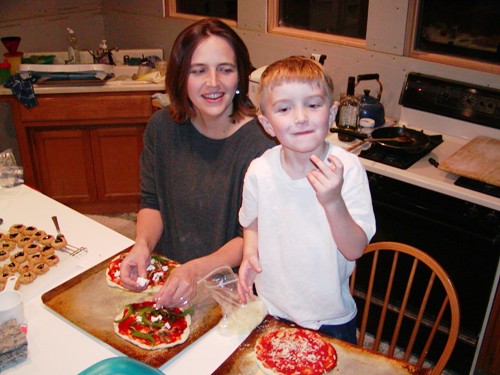 Ever since my firstborn could stand up on a kitchen chair, we've encouraged our kids to help in the kitchen.
(That's he and I almost ten years ago. We were remodeling our kitchen, but that didn't stop us from cooking up a storm together.)
Now that the older ones are older, I've realized that I haven't done the best job in making them independent in the kitchen. In fact, the older kids have been usurped by the littler ones who want to help. We haven't moved too far past someone standing on the kitchen chair helping mom.
Only the names have changed.
When Shaina told me last month that her five year old could bake cupcakes unassisted, I realized the error of my ways. In the name of a clean kitchen and conserving resources (ie ingredients flung about the kitchen), I've kept my children in the dark, or at least not allowed them to fend for themselves.
This month, as part of my Pantry Challenge and my food goals for the year, I set about to change that.
I just can't do it all. Therefore, teaching my kids to cook will help us to eat well and spend less while they live in our home. I won't be the sole cook and bottle washer or as tempted to run for take-out on a night when I'm just too tired. I can call in the reserves!
And teaching my boys to cook will help them to eat well and spend less once they leave our home as young men. They'll be able to fend for themselves, be independent of restaurant fare, and possibly woo the girl, too.
While my younger three are 7, 5, and 3, and still quite suited to being assistants, my older three are definitely cooking school candidates. At 9, 11, and 14, they love to eat and are perfectly able to make part or all a meal.
If they know how.
So, that's the mission I'm on. It hasn't happened in three weeks' time. No, I think this will be a year-long goal, but I'm hoping that by this time next year, I'll have some full-fledged sous chefs on my hands.
Here's what we've done so far:
1. Create a recipe book that is easy for them to access.
I enlisted FishBoy11 to help with this project: a family recipe book that everyone could access. My recipes are all over the place. How could they know that some are only online while others are on ratty recipe cards in my grandmother's handwriting in a binder on the second to the top shelf of the bookcase in the schoolroom?
Yes, I'm complicated.
So, at the beginning of the month, I printed out copies of the month's meal plan as well as the recipes to go with. He created dividers as well as a book cover, and compiled them all in a binder. Cool.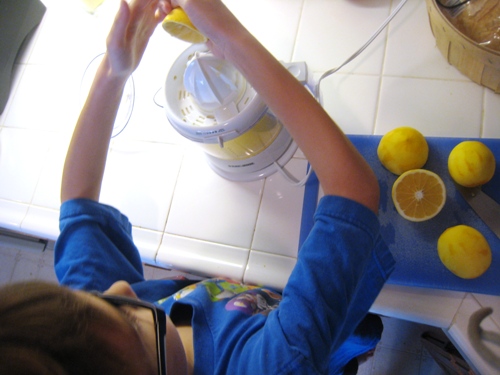 2. Enlist a child's help with kitchen prep whenever possible.
A lot of my cooking this month has been hodge podge lately due to the Pantry Challenge. But, one thing that has been constant has been prep work as concerns all the fresh produce we get each week in a subscription box. Everyone is pretty eager to see what each week holds as well as to taste what's included.
Kitchen prep lessons have involved juicing lemons, making lemonade, washing spinach, peeling sundry root vegetables, and otherwise exploring this world of strange and new fruits and vegetables. What WILL we do with those rutabagas and lemon grass, anyway?
As a result, the kids are learning about the produce as well as the techniques used to prepare it.
3. Offer cooking tutorials often.
As I'm cooking dinner each night, I've been more intentional about including a child in the prep work and/or offering a tutorial/running commentary about how to make a certain dish. I've given the rice pilaf lecture at least twice in the last three weeks.
I figure that repetition and visuals are helpful to learning and if I'm right there while someone's stirring the pot, they will become more comfortable in the kitchen.
What's next?
As the month draws to a close, I'll be enlisting their input on the meal plan for February as well as their help in a round of freezer cooking. Yes, this should be interesting….
But, I think that teaching my boys to cook and making them independent in the kitchen is a worthy goal for the year and a great way to eat well and spend less!

This post is part of an ongoing series about how to eat well and spend less. Along with some fabulous foodies, organizers, and frugalistas, I've been bringing you suggestions on how to eat like a king without becoming a pauper to do it. This month we're discussing our food goals for the year.
From wasting less in the kitchen to saving money on healthy foods to eating better for baby, we've gotcha covered on all manner of tasty resolutions.
Be sure to check out what the other ladies are sharing this week or browse their archives:
Have you made any Food Resolutions this year?