Streamline Your Life & Simplify
As an Amazon Associate I earn from qualifying purchases. For more details, please see our disclosure policy.
Want to make things easier on yourself? Looking to simplify? Check out these tricks for streamlining your life.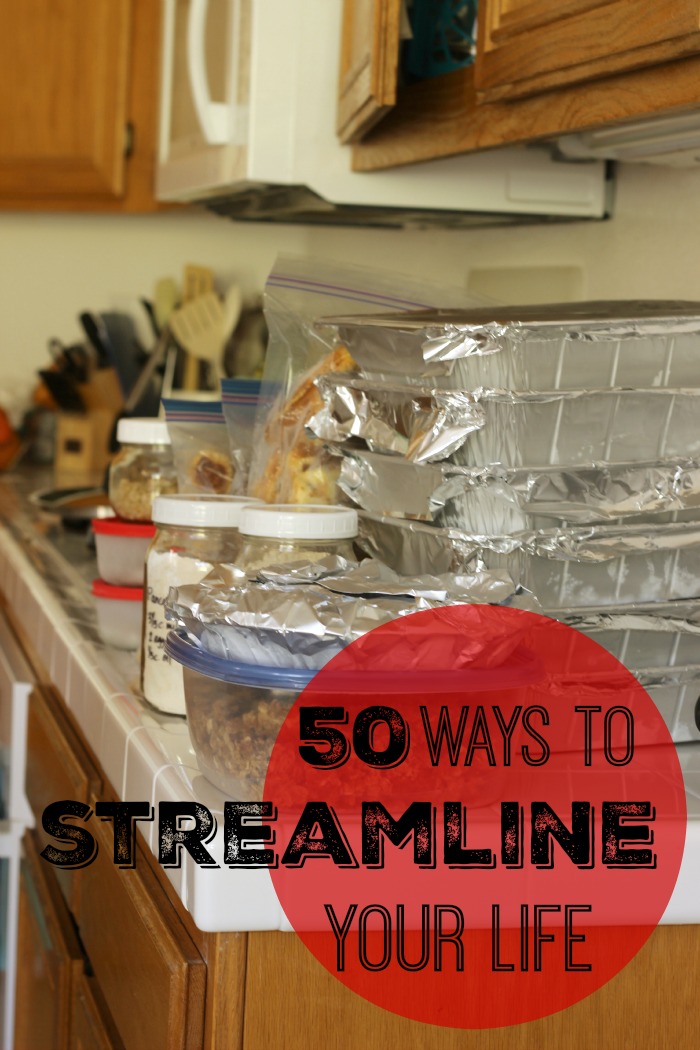 Life can be crazy for a mom or home manager. There are so many things to do in a day, it really can be a full time job.
If only things could be simplified, streamlined, easified….
You're in luck! I've got 50 easy things that you can do to make your life easier and more enjoyable.
50 Ways to Streamline Your Life & Simplify
Did you miss the start of the list? Go here for the beginning of this series on ways to develop systems and routines that help you be more efficient and effective in your life as Mom.
8. Plan your meals.
Whether you plan a few days, a week, or a month at a time, menu planning can save you a lot of time, money, and headache. Start with a list of meals your family likes and the ingredients you need to keep on hand. Having a plan helps you shop and cook more efficiently. Plus, it helps you avoid last minutes trips through the Golden Arches.
9. Read good books about homemaking.
There are so many great books out there about cleaning, housekeeping, organizing, and making your house a home. Take note of whatever you can apply to your own life and home. Not everything will work for you. Find your own groove!
Queen of the Castle book review
Organizing Resources to Help You Get on Track
10. When running errands, take a few minutes to map out your route.
Try to mark your course in a circuit that avoids back tracking. Simplify your errands! Doing so will save you time and gas. If picking up cold groceries are part of the plan, bring a cooler with ice packs along.
11. Use color coding.
Avoid huge piles of wet towels and dirty cups and misplaced homework. Color code your children's belongings in order to keep track of whose is whose. Assign a color to each child and apply it to cups, towels, laundry baskets, even clothing.
However it works to simplify at your home. We even use color coding in our homeschool.
12. Budget your money.
You must have a budget if you're to truly achieve financial freedom. Better yet, pay down debt and be sure to tell your money where to go each month.
–> Follow these steps to financial freedom.
13. Organize your bookkeeping.
Consolidate all your account numbers and passwords in one place. Develop a central filing system or notebook to keep track of bills to be paid and account statements.
–> Clean up your financial house.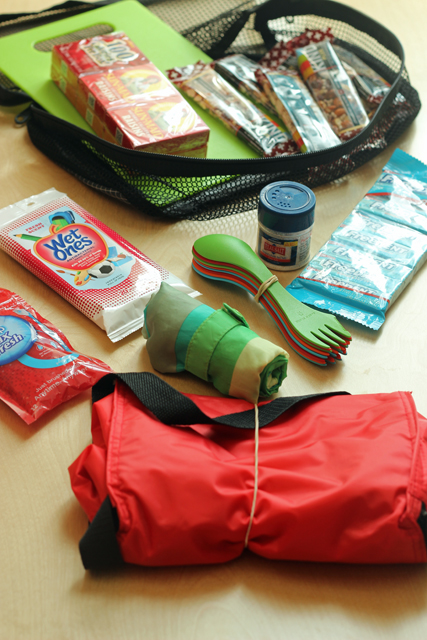 14. Get packing.
Prepare packing lists for different activities so that you always have what you need. Continually forgetting all the gear that needs to go to baseball practice? Find yourself at the beach or pool without sunscreen? Are impromptu picnics an impossibility due to lack of gear?
Think through the activities that your family enjoys and create lists to reference when it's time to load up. Simplify by making packing a no-brainer.
Better yet, pack the bags now and have them ready to go:
15. Clean as you go.
Clean as you go so that you don't have to bring out the sandblaster to clean up your messes. Daily maintenance takes a lot less time and elbow grease than letting it build up. Be sure to get help with the housework when you need it.
16-50. Click here for the rest of the list.
Got a great trick for streamlining your life?
Share it with us!
Originally published April 11, 2009. Updated 2016.