Frugal Friday: Mind Over Money
As an Amazon Associate I earn from qualifying purchases. For more details, please see our disclosure policy.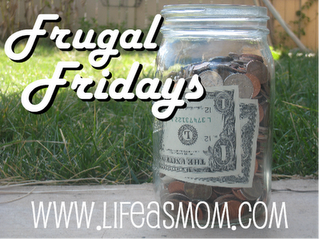 When I was growing up, my parents were always very careful with money. Neither of their families had had a lot of money when they were children, and so they knew how to save. It took a long time for me to appreciate this.
I remember scrunching down in the backseat of the car when my mom would stop at garage sales because I didn't want anyone to see me. And forget the idea of my actually wearing anything she bought there. For some reason, bargain shopping had a stigma attached to it.
I didn't want to feel poor.
And throughout high school and college while I worked to earn my way and was very careful with money, I still wanted to acquire "stuff." And, in the back of my mind, having nice (read: expensive) things was a goal and a symbol of success. This continued into marriage and motherhood until a few years ago when we received a "wake up call."
My husband was starting a new business, and we went without an income for several weeks. Up until that point we had been living "speculatively," that is, making our purchases with plastic and then counting on having enough money later to pay off the balances each month. This worked fine – until the month came when there wasn't enough money to pay it off and still have some cash on hand. We were stuck.
"Coincidentally," I heard about this guy named Dave Ramsey and started listening to his radio program about money.
FishPapa and I talked about our options and the "wild idea" of living debt-free. It sounded totally crazy considering our income at the time. Though we had little savings, we decided to bite the bullet and stop using our credit cards. We found ourselves in a heap of debt and I felt "poor."
Listening to Dave answer calls about people in better and worse straights than us was so helpful to my morale. The "good" calls gave me hope to change. The "bad" ones helped me count my blessings and pay close attention to the advice Dave gave. One of the things that he said over and over was about the idea of being poor.
He said, "Poor is a state of mind. You're not poor. You're broke."
That helped me so much.
And part and parcel with that idea is the thought that we need to do what we need to do in order to be wise with our money.
** If we order a la carte at a restaurant and the server raises an eyebrow, that's okay.
** If we use coupons religiously in order to stay under budget, that's okay.
** If we put on an extra sweater and keep the thermostat set in the low 60s to conserve money and energy, that's okay.
We need to be okay with the methods we're choosing in ordeer to be money-wise. We need to be okay with not "keeping up with the Jones." Chasing status symbols is what gets people into financial troubles in the first place.
June 19, 2007 is a day that will live on in infamy. At least in our bank book.
In switching to cash we began to be much more careful in our shopping. We scaled back in our spending. And we lived on rice and beans that summer. We started "to act our wage." And since then, praise God, we have climbed out of the hole. But, it was a most valuable education. We learned that there's a lot of good in life that money can't buy. And we learned to be okay.
One way to save money and make it more fun in the process is to shake off those attitudes that you need to drive a fancy car, buy name brands, or order a full menu at dinner.
Or that you should be embarassed for doing otherwise.
It's a question of mind over money. Set your mind on the right course and don't let your ideas about money make you feel "poor" or make you spend what you don't have. Thinking rightly about money will help you save it, not be a slave to it.
Got a great money-saving tip or trick? We'd love to hear it.
Write about it on your blog and bring your link back here. Anyone is welcome to participate provided that both the blog and the post are family-friendly.
Please remember
1. to add a link to LifeasMOM, so that your readers know where to find all the other good stuff that people are sharing. (It's always good to share, isn't it?)*
2. to make sure that the link you share here directs us to your post, not the main page of your blog. You can find directions to do that here.
I can't wait to get more ideas on how to be wise about money!