DIY on a Dime: Satin Flower Hair Clips
As an Amazon Associate I earn from qualifying purchases. For more details, please see our disclosure policy.
Today Janel shares a fun tutorial for hair clips that can serve as Easter basket filler or coordinate with your girl's Easter dress.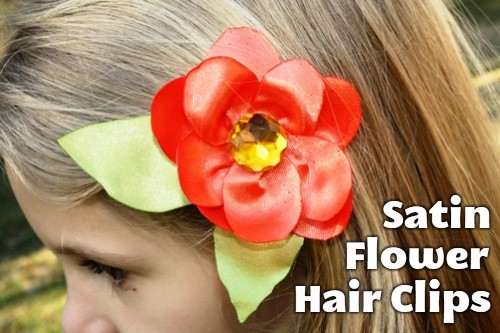 We don't go crazy with gifts at Easter at our house. Typically, I fill Easter baskets with small gifts for each of the girls and hide them somewhere in the house. My daughters LOVE running around and searching for their present. I keep the gifts pretty simple and oftentimes I like to make at least one of the gifts.
DIY Hairclips are my go-to easy gift for little girls. They're perfect for just about any occasion and can also double as a gift topper. Best of all, they really are inexpensive to make — just about $0.25 each depending on the supplies you choose. I keep some clips, felt, and fabric on hand at all times so that I can create a little gift whenever I need to.
These Satin Flower Hairclips are one of my favorite creations. They are perfect for Easter — you can create your satin flower to coordinate with your girl's Easter dress!
How to Make a Satin Flower Hairclip: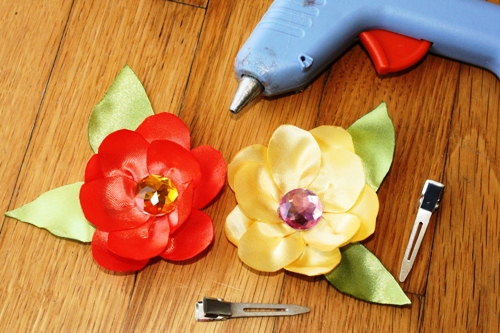 Supplies:
metal hair clip
hot glue & glue gun
Directions:
Make your DIY Satin Flower according to this tutorial. Since the craft uses an open flame, please use common sense and caution. For these satin flowers shown here, I used costume satin, glitter costume satin, and large colored rhinestones.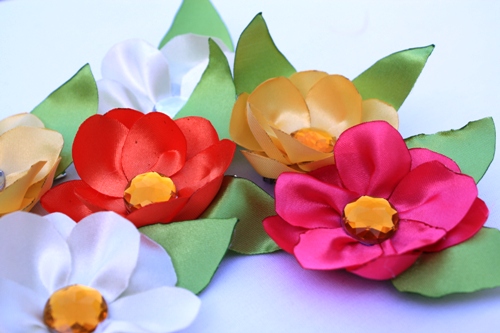 Flip the flower over and apply a line of hot glue on the back. Open the clip and press the top of the clip into the glue. Hold until the glue dries.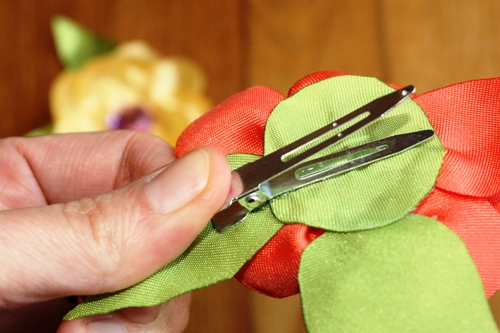 If you prefer headbands to hair clips, those are easy too! Just hot glue the satin flower directly onto a store-bought headband. I found the glittery pink one shown here in the "dollar section" at Target.

–Janel is a stay-at-home mom of two daughters and a "law school wife" in Virginia. Raised in a budget-conscious and DIY-minded family, she blogs about motherhood, crafts, and living on a law school budget at Life with Lucie and Ella.
DIY on a Dime
This is part of the DIY on a Dime: Easter. For more easy and frugal ideas for celebrating the holiday, check out the list.