DIY on a Dime: Breakfast for the Road
As an Amazon Associate I earn from qualifying purchases. For more details, please see our disclosure policy.
Know someone with a long morning commute? Bless him or her with breakfast for the road.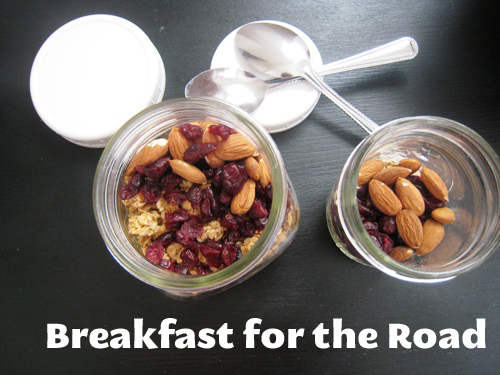 Breakfast is an important meal, but one that's easy to skip. Too easy. We all know we should eat, but …. that morning rush gets the best of us sometimes.
This gift is super easy to put together and can be customizes to suit the giftee.
You know that mason jars are the new vessel of choice, right? They work fabulous for drinking as well as eating. And they make great breakfast containers since they fit so well in cup holders.
Fill a set of mason jars (8, 12, or 16 ounce) with individual servings of homemade granola or the makings of "instant oatmeal". Be sure to label them so folks know whether to add hot water or cold milk. You can gussy them up with nuts, dried fruit, sweeteners, even sprinkles. Consider giving several pre-made jars or simply gifting one jar and then including several snack bags full of "refill" breakfasts.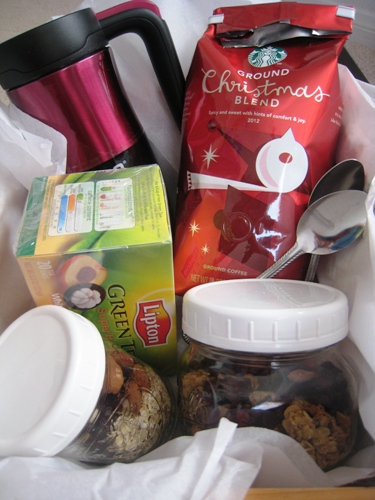 Want to make it more? Include coffee, tea, a few spoons, and a cool travel mug. You could even tuck in a gift card for Starbucks for those super crazy mornings.
What to include in your breakfast basket:
There are plenty of shelf-stable items that you can add, both gourmet and everyday, to make this a special gift that doesn't cost a lot. By equipping your friend or loved one with some pre-made items, you're also giving them tools and ideas to keep up the practice, not only of eating breakfast, but also of saving money to do it.
That else would you add?
DIY on a Dime
This is part of the DIY on a Dime: Great Gifts series. For more easy and frugal gift ideas, check out the list.