Fun Gifts for New Parents
As an Amazon Associate I earn from qualifying purchases. For more details, please see our disclosure policy.
Welcoming a baby is a celebration to share with new parents. And fun gifts are a great way to celebrate.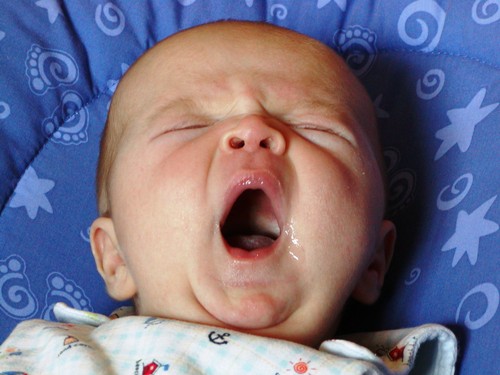 The following post is sponsored by Edible Arrangements.
My "baby" is going to be four in just a few weeks. It's amazing how far away those eleven years of welcoming babies to our family now seem. She's four?! My oldest is fifteen?!
With each baby we were blessed to have a great support network of friends. It's funny that with all the moves and other life changes, each baby had a slightly different welcoming party. And when you have six kids, you're blessedly the recipient of some really cool gifts.
Looking for a fun gift for new parents?
It may be that your friends truly need the basics for baby care like diapers, clothing, and other necessities. But, sometimes you want to go beyond the basics and give a gift that's a little more fun.
Here are some ideas to get your juices flowing:
Some take more work than money. Others take more money than work. Either way they're all really fun gifts to give and get.
1. Throw a book shower.
My sister did this for us when we were expecting our first baby. This past week when I was sorting through all our books on the shelves, I came across many of the books that friends gave me so long ago.
Leo the Late Bloomer from Jen and The Giving Tree from Laura are books that won't be going anywhere. Ever. Kelly gave us a beautiful hardcover copy of To Kill a Mockingbird. Now that baby's finally old enough to read it!
A book shower is pretty easy to plan. Just make a note on the invitation, asking guests to bring a book to start the baby's library. They don't have to be limited to that gift, but it's a fun way to carry a theme through. Books are a pretty affordable thing to buy, especially when they're a quarter at the thrift store. Hopefully, your guests embrace it as fun instead of a burden.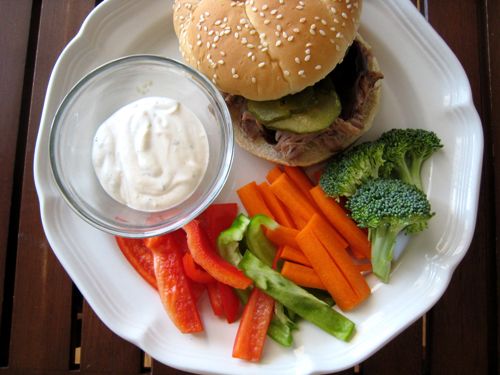 2. Fill the freezer.
You knew I was going to say that, right? I think a freezer full of dinner is a boon to any household, especially if you keep in mind their tastes and food preferences.
If you know your friends' favorites, do a batch of bulk cooking and package everything for the freezer in containers they can keep. What a blessing to know that several meals are already prepared for those nights when the baby is fussy and tummies are rumbling.
Some freezer-friendly recipes include:
Be sure to include instructions on how to reheat or bake the different meals. The apple pie is awesome.
3. Bring food to the hospital.
I'm all about the food. As we know. And it seems like I was always hungry at the hospital. Friends bearing food gifts were my very best friends. I loved receiving fresh salads and sandwiches, fruit, and coffee drinks that the hospital could not provide.
And fresh fruit and veg was always top on my list when folks asked what I'd like. It helped so much to provide healthy nourishment and helped get my postpartum body back to normal.
Whatever "normal" is for a postpartum body.
Take a bouquet of fruit!

One time we even received an Edible Arrangement. Instead of flowers it was a beautiful bouquet of yumminess. My kids were thrilled with the fun treat, as was I.

I love flowers, but I love fresh fruit more!

If you're looking for a gift this week, you might want to check out the Coconut Cabana special that Edible Arrangements has available. There are a number of specials that would make these edible food gifts work for you.

Get free delivery on ALL Tropical arrangements and boxes.
Get a free Tropical Sunrise 6 Box with any order that you've arranged to pick up. Normally, this is $25.
Get 50% off when you make an in-store order of a Tropical sampler.

To keep up with future specials and deals, you can follow Edible Arrangements on Twitter or "like" them on Facebook. They frequently have sales and specials. I also noticed that they have salads and smoothies in some locations.

The fine print: Order any arrangement or dipped fruit box marked "Tropical" or "Island" and receive free delivery; or get a free Tropical Sunrise 6-Box with any pickup order (valid on arrangement and dipped fruit box orders only). In addition, visit a location for more information on a special, limited time offer with any in-store order. Offers valid at participating Edible Arrangements® locations, online or by calling 1-877-DO-FRUIT. Offer expires 7/26/12.
4. Organize a cooperative dinner effort.
Not everyone has ample freezer storage, so you might just want to organize a cooperative dinner brigade among your friends. When our third son was born all I really needed was dinner prepared for my hungry crew.
Our friends organized three weeks of meals to be delivered with several of our babies actually and it was always such a blessing to me. I was starving!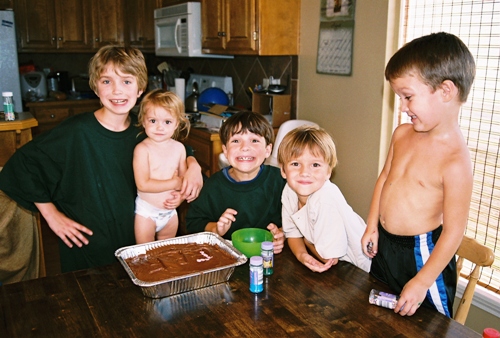 5. Watch the other kids.
Once I already had children, it was such a blessing to me that others were eager to play with my older kids so that I could rest and enjoy the baby. My kids had a great time tie-dyeing tshirts, baking and decorating cakes and cookies, and otherwise fighting the Dark Side with light sabers and other such weaponry.
It was a gift that our whole family could appreciate — and cost no money, depending on the activities.
There's no end to the fun gifts that you can give for friends welcoming new babies. Hanging out and burping a baby or changing a diaper? Well, those gifts are priceless.
What are some fun gifts you've given or received?
Disclosure: This post is sponsored by Edible Arrangements. I have been compensated for my time spent writing. All opinions are my own.