Good Graduation Gifts that Won't Cost a Fortune
As an Amazon Associate I earn from qualifying purchases. For more details, please see our disclosure policy.
Got a graduation to celebrate? Here are some good gift ideas that won't cost a fortune.
There have been many seasons of our life when we really didn't have extra money to spend on birthdays, graduation, or baby gifts. It wasn't that I wanted to be cheap; we just didn't have the extra money to spend. You know exactly what I'm talking about, don't you?
Yet, celebrating a graduation doesn't have to be expensive. It just has to be creative. Here are some ideas of good graduation gift ideas, but I bet this is just the tip of the iceberg. Be sure to leave your great ideas in the comments section.
Gift a service.
Physical help is hard to come by in this day and age. Sure, it can always be bought, but it's hard to get hands-on help when you need it without spending a lot of money. Consider how your graduate needs physical assistance.
Ever tried moving? It's a lot of work! And no one likes to help out with moving, but the packing, loading, driving, and unloading all need to happen. Maybe it's the loan of your truck for moving, help cleaning the apartment before or after moving day or the gift of organizing a move that is overwhelming.
Maybe your graduate needs a ride to college. Can you help with their commute for a certain length of time, buy a bus pass or offer the loan of a car on a limited basis?
How about freezer meals? College kids don't always have the means to make good healthy meals.
Chances are there is something you could physically help out with. Consider making a coupon booklet like this one to present your gift in a stylish way.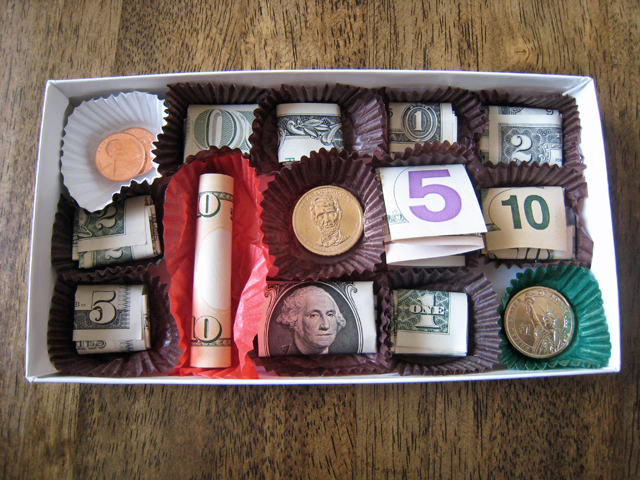 Provide for the basics.
Beginning college students and young adults just starting out have a  lot to learn when it comes to setting up housekeeping. Particularly at the check stand! Laundry soap, toiletries, and basic kitchen supplies can add up.
If you're a savvy shopper, start scouting the sales so that you can get them started easily and efficiently.
We have discovered some of our favorite restaurants through Groupon, but this group coupon site also offers great deals on movie tickets and other experiences like jets rentals and hot air balloons. There are product promotions as well as restaurant and entertainment deals.
You just must might find a great deal on something that your graduate absolutely loves. Check the college kid's home town as well as the town where he's going to college for potential gifts.
(Psst. That's my Groupon referral link. I think they give me a small credit when you use my link. Thanks!)
Give money — in a clever way.
Honestly, when I graduated from high school and college, I just really needed the cash. You and I both know that every little bit counts. So, even if you can offer $5 or $10, that's cool. Consider offering a gift card to someplace fun but necessary. And yes, Starbucks is sometimes necessary. Or of course, build some lego or give the chocolate box of money. 😉
What have been good graduation gifts that you've given or received?