Grocery Shopping with Young Children & Staying Sane, Part One
As an Amazon Associate I earn from qualifying purchases. For more details, please see our disclosure policy.
– A post from LifeasMOM contributor, Lauren –
Once you become a mother, there are a few things that become more of a challenge. I firmly believe that grocery shopping is at the top of that list!
Shopping with little people is not for the faint of heart. It takes a strategy and then it takes the energy to implement that strategy!
I have four little people: almost 6 years old, almost 4 years old, 22 months and 11 weeks. I didn't even realize until Baby #3 that if I developed a shopping routine that we used every time we were out, shopping would become far more manageable.
While it is much easier to go shopping alone, that is usually not an option for me. In my opinion, the trick to a manageable shopping trip is all in the prep work.
Here are some things that you can do to make shopping with children run a little smoother.
Make sure your children know what type of behavior you expect.
This is by far the most important 'rule' in grocery shopping with little ones. If your children don't know what kind of behavior you expect, your trip will be chaotic.
While this varies from mom to mom, this is what I expect from my crowd: first time obedience – no exceptions, stay near me and the cart always, no asking for items off the shelves, no horsing around or running in the store.
Since these are the expectations I have every time we set foot in a store, I am slowly not having to repeat them as often. My children have proven to me that the more consistent I am with expectations, the better their behavior.
Pack snacks and drinks – lots of them.
For my bigger kids, I make sure they have a filling snack while in the car riding to the store. When my children are younger and still ride in the cart, I let them eat their snacks while at the store. I just force myself to get over the germ-factor and allow them to eat while they ride.
When my children are hungry they are whiny and cranky – just like me! It is vital that we are all well-fed prior to our trip.
Plan your trip around nap time.
I still have several nappers, so I always schedule my store trips around naptime. It is a disaster waiting to happen if I try to grocery shop with over-tired children.
If you are going to multiple stores, map your route.
If I have to go several places, I map my route ahead of time, planning the most important stops first. In the event that I have to abandon our whole plan, I want the essential errands to be completed.
So assume I need to go the grocery store, drop books off at the library and get gas in the car. I make a mental plan to get gas first and then go to the store. In the event that my children are grumpy and need to go home, I can just drop the books off another day.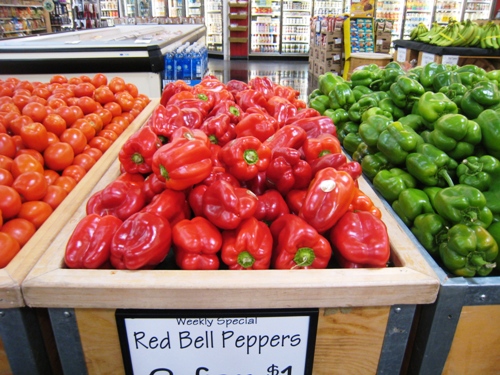 Make your grocery list as detailed as possible.
The more detailed your grocery list, the less you have to think about it. While grocery shopping with coupons is not rocket science by any means, it does take some concentration. When making my list, I always mark a "C" beside an item so I can remember to pull out my coupon when I put it in my cart.
If you know your grocery store very well, you could arrange your list by aisle. Arranging your list by section is also an option: canned goods, produce, meat, etc. Having an organized, detailed list makes shopping go faster and prevents distractions.
I am a firm believer in having my plan in place before we ever get in the car to go grocery shopping. I am not a fan of shopping in the first place, so I want it to be as painless as possible. By putting some thought into my list and into the process itself, shopping trips with my children can be successful and even enjoyable!
How do you make shopping with your children easier?
How do you prepare yourself and your children for a manageable shopping trip?
–

Lauren Hill is the 'Mama' behind Mama's Laundry Talk and loves all things laundry. However, she does not love the grocery store (with or without her children) and wants to make it as painless as possible.
Come back tomorrow for Part Two of Grocery Shopping with Young Children!