When Do You Say When? Part One in the Series
As an Amazon Associate I earn from qualifying purchases. For more details, please see our disclosure policy.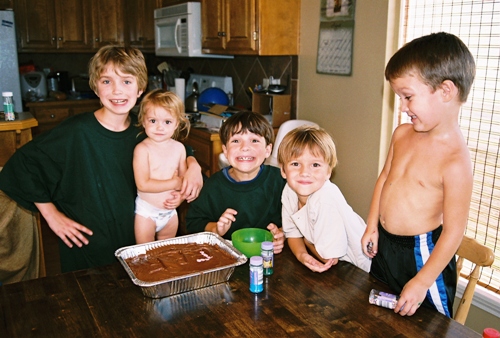 I've been mulling this topic around in my head for weeks. Readers have emailed or commented and asked the question in various forms. I, personally, have also wondered about it.
When Do You Say When?
Prior to my last delivery, I thought I was "done" having children. But, by the time my doc came to discharge me, I wasn't so sure. I don't have a hard and fast answer, but I'm thinking through it, talking about it with my hubby, and wondering. Since others are asking me, too, I'm bravely venturing forth to broach the topic here.
I gain such good insight from our "from the heart" conversations here. So, I'm hoping we can "talk" about it over the next couple weeks. If you think you have "a hard and fast answer," I trust that you will kindly and gently communicate it to the rest of us.
No two women have the same history or experience. We cannot really walk in each other's shoes. That is an understanding I'm gaining as I get older. In my twenties, I thought I knew everything. And I didn't keep it a secret.
Now, I'm learning how very much I don't know. Back then I also believed I controlled my life. Hmm….Today I thought I would tell my story of how I learned how much I don't control.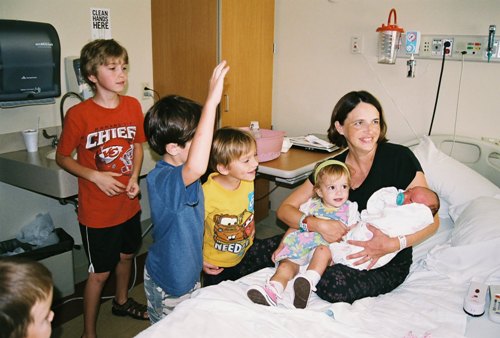 Our Story
I never planned to have six children. Who does?
In fact, at one point I had sworn off marriage and children completely. Then I met Mr. Right For Me. Building a family with him sounded wonderful — not just because he was strong and handsome. But, also because he listened to me, challenged me to grow, and loved children. He knew how to get down on their level and be gentle. I knew he would be a great father.
When we were newlyweds we debated over whether or not to have two or three children. He said two. I said three. A missions trip to Honduras had him saying four and had me staring with my eyes bugging out. Regardless, in today's society, any number we were considering was "large."
But, our thinking was that we got to choose. In our premarital counseling we were warned to double or triple up on birth control. We were to dictate how and when we would start a family.
And with our first child, that is certainly how it appeared. I got pregnant within two weeks of our deciding we were "ready." My pregnancy was pretty uncomplicated. And we went home with our little bundle of joy in the ignorance that all first-time parents share. Life was moving like clockwork.
A few months after our firstborn turned one, I became pregnant. This wasn't "planned" in the true sense of the word. But we were excited about the prospect of growing our family. And we shared that excitement with everyone we knew. I found a great midwife and expected that life would continue "like clockwork."
Unwelcomed surprises
When I started bleeding at nine weeks, I jumped to panic mode. A call to my midwife left me hoping that it was "just implantation bleeding." However, an ultrasound the next day revealed that the baby had died. I remember heading to the bathroom to relieve my full bladder and seeing more blood.
This cannot be happening to me.
We had left my mom in charge of our son. They came outside as we drove up the driveway. I remember the look on her face as we told her the baby died. And, the thought still makes me tear up. She was shocked.
This cannot be happening to me.
We decided to let my body naturally miscarry, rather than have a D and C. The midwife said it would probably be complete in a day or two. It actually took a week. It was late January, rainy season for California, but also the time of year when you can get the ground ready for planting. I remember heading out to dig in the garden, trying to pass the time, waiting for the nightmare to be over.
No matter what I wanted, no matter how hard I prayed, I could not save this baby. I could not change my circumstances. I could not control this. But as smart as I think I am, it took more than one loss to teach me this.
I lost a baby in January. I conceived again in May and lost that baby in June. I became pregnant again in late September. That baby died in November. Each time I ate all the "right things." Did all the "right things." But there were still things that were out of my control.
This cannot be happening to me.
Do we get to have our way?
Let us not be arrogant to think that things will always go according to our plans. You know this. But, we forget it when we think about planning our families.
Obviously, that is not the end of the story. But, I wanted to lay some groundwork in thinking about "when we say when." Let's not kid ourselves that it will go exactly our way. Instead, let's walk humbly as we think about having babies, building families.
The Lord certainly humbled us in 1999 when it didn't go the way we planned it. But it granted us such thankfulness for our one child, and such great joy for the ones that He later gave us.
Have things not gone according to your family planning?
How have you seen good fruit from that? Please share it in the comments. And, please, due to the sensitivity of this topic, let's use our "big girl" words. Looking forward to "talking" about it.
The conversation continues…. Part Two,