Curing Diaper Rash
As an Amazon Associate I earn from qualifying purchases. For more details, please see our disclosure policy.
The following is written by LifeasMOM contributor, Lauren: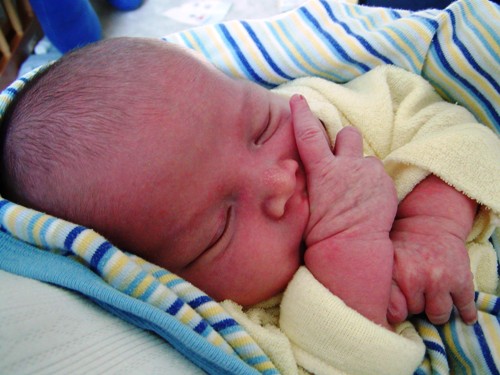 If you have a little one, it is almost inevitable that he will battle diaper rash at some point. Whether it is diaper rash as a side effect from medicine or from a reaction to certain diapers, it can be a tough problem to cure.
While there are many good diaper creams on the market, there are also some simple things you can do to make diaper rash less painful for your little one.
Ways to Combat Simple Diaper Rash

Skip the Disposable Wipes

While diaper wipes are ultra convenient, they are filled with chemicals. When using them on broken skin, the wipes can irritate the skin further and cause a reaction that looks like a burn – and feels like one too! Disposable Wipes seem to only make diaper rash worse because they don't give the skin a chance to heal.

Use Warm Water and Gentle Soap

Instead of using disposable wipes on bums with diaper rash, simply use plain warm water on a clean washcloth. If you need to use soap, only use a small amount of gentle "baby" soap. The fewer soaps, detergents and chemicals on your baby's skin during this time, the better.

Use a Barrier Cream

Choose a good barrier cream that has an ample amount of zinc oxide. Be faithful in using it every time a diaper is changed.

Change Your Baby Often

Babies should have their diapers changed often – every couple of hours at least. Even though most modern disposable diapers are made to hold 6-8 hours of urine doesn't mean that they should. The more frequently a baby is changed, the quicker simple diaper rash will heal.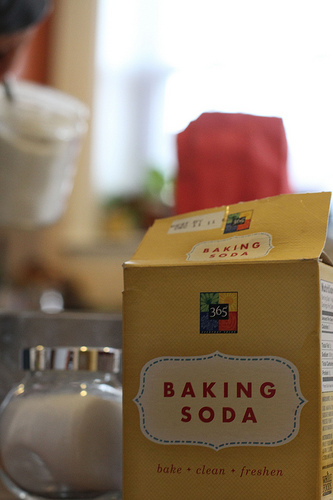 photo source
But what about the kind of diaper rash that doesn't respond to diaper creams? Or using plain warm water at changing time?
Here are two great tricks we use to treat the more difficult type of diaper rash when it shows up at our house. You know the kind: the rash that comes when a baby is taking antibiotics or has loose stools during a stomach bug. It can be heartbreaking to change diapers when it hurts your little one so terribly!
Use Baking Soda
Baking soda is my go-to resource when battling a really bad case of diaper rash. Its healing properties haven't failed me yet! Here's my method:
Each time I change a diaper, I wash the baby's bottom with a mixture of warm water and baking soda. I dissolve 2-3 heaping tablespoons of baking soda in about 3-4 cups of water and then dip my washcloth in the solution prior to washing the baby's skin. Then I use another dry washcloth and lightly pat the skin dry before fastening the diaper. Don't rub the skin dry, as you want the baking soda solution to stay on the skin to decrease acidity.
If I know that I'm going to need the baking soda solution all day, I make a batch in the morning and place it in an old wipes container and out of reach of my other littles. If you choose to make one
container for the day, make sure you use a clean, dry washcloth each time you use your solution to avoid contaminating it.
Also, at bath time I bathe the baby in a baking soda bath. I use about 1 full cup of baking soda in a bath tub of water. Pour the baking soda into the tub and dissolve while filling the tub with warm water. Again, make sure to pat the skin dry as to not rub off the baking soda.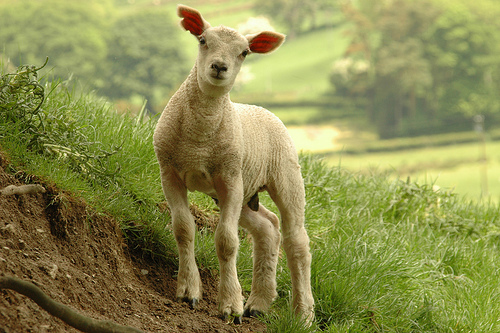 Liberally use Lanolin
Mothers tend to think of lanolin in relation to the early days of breastfeeding. But it has so many other healing and soothing properties! It is an excellent skin barrier and can safely be used on broken skin where other creams cannot.
To use lanolin, squirt a small dime-size amount on the ends of your fingers and "work it" between your fingers a few moments. The heat of your skin will make it more pliable and easy to work with. After it becomes more elastic, simply dab it onto your baby's skin. Put it on anywhere the baby's skin needs protection. This is an especially good product to use at night time when your baby won't be changed as
often.
When to See the Doctor
Some cases of diaper rash just can't be treated at home. Occasionally they can progress into yeast or a secondary infection. If you have concerns about your baby's diaper rash not healing or not responding to your treatment at home, go ahead and give your pediatrician a call.
What's YOUR cure?
Do your babies have experience with frequent diaper rash? What have you found to be the best at-home treatment methods?

– Lauren Hill is the 'Mama' behind Mama's Learning Corner, a site that features all kinds of educational ideas and tips as well as free printable worksheets. She is the mom of four young children and loves to learn alongside them.