Grocery Shopping with Young Children & Staying Sane, Part Two
As an Amazon Associate I earn from qualifying purchases. For more details, please see our disclosure policy.
– A post from LifeasMOM contributor, Lauren –
If you missed yesterday's post, go check out part one of Grocery Shopping with Young Children & Staying Sane.
Grocery shopping is a necessity for any family. That means it is also a necessity for mothers to figure out how to successfully shop with children in tow.
While I firmly believe that preparation is the key to a manageable shopping trip with children, there is the pesky little matter of the actual shopping. Trying to figure out the logistics of shopping with little people can be tough. Here are some ideas that definitely work for me:
I wear the baby in my Ergo.
Even if the baby were my only child, I would still wear her in the Ergo and not have her ride in her car seat. Those car seats are just big and bulky and take up a lot of room. Not to mention that some carts are made very narrowly at the front and the car seat doesn't sit firmly in it. I have found that the baby is just much more content and will be content for a longer period of time if she rides in the carrier with me.
I let the toddler have snacks while riding in the cart.
I have a slight phobia about germs when it comes to grocery stores and the like. So I have to work hard to get over the toddler touching all over the cart and then putting goldfish in her mouth. I do love Wet Ones in the travel pack for this very reason! The whole shopping experience is much easier if she is occupied with her snack cup and not with trying to open every package that I place in the cart.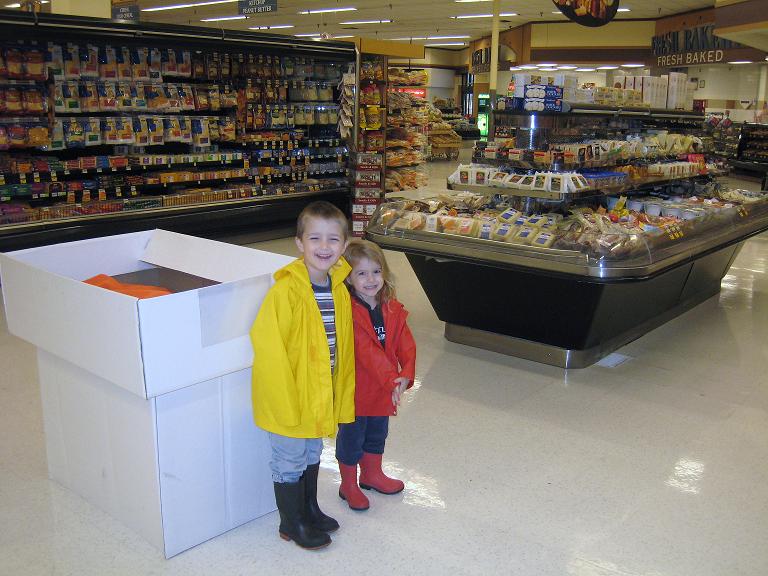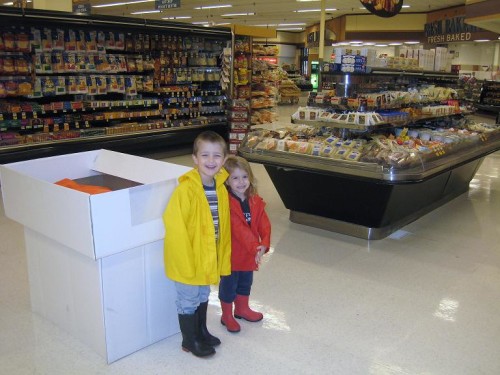 I have my bigger kids put the items in the cart.
My bigger kids (almost 6 and almost 4) love the job of retrieving the correct groceries and putting them in cart. We make it a game: I say which product and the amount we need and they each take turns 'helping' me. It keeps them engaged in what we are doing (prevents them from wandering away), encourages my 3 year old to hone her counting skills and provides them an opportunity to help me. It's win-win for all of us!
When in the parking lot, my big kids are required to hold on to the cart.
Since the baby is in the carrier and the toddler is riding in the cart, I don't have two hands free to hold onto my other children. My two older children are required to either 1) hold on to the cart or 2) hold on to my pocket when we are in the parking lot. No exceptions. They know that I will not tolerate anything but this scenario in the parking lot and that punishment will be swift if they choose to do something different. I don't mess around with safety. This is a perfect example of making sure your children know exactly what to expect before you ever get out of the car.
I'm willing to abandon the whole trip and go home.
We all have bad days, including our children. If we get to the store and everyone is in breakdown mode, I just call it quits and go home. I don't see the point in making a crying, fussy toddler suffer through a long store trip. It makes us both miserable! There are times when you must have items like diapers or bread and leaving the store is not an option. But if the trip is optional at all and you have a fussy crowd, just call it a day and go home.
I am honestly in a season of life where I dread the grocery store. The logistics of getting us all there, shopping for a large cart of groceries and then putting them away makes me weary. But these ideas make our store trips so much easier.
What do YOU do to stay sane?
Do you have great ideas about how to easily manage your grocery trips with children? Share your wisdom in the comments!
–

Lauren Hill is the 'Mama' behind Mama's Laundry Talk and loves all things laundry. However, she does not love the grocery store (with or without her children) and wants to make it as painless as possible.