Holiday Movies for Families to Watch this Season
As an Amazon Associate I earn from qualifying purchases. For more details, please see our disclosure policy.
Looking for some fun holiday movies to watch this season? We've got you covered with these FishFam favorites. Be sure to pop come corn!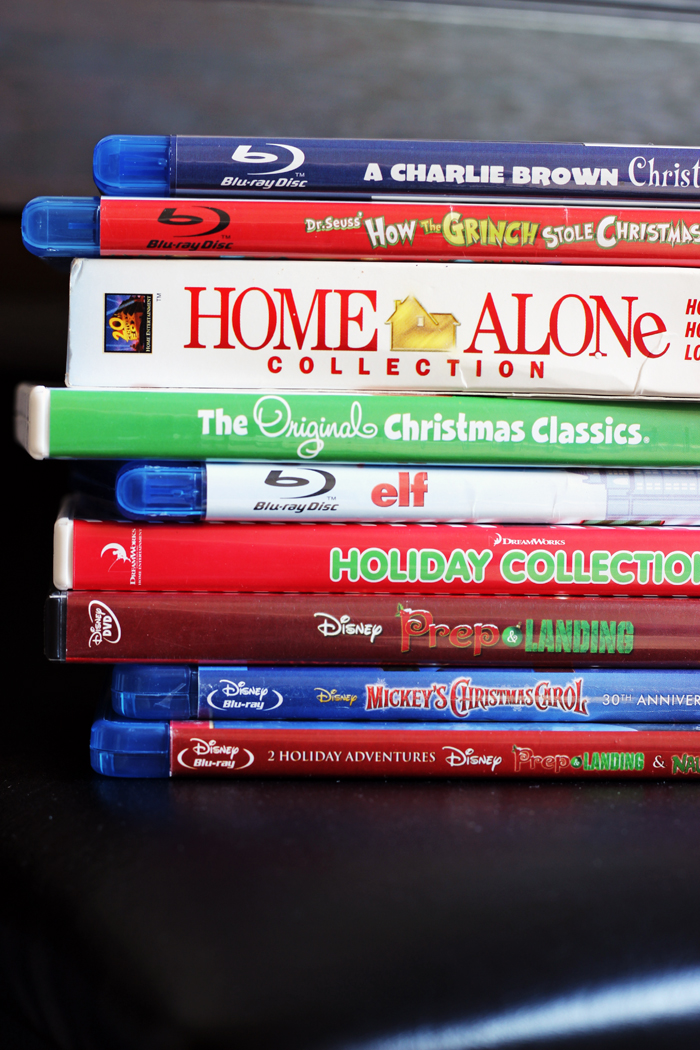 We're a movie family. Since we kicked cable to the curb, we've relied on movies (either Blu-ray or streaming via Amazon Prime) for most of our family entertainment this fall. Everyone knows the drill: go pop some corn, melt some butter, and let's get this movie started.
It's even more fun at the holidays. I think the short days and early sunset make movie watching a very warm and cozy endeavor. This long weekend promises to be an excellent time to indulge in some holiday movie watching.
Here are some of our family's favorites:

Though raised by elves, Buddy is a human boy who doesn't realize his true identity until he's fully grown, despite the fact that he towers over his contemporaries. While I think Will Ferrell is an idiot in most of his movies, Elf is one of three exceptions*. Hilarity follows him as he reclaims his parentage and reenters the real world. And Will Ferrell does a fabulous job as the innocent Buddy.
This movie is a hoot! A co-worker of FishPapa's suggested it a few years ago, and it continues to have us rolling in the aisles. This season I bought the soundtrack and have been enjoying it for weeks.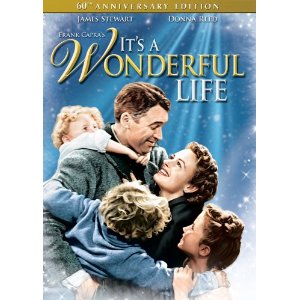 It's a Wonderful Life is a true holiday classic, one I've been watching since I was a kid. It was even required viewing in my high school drama class. Jimmy Stewart plays George Bailey who thinks that his life has been all for nothing. He has fulfilled his dreams and therefore considers himself one big loser. When the Big Bad Town Villain decides to shut George and his family business down, an angel appears on the scene to show George how important he really is to those around him. He gets a glimpse of what life would have been like without him.
Building a life by giving to others is highlighted here. It may seem cliche to some, but for me, it's a wonderful reminder. Moms, we do make a difference, even in the small things!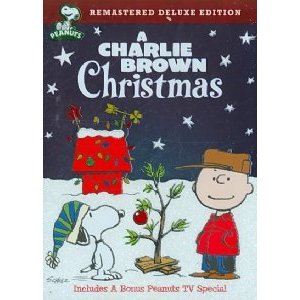 Of course, A Charlie Brown Christmas is not to be missed. Charles Schulz was brilliant. This film has stood the test of time for decades. You know the story. Good ol' Chuck is assigned the job of director of the school Christmas pageant. Instead of the three-ring circus that his friends would prefer, he opts for the narrow — and unpopular — path, focusing on the true meaning of Christmas. Amen, brother, Amen.
Yet it's so hard to go against the flow, isn't it? Charlie Brown is a perfect example of who we should all strive to be. As always, Linus brings poignancy while Charlie Brown takes the hits. You're a good man, Charlie Brown. Thanks for the reminders.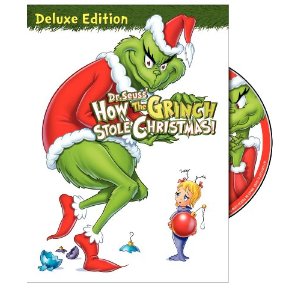 Around these parts I'm known as the Grinchy Mama. Okay, they don't call me that, but sometimes I feel like that. We've all had our grinchy moments, when we begrudge someone else their stuff as well as their happiness. Or in my case, when we choose not to be as generous as we could be. How the Grinch Stole Christmas, created by the fabulous Dr. Seuss, makes the wonderful point that Christmas really isn't dependent on stuff. And that our hearts can grow, if we let them.
While the film is not as forthright in its scriptural basis as A Charlie Brown Christmas, the Grinch learns the universal truth that Christmas happens without anything at all.
And believe it or not, the live-action version starring Jim Carrey is actually pretty good. Quite strange and awkward, but pretty good.
For the first few years of parenting, we had neither a TV nor a VCR. It wasn't until I was pregnant with our third child that my mother-in-law passed on a hand-me-down set. She stocked us with videos, too. Our first was a VeggieTale. FishBoy16 remembers this. Last week when we finally got rid of all our VHS tapes, he kept Lyle the Kindly Viking out of sentiment.
So, this Christmas Veggie Tale, The Star of Christmas, is a regular part of our holiday season. Features Cavis and Millward (Bob and Larry), it tells the tale of two playwrights wanting to put on "the show of the century". Their only competition is a small church play with a famous religious relic as a prop. They decide to steal the Star of that show in the hopes of eliminating the competition and making their show a hit. Of course, they learn a few lessons about selfishness and the true meaning of Christmas along the way.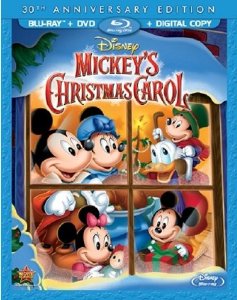 A Christmas Carol
I like the Charles Dickens' story A Christmas Carol, in any number of versions. The Jim Carey version is one that I really enjoyed, while my kids absolutely love the Muppets' version.
This year, we were sent a review copy of the 30th Anniversary edition of Mickey's Christmas Carol now released on Blu-ray and DVD. I remember watching that when I was a child. Great memories of Mickey as Bob Crachit
Any way you slice it, I enjoy the story about Ebenezer Scrooge and how he repents of his selfishness and learns that it's better to give than receive.
Again, I can relate to Scrooge on so many levels, just like I can with the Grinch. These stories are good reminders to me to be who I really want to be.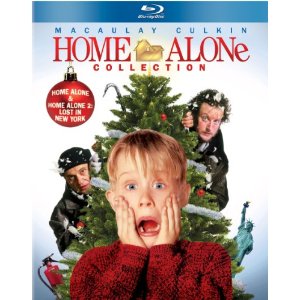 Okay, yes, this movie might be on the edge. I watched Home Alone when I was a kid, but it was the 80's. Parents — or at least the movie industry — had no standards. We've let our kids watch this film. And yes, laughed right along with them.
I've also cringed a fair amount. It's unbelievable, the slapstick comedy and mild violence. Nothing is over the top, but all together, well, yes, it's on the edge.
And also hard to call it a "holiday film".
But, the one-liners in this film are classic. Preview it for language and mild violence. It's not for all kids or all families. But, the ideas and messages stand above the laughs.
(The sequel is equally funny and poignant, but the third and fourth movies in the brand are just dumb. Forget those.)

Elves undercover? Yes, ma'am. Santa actually has a recon team who performs covert operations to prep homes for Santa's arrival. These two movies Prep and Landing and its sequel, Naughty vs. Nice have quickly become additions to our Christmas traditions.
Since we love spy and super-hero stuff around here, these films give a nice modern twist to the traditional Santa tales.
(While we don't do Santa here, we have no problems with a good Santa story.)
The Nativity Story – A walk alongside young Mary and Joseph on their way to Bethlehem. It's been years since I've seen this film, but memory tells me that it's a fair representation of the days leading up to Jesus' birth.
Homecoming (The Waltons) – This was one of the earliest movies of the Waltons which eventually turned into a long standing television series. It's old school, but still meaningful. Pa gets lost in a blizzard and John Boy heads out to find him. Set in the Depression, it serves as a great reminder that a Merry Christmas need not be expensive.
How to Watch Them
If it's a movie you know you love and want to watch again, consider purchasing it this season. The prices most likely will be marked down for the holidays, and you can sometimes find good sales at Target and Walmart. Your local thrift store might also have a good deal.
But, you don't have to purchase the movie to enjoy it. Check out your local library to see what they have available. Some movies are available through Redbox. And you can stream many of them at home through Netflix, Blockbuster or Amazon Instant Movie.
What's YOUR favorite holiday movie?
* Other great Will Ferrell movies include Stranger than Fiction and Megamind.