Homeschool Assignment Binders
As an Amazon Associate I earn from qualifying purchases. For more details, please see our disclosure policy.
I'm keeping track of this year's lesson plans and completed work with a homeschool assignment binder. It's how I was able to plan the whole year in advance and not worry if we skipped a day.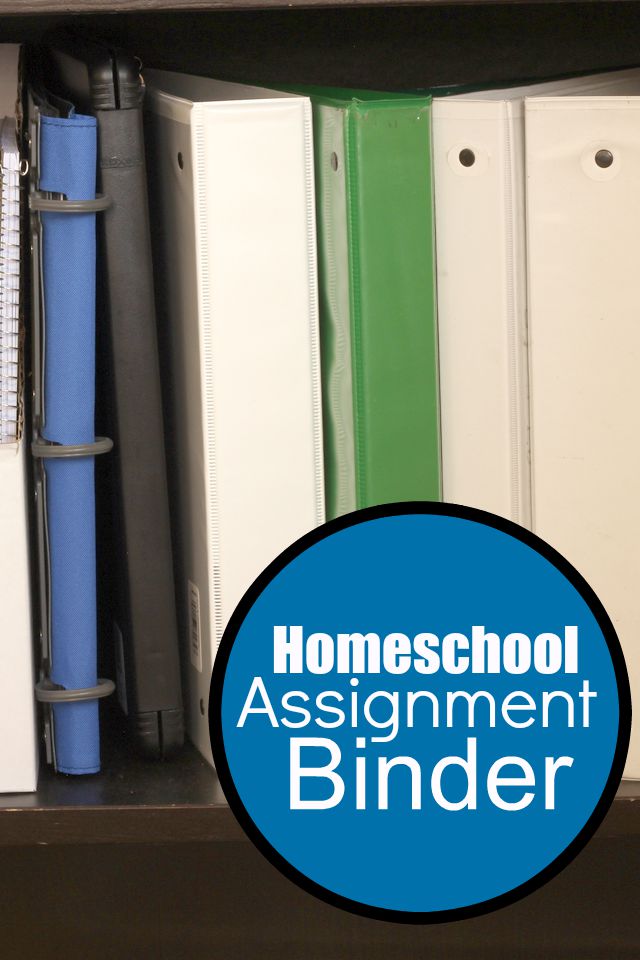 Homeschooling can be a great way not only for kids to learn, but also for parents to enjoy a different type of relationship with their children. Some would say for better or for worse – haha! While I don't have to cajole my kids to find their shoes and homework every morning in order to get to school on time, I do have to make sure they actually do the schoolwork.
To be sure, there's a different dynamic to parenting. I struggle to make sure that all the balls are in the air when they need to be. Sometimes it happens. Sometimes I mess up.
This year I'm trying a new strategy for record keeping and tracking my kids' work: homeschool assignment binders.
As I mentioned the other day in talking about homeschool planning, I'm trying to make sure that my kids know what they're supposed to do when they're ready to do it. There have been too many weeks when I've been behind and not had my older kids' assignments ready to go when they were ready to get going on their independent work.
My past method has been to keep one homeschool binder for everyone where I store attendance sheets and weekly lesson plans as they are completed. The lesson plan I wrote each week served as the child's to-do list for the week. I filled it out in pencil, allowing for changes; they checked things off as they completed them.
The problem arose when I wasn't ready bright and early on Monday morning when they were.
I tried to combat that by filling out several weeks' worth of lists at one time. That didn't work because we might miss a day here and there and then need to shift everything. Erasing and rewriting was such a pain — and a little defeating, too. I was never ahead.
I'm trying to mend my ways through these new homeschool assignment binders. I have no idea if they will work all year long, but I'm giving it a try. After one week, I feel like they will. It is taking the kids awhile to break the habit of looking for a weekly to do sheet, but I think that will come in time as we refine this system
Regardless, let me know what you think — and if you've done this method or have a better method for us to try or tweak.
Here's my new system for homeschool assignment binders: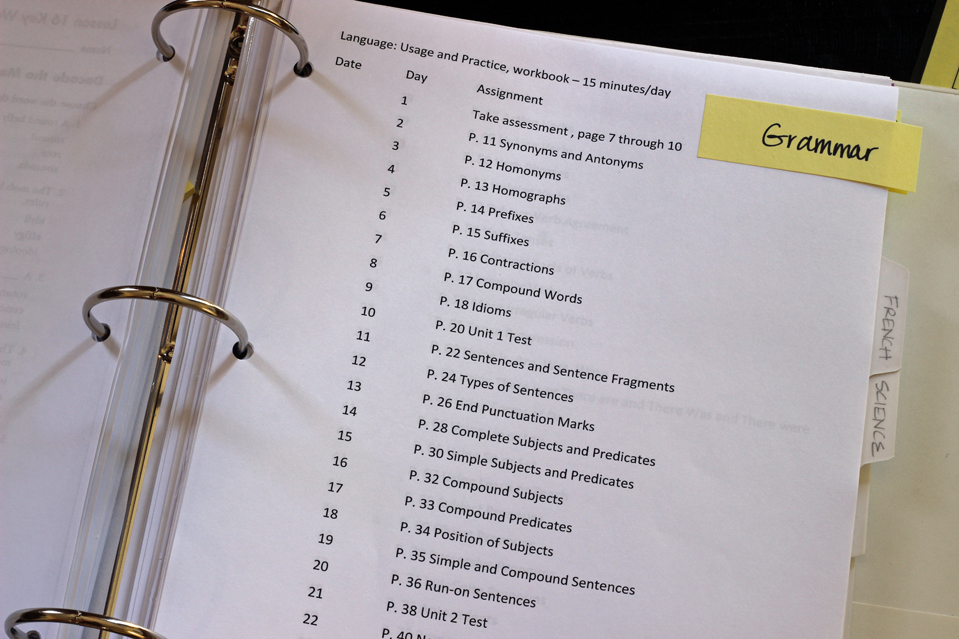 A homeschool assignment binder for each child
I've set up a binder for each child with dividers for every subject. I flipped through all the curriculum and lined out the whole year in a word document. I didn't make any fancy designed form or anything like that. Depending on the subject and the book to go with, I either wrote a columned list or chart with space for writing the date completed and a check off from me.
(I now wish that I had a written lines or something so that it was clear where to check off and where to date, but I'm not printing them all out again.)
In some cases, the curriculum came with lesson plans (like the Veritas Press Omnibus) or I was able to purchase lesson plans or download them for free, prepared by moms who've gone before me. For instance, Apologia Science is pretty straight forward: read the module, do the experiments, complete the study guide, take the test. I had no qualms about buying those lesson plans. The $4 has saved me hours of work, mapping that all out myself.
(And apparently, buying in June will save you money. I didn't pay the listed price a month ago!)
I also included any study aides, flash cards, or activities that my kids will do throughout the year. I'm guessing that this is normal for some people, but I used to make copies as needed — and then my kids were waiting for me to print things. I printed it all out now so they don't have to wait for me. I even printed out all the tests!
In some instances, I bought the copies already made for me. Peace Hill Press sells packets of student pages so you don't have to spend precious time photocopying. I decided that it was well worth the cost of paper, ink, and time.
Here are other things I've developed to help plan and track each homeschool assignment: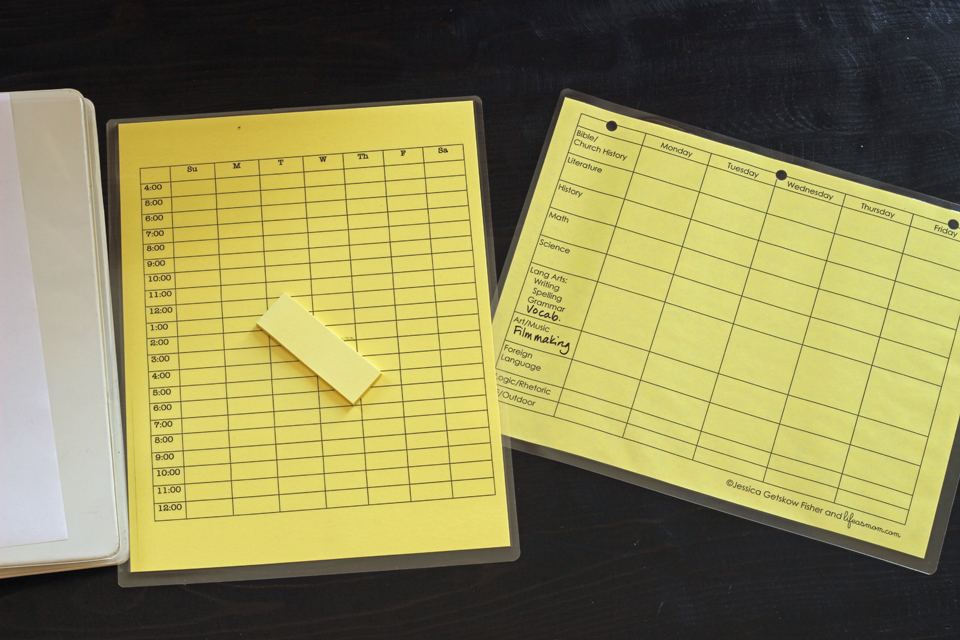 Laminated to-do list and weekly schedule
I printed a weekly to-do list as well as a weekly schedule for each kid in their color. (Every kid has had his own color since the dawn of time so that I knew whose folder or assignment sheet was whose.)
My plan was this: each week the child would fill out the things to do each day. They can do this independently or with me, depending on age and ability.
However, after this first week, I'm not sure if this will work out like I thought. It seems a little tedious for them to copy what's already in the homeschool assignment binder.
I am sure this will take us awhile to get into the habit, but I want to equip them with strategies for time management and work control as well as let them have the freedom to figure out ways that work for them.
I added a weekly schedule/time budget so that they can see at a glance all the different things that go into the week: church, sports, doctors appointments, etc. For my teens, especially, I want them to start thinking through what they will do when so that they can manage their responsibilities themselves and not have me nag them about them.
FishBoy12 laughed when I told him the time budget was for his own personal development. "Ha! Yeah, that's not gonna happen."
Alrighty then. Regardless, we have fun laminated sheets if it ends up working to our benefit.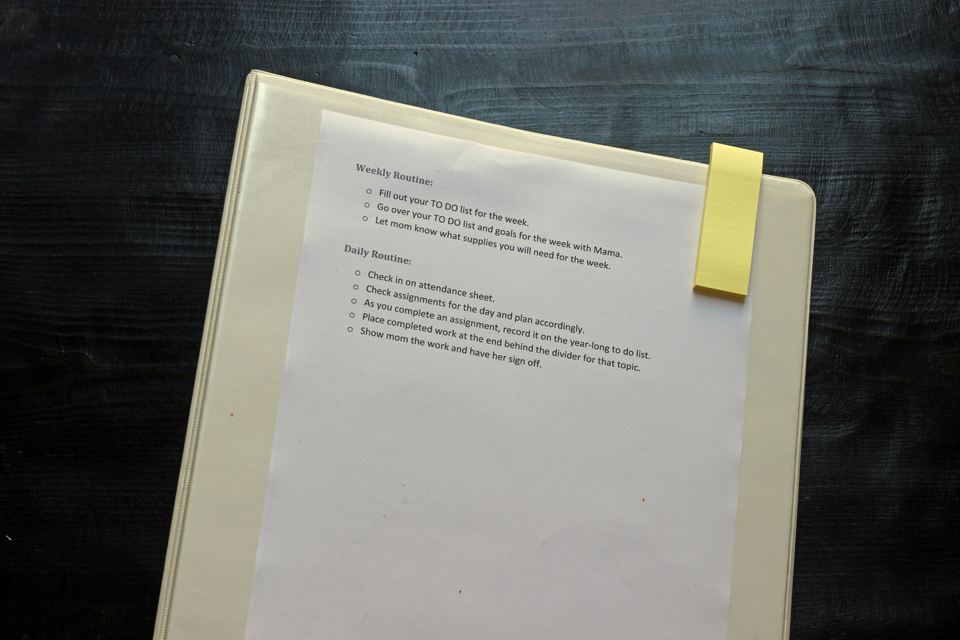 New routines
So, this new system is only as good as following through on the new routines that the system supports. This is not an automatic system that runs on its own. It's going to require that the kids and I both make it work together, resulting in good records to document good work.
My hope, particularly for my teens, is that the kids will be learning life skills such as time management, goal setting, and working independently. I anticipate this being a process over the year, but it may be harder than I think it will be. We'll see!
Weekly routine
Each student will need to fill out his assignment sheet for the week (the laminated one so we can reuse it) and go over it with me. He'll also need to let me know if he needs any new supplies for projects and experiments. I might need to do this for the littles; I'm not sure yet.
Like I said, though, the jury is still out on having weekly to do sheets or not.
I'll make sure that the assignment sheets are filled out at the beginning of the week and that completed assignments are checked off at the end of each week.
Daily routine
When an assignment is completed, the student will need to date it and check it off on the lesson plan as well as file any paper work in the binder. I'll check at the end of each day that accomplishments were recorded and that papers were filed.
This went pretty well this first week. It took discipline on the part of EVERYONE, but we pretty much did a full week of school without too many tears.
I'm really excited about the homeschool assignment binders, especially because there's no excuse for anyone (myself included) not to know what to do!
Have YOU got a special way for organizing school at your house?