An At-Home Schoolroom (Getting Started in Homeschooling)
As an Amazon Associate I earn from qualifying purchases. For more details, please see our disclosure policy.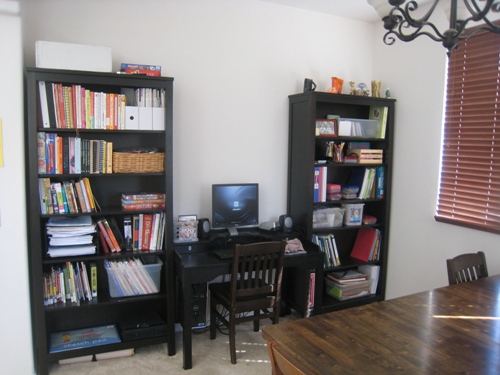 This year is our tenth year of formal homeschooling. My kids and I know no different. Since FishBoy14 started kindergarten so many years ago, we've been "doing school" at home. And as such, we've always had a designated school room in our home.
We've lived in five different homes in those nine years and we've always been able to set aside space for our school's headquarters. In several seasons it was a spare bedroom. Our kids have always bunked together, so we have often had a spare bedroom to use. In other seasons we've converted the formal dining room into a study instead.
Different families operate differently. This really works for us, so we're sticking with it.
Furnishing an at-home schoolroom
Over the years our homeschool furniture has evolved as we've had time, money or resources to make it more suitable for our needs in a given season. For many, many years, we made do with cheap and/or castoff furniture that we acquired from others. (See Schoolrooms of the Past here and here.)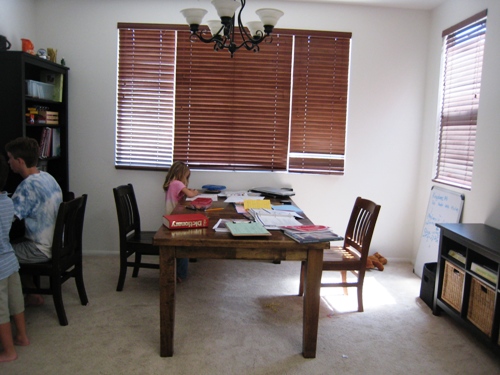 Last winter we were able to save some money to buy bookshelves, a desk, and a sofa table from IKEA. We've put these to work in our formal dining room.
Computer desk – We have a "school computer" where the kids take turns with foreign language, typing, math, or science software. It's also where my bigger boys type up their writing assignments.
Book shelves – We have two bookcases that hold most of the resources we will use for the year. I store past years' items in boxes in the garage until we need them again. We reuse as much as we can. I try to keep the shelves organized by subject and use, but that is a moving target. But, it's in our best interests to keep all the library books together.
My planning binder goes here when not in use.
Sofa table – We've adapted a sofa table as a house for our kids' cubbies. Since this table has four sections and I had four students (until this year), one section is assigned to each kid. Each boy has a binder, clipboard, and basket for holding the books that only he is using at a given time. The girls have a basket to the side that holds their books and clipboard.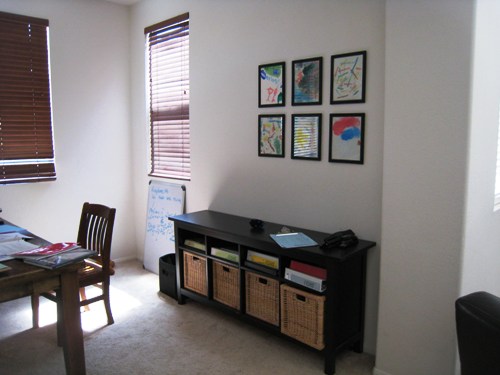 Art wall – This is a new addition this year. In the past, I've taped drawings to the walls. My mom bought these frames a few months ago and I finally got them hung. I like the color they add to the room.
Table – I love this table. Years ago when we were deep in debt, hubs saved any blow money he got so that he could buy this (unfinished) for our anniversary.
It fits us.
It's not much in terms of home or even school decor. But, it's functional, it fits our needs, and I think it's kinda pretty, in a sparse kind of way. I'm still teaching kids to line books up on the shelves instead of stacking them. And the table is a clutter magnet. But, I love having an organized home base for school stuff.
The kids do their assignments all over the house, but this is where we relocate things on a regular basis so that we know where to find them when we need them.
About this series – If you're interested in getting started in homeschooling, this is a series recounting our experiences in teaching our children at home, the things that I've learned, and some resources I've discovered along the way. But this way isn't the only way. Your mileage may vary. Coming up next time – A Typical School Day at our House
What do YOU do?
Do you have a dedicated spot for studies and homework at your house?