Our Homeschool Curriculum for grades 12, 10, 8, 6, & 4
As an Amazon Associate I earn from qualifying purchases. For more details, please see our disclosure policy.
There is a veritable cornucopia of homeschool curriculum available, so much more than when I started this journey 16 years ago. Here's what we're using this year.
Can you believe that this is my 16th year of homeschooling? I've only got 9 more to go! It's practically the home stretch. 😉
Seriously, this has been the best thing I could have done besides marry Bryan and have these six sweet kids. All three of those choices have also been the hardest things, too. They seem to require that I put others before myself which, if I'm honest, is hard.
I think God meant it to be both good and hard.
Tomorrow we start school. I'm not quite as ready as I would like, but I'm close. The freezer is packed to the gills. My college student has all his ducks in a row, is handling a couple train drop-off's for me each week, and is on track to graduate close to the 4-year timeline and without debt. He's a college junior, by the way. He was 11 when I started this blog! Don't blink, ladies! Time flies.
My high school senior, aka FishBoy16, has run through the paces of taking the train to community college classes, managing a new cell phone (Ting is working very well for us!) and handling the varying political opinions of outspoken college professors with a sense of humor.
The younger four are my homies, 3 days a week, and we're gearing up for a good, but hard year. That might be my theme song. Good, but hard. Hard, but good.
Our Homeschool Curriculum for 12th, 10th, 8th, 6th, and 4th grades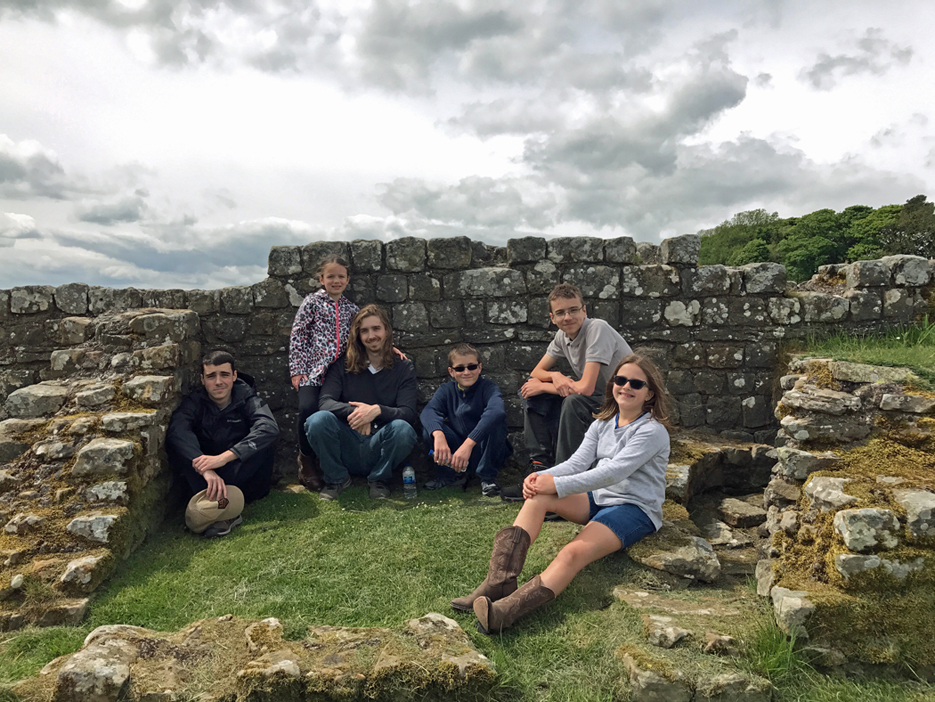 Our studies for May/June included an afternoon spent on Hadrian's Wall
Some general comments: We have done a more or less classical style of home education since the get-go. Since I'm not as uptight or as structured as I could or should be, I tend to call it classical unschooling. Go big or go home, that kind of thing.
This is my 4th cycle through the history of the world. Per the recommendations of The Well-Trained Mind, we cycle through the entire history of the world in 4-year chunks. We are in Year 3 this year. We've focused on the WTM recs for the majority of that time. This year, since I already had it in the library, we're going to throw in some Tapestry of Grace resources and see if they work for us in this season.
While there have been things that I've liked about WTM, TOG, Teaching Textbooks, and Brave Writer over the years, I am not "all in" with any of them. Teaching six kids at home means teaching six personalized courses of study. Some things work some of the time, but nothing works all of the time. Trust me.
Except maybe this. This worked almost all the time.
Previously, I had nothing but fantastic things to say about the Brave Writer online classes, except that they were expensive. Now that they've raised the rates on many of the courses, they are almost TOO EXPENSIVE. $499 for a six-week course is just too much in my book. Readers wrote in to tell me that you can get discounts through Homeschool Buyers Club, but I found this was only for their digital products, not their online classes. Let me know if this is not the case. We will only be using Brave Writer online classes if I'm desperate or the price is doable.
You can find the used curriculum that I'm selling here.
You can see my other homeschool curricula choices of the last three years here: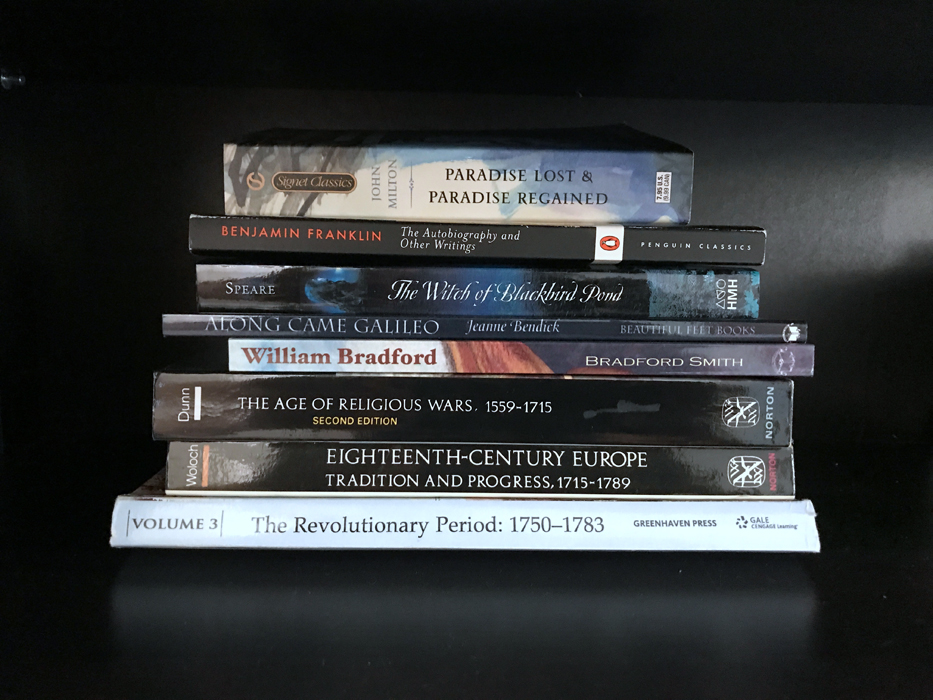 Here's what we're learning this year.
12th grade
I started FishBoy16 in kindergarten when he was 4. He turned 5 that November. He's always been on the more cerebral side, so it just made sense. He was once my absent-minded professor, but now he's just practically brilliant. Or at least his mother thinks so.
He did well enough on his spring SATs that he won't need to take placement tests or remedial math and writing in college. To warm him to the idea of college and the differences among professors, he'll be taking several classes at the community college. Here in California it's called dual enrollment. He'll earn college credit (for a very reduced rate) and high school credit at the same time.
Here's what he'll be tackling this year:
Trigonometry (community college, fall semester)
Emergency Medical Responder (community college, fall semester)
French 3 (community college, spring semester)
Economics – Foundations in Personal Finance and The Economics Book
US History and Government – Tapestry of Grace/WTM
Early Modern Literature – Tapestry of Grace/WTM
Brave Writer College Application Essay
10th grade
FishBoy15 is our resident musician and artist. He sees beauty in ways that the rest of us don't. I'm so much the better for it. Even though he hasn't had a formal piano lesson in almost four years, he continues to learn new pieces and dazzle me with his playing.
The boy who was an expert in defiance by age 3 has become one of the most kind, compassionate, and polite people I've ever met. We have had many a talk over the years. They were worth it. I love the man he has become.
Here's what he'll be tackling this year:
Pre-Algebra (online) – Math has been rough for us. It hasn't quite clicked yet, but I'm hopeful this online teacher will break through.
Spanish 1 (online) – He did informal Spanish last year which should make this year's Spanish 1 much easier.
Economics – Foundations in Personal Finance and The Economics Book
US History and Government – Tapestry of Grace/WTM
Early Modern Literature – Tapestry of Grace/WTM
Food Science – I've created a curriculum using Food Lab as the base text.
Piano
8th grade
The youngest of four brothers, FishBoy13 is coming into his own. It's been rough the last few years as his brothers pursue interests besides playing Lego and Nerf. He's growing in confidence and independence, but he's still my little guy.
Here's what he'll be tackling this year:
6th grade
It's hard to believe that my little girly is in 6th grade. Wise beyond her years, she could probably run the whole school on her own, if she wanted to. It's always surprising to me that amazing connection between desire and ability. And how when we don't want to do something, we seem incapable of the task. I'm hoping we can ride the Can Do wave as long as possible.
Here's what she'll be tackling this year: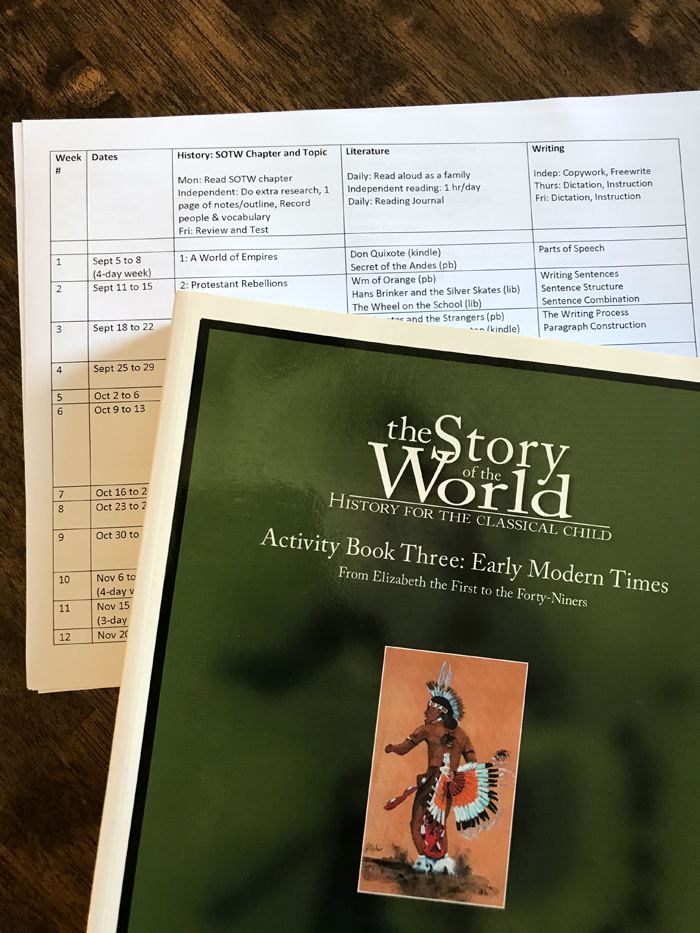 4th grade
My baby just turned nine. I was pregnant with her when I started this blog. How did we get here?
I imagine that it's the nature of the Baby in the Family to want independence at the same time as wanting to retain childhood as much as possible. That's where this little girl is. Her eyes still tear up when we part, but she's able to do soooo very much on her own. It's a fun time!
Let me know if you've got questions! If you're interested in purchasing our used homeschool books that we no longer need, you can go here.