Putting Together a Homeschool Binder
As an Amazon Associate I earn from qualifying purchases. For more details, please see our disclosure policy.
Get organized for this year's homeschool and stay that way with a homeschool binder where you can house your academic calendar, course of study, goals, lesson plans, assessments, and attendance records.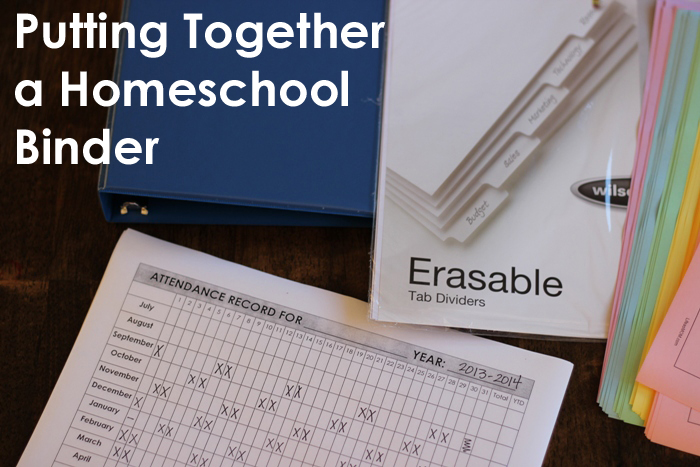 I've been dragging my heels on the school thing. But, slowly I'm getting eager for the new year to start. I've figured out our curricula for the year. This weekend I typed up objectives and made resources lists for each of the kids' schooling this year. The last of the book orders are on their way.
One of the things I do each year that helps me stay organized as well as "feel" ready for the year is putting together a homeschool binder for the year. It's pretty simple, actually. Most of the pages are from the Homeschool Add-on Pack for my ebook, Organizing Life as MOM.
Here's what's in my homeschool binder: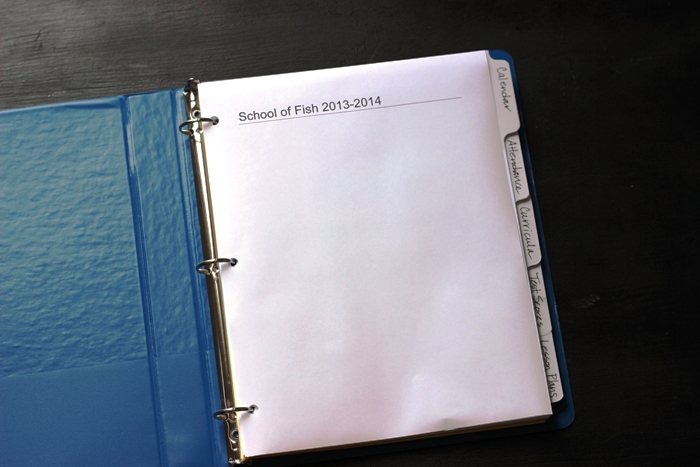 A binder with dividers
The basic supplies for my binder were obviously the three ring binder, dividers, and copy paper — all of which I got on sale at Staples or Walmart.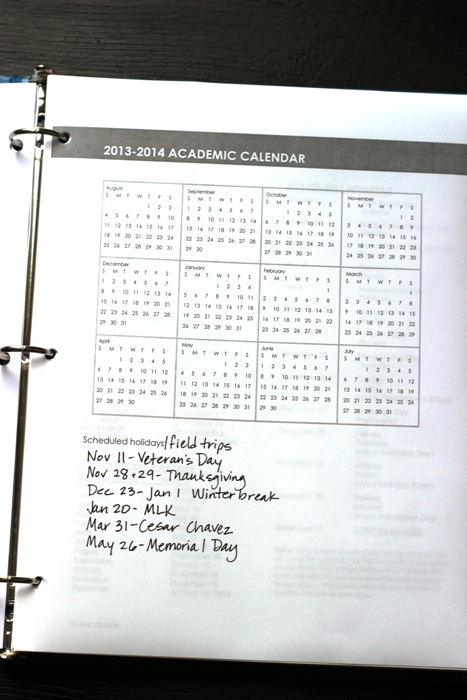 An Academic Calendar
Since we homeschool, we have the freedom to set our own hours. We work school to fit our family's goals and the FishParents' work schedules. The holidays that I've scheduled for the year are days FishPapa has a holiday from work. Loosely, we're calling them holidays, but we may just turn them into field trip days if that works out.
Go here to read more about building an academic calendar.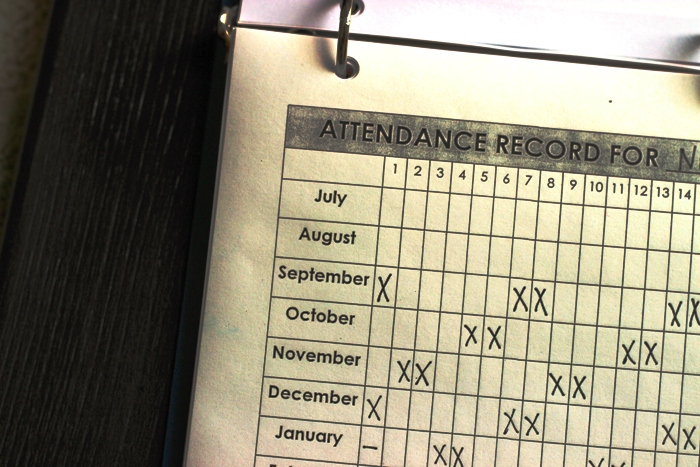 Attendance Records
Yep, we take attendance in homeschool, too. Only it doesn't take quite as long as it might in other places. I went ahead and marked in the weekends and breaks.
Whether you are required to take attendance will depend on the homeschool laws in your state. Be sure to check on those so you can be in compliance.
Assignment Sheets
We call these "the school to do lists". Each Friday afternoon, Sunday night, Monday morning — depending on how on the ball I am — I fill out a sheet for each child so he will know what the landscape of the week is. I've been doing this since my eldest was in kindergarten. And yes, I've saved them all. Ahem.
Our assignment sheets are color coded so that everyone can know at a glance whose to do list it is. FishChick6 does like her assigned color (pink), so she's counting the days until her eldest brother graduates and she can take his blue. Some kids want a bedroom, she wants a color code. Go figure.
Color coding helps us immensely. I buy coordinating school supplies to help us keep track of whose is whose.
There are several versions of assignment sheets as well as some blank ones in the Homeschool Add-on Pack.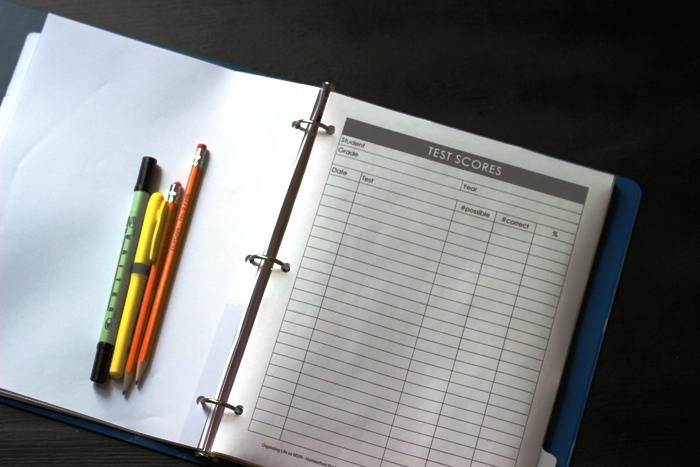 Test Scores
We don't make a huge deal outing of testing, but we do some kind of regular assessments across the disciplines to make sure we're on track. I printed out a score sheet for each child to put in a section of the notebook.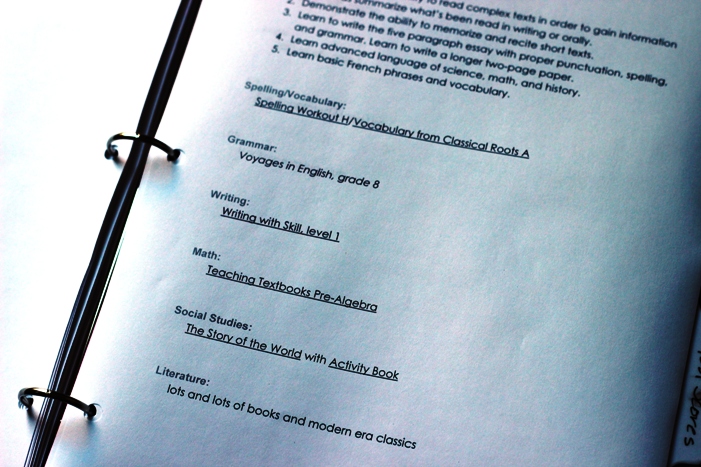 Curricula and Course of Study
I also have a section where I list the different subjects each child is studying, the specific texts we'll be using, and the goals and objectives I have for each child. Those are listed in the curricula section of the binder. You can check out this year's lineup over here.
So, with the binder ready to go, I feel like I have a little travel log for the year; it's got our itinerary and will serve as a journal for what all goes on. The Well-Trained Mind is my guide book to help me make detours or plan stops.
I'm not quite ready for the year to start, but I'm close. Plus, I've got two weeks left of summer vacation.
Do YOU have a special way to organize paperwork for the year?