Organizing Homeschool Books
As an Amazon Associate I earn from qualifying purchases. For more details, please see our disclosure policy.
Get your home school ready for fall by organizing homeschool books now. Avoid overbuying or falling behind by knowing where everything is.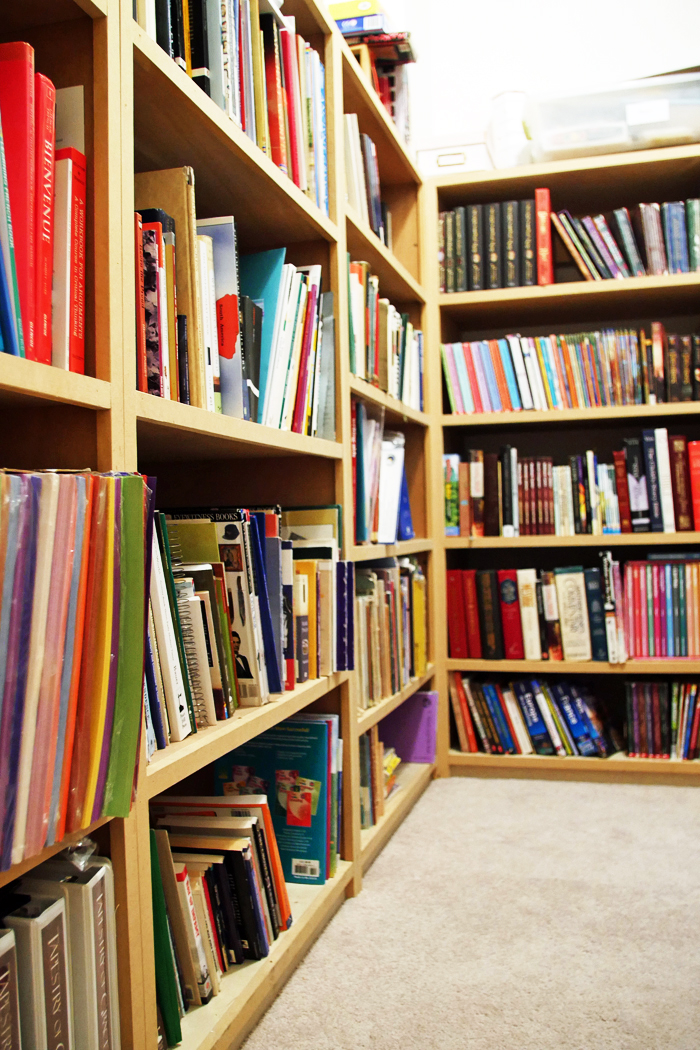 Every once in awhile, I'll buy a book that I already own. Usually it's a book that I've been meaning to read and haven't gotten to and yes, every once in awhile it's a school book. I forget which level of math or grammar or language we need and instead of going to the school room or our home library to verify, I end up with two of something.
With six kids to teach, it's not a tragedy if you have duplicates, but it can sure make you feel stupid. Knowing that I would soon need to be planning next year's school and buying curriculum, I spent time last week organizing homeschool books. I had been apprehensive about the massive undertaking, but it feels so great to be done!
This year we've been playing "Clean Up the Rooms", going room by room, dejunking and setting things in order. Last month I shared how I put order in the laundry room and linen cupboard. The Zone Defense assignment for June was to tackle your living spaces. Did you do that?
Organizing Homeschool Books
For us a big part of our living space revolves around our homeschool, so it made sense to make organizing homeschool books a priority for my Zone Defense. I mean, see what our library looked like: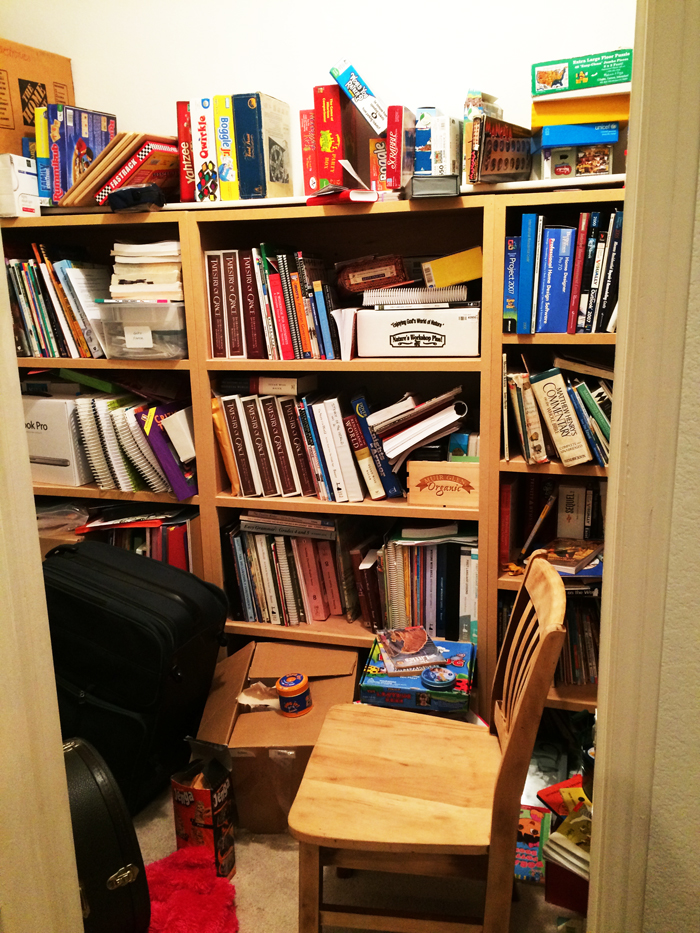 The library
Our master bedroom has two walk-in closets. A few years ago we converted one into a library. FishPapa built custom shelves. It was a thing of beauty. We use this space to store homeschool curriculum that we're not using during the year, games, my husband's guitars, and obviously, some various clutter. The feather boa belongs to my 7yo, not me, thank you very much.
It was time to give our school room and library a little TLC. I'm so glad I spent the time organizing homeschool books and resources for next year! It's also got me a little more excited for school starting back again, even though I'm not quite ready for it.
We follow the classical method of education and for us that means we study the history of the entire human race in 4-year cycles. We're well into our fourth cycle through history and this was one of the criteria for keeping or ditching a book. If I haven't used it in the last four years, I kissed it goodbye. It's so hard to let go of books that I've paid good money for, but I know that they've served their purpose, even if it is show me that I don't need them.
While Marie Kondo recommends gutting the entire space, I just did not have it in me to fill my adjacent bathroom and bedroom with every book we owned. I certainly couldn't have fit them all in the library. Instead, I worked shelf by shelf, removing everything and getting a little brutal about what I kept.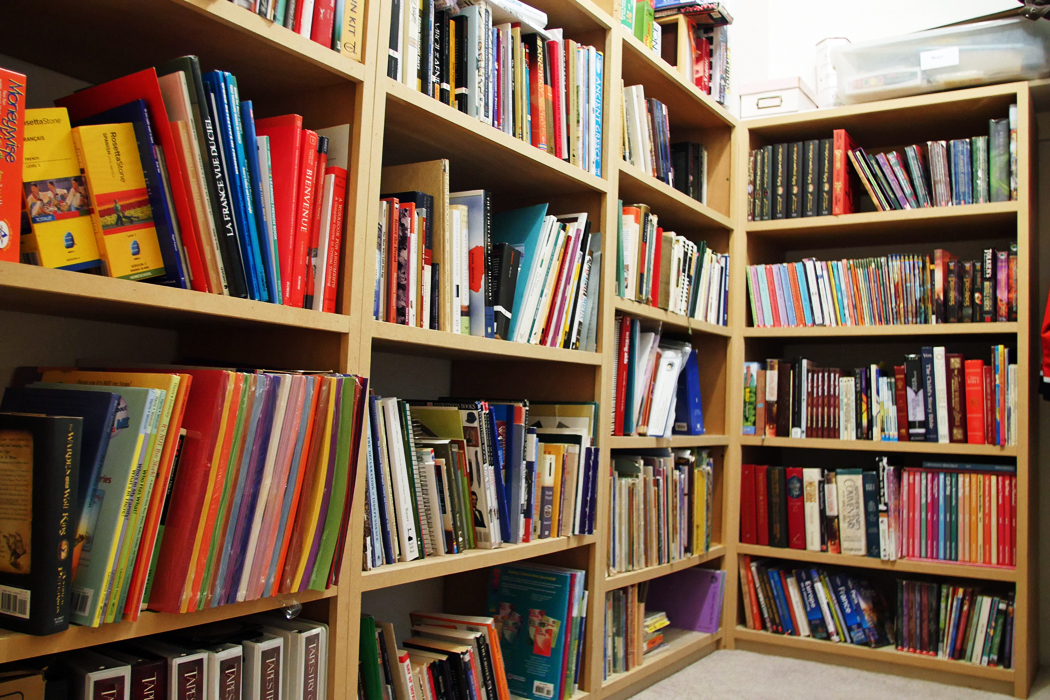 Organizing Homeschool Books by Subject
I ended up organizing homeschool books according to subject, combining history and literature according to era. It was nice to lay my hands on every single book so that I have refreshed my memory as to what we own.
We have the following sections in our library:
science
math
French
history/literature by era
theology
Mom's shelf
fiction
travel
picture books
music books
logic
art
writing
My next steps are to catalog all the books we own in an app as well as sell the quality discards. I know from experience that some books just don't sell well, but homeschool curriculum tends to hold its value if it's in good condition and not too outdated.
In fact, I've got several stacks of homeschool books to sell. If you're interested in checking them out, head here.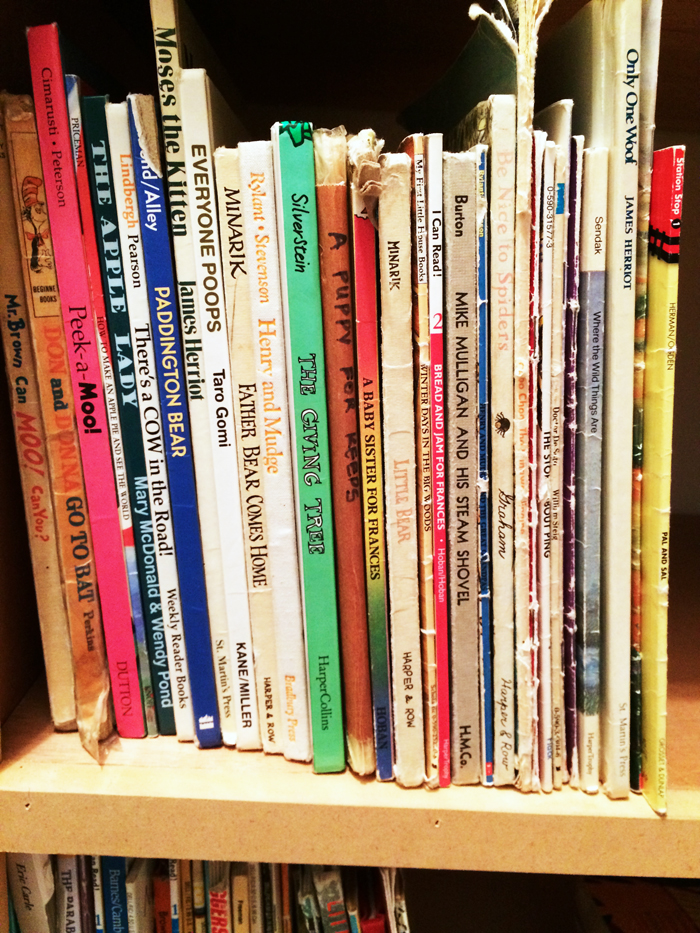 I got a little nostalgic sorting through the picture books. These were such a big part of my life for so long. I kept the ones that I know we have shared memories of. I'm hoping that FishChick7 and I can work through them all at least once more before they're archived for grandkids.
Wait. How did that happen?
I was also surprised at how much I've whittled down of books in my personal collection. Once upon a time, I could have filled this library with my own books. It's not that I don't love books, but I've realized that I can read (and reread) on the Kindle so easily. Plus, since storage space is limited, it's more important to have school books instead of beach reads taking up real estate.
Once I was done with the library — it took several hours — I headed to the school room. Here's what it looked like in process: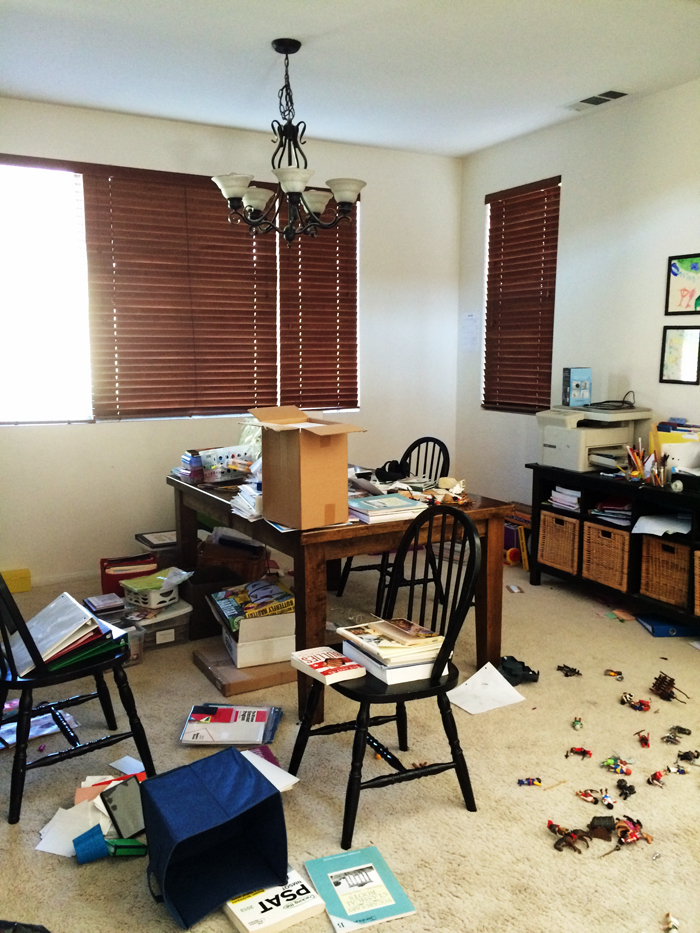 Cleaning out the school room
I pulled all the books from the shelves and sorted them. Once I knew what to store, the boys hauled that up to the library for me. It was easy to put those away since there was room and order in the library.
Then I messed with all the PAPER of the previous school year, filing samples for each child in boxes in the library and recycling a ton of paper and workbooks and outdated testing manuals that we no longer need. Ouch. Honestly, the paper took longer to deal with than the books. I need a better system for next year. Like a file samples as you go system.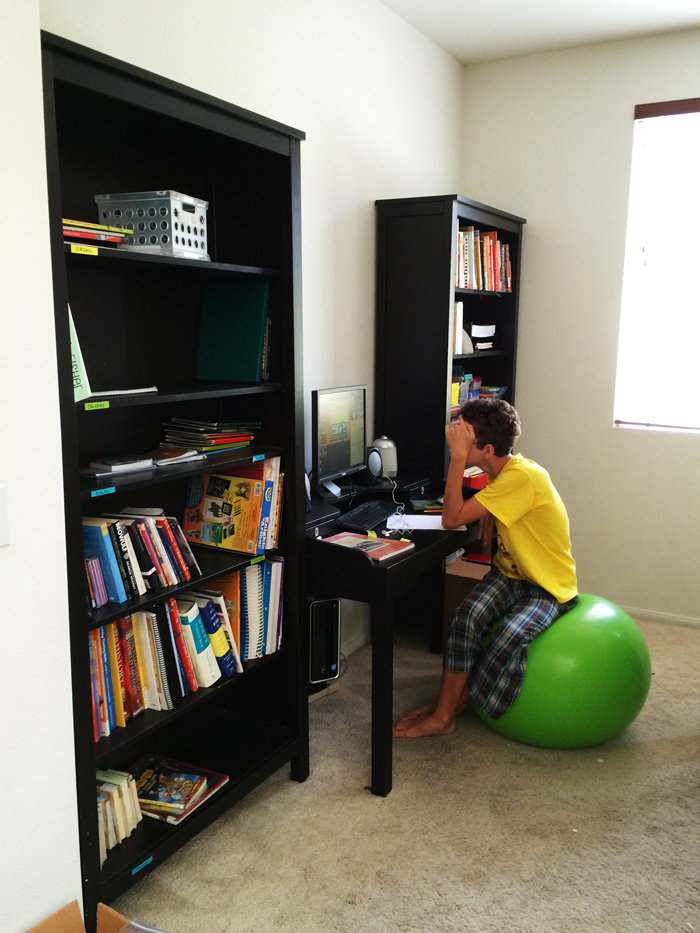 Slowly, I've been ordering our new books for next year and chatting with other moms about science co-ops and all that jazz. Eventually I'll be excited about school starting. Right now, I'm just happy to see clean surfaces!
Let's Get Organized!
Zone Defense is a year-long "game plan to organize your home" that I designed four years ago. Zone Defense is divided into "zones". We'll be working from area to area, dejunking, reorganizing, and otherwise bring order to chaos.
Here's the breakdown for the year:

March: Personal Space

April: The Kitchen

May: Clothes, Linens, and Laundry

June: Living Spaces, Entertainment (I tackled living spaces via our homeschool stuff in this post)

July: Transportation and Travel/Kids Stuff

August: Bathrooms

September: Emergency Preparedness

October: Outdoors

November: Office and Paper

December: Deep Storage
Your homework for July
Somehow, my neat little calendar got a little skewed, so the assignment for July is two-fold. Choose one or both:
Transportation and Travel
Kids Stuff
Since my kids' traveling equipment is stored in their rooms, it's a two-fer here. I'll be going through there rooms with them and helping them dejunk and maximize their space a little bit better for the school year. I've found that cleaning my kids' rooms can be very enlightening. For all of us.
What did YOU organize in your living spaces this month?