How to Organize Books for Homeschool
As an Amazon Associate I earn from qualifying purchases. For more details, please see our disclosure policy.
Save time and money when you organize books for your homeschool in a way that works for you and your space. You can avoid overbuying as well as stressing out at back to school time if you spend a few minutes organizing books for homeschooling.
You spend a lot of time choosing the right Homeschool Supplies; don't let it all get lost in the shuffle! Consider your space as well as the types of books you need to organize and store in order to find the best configuration for your home.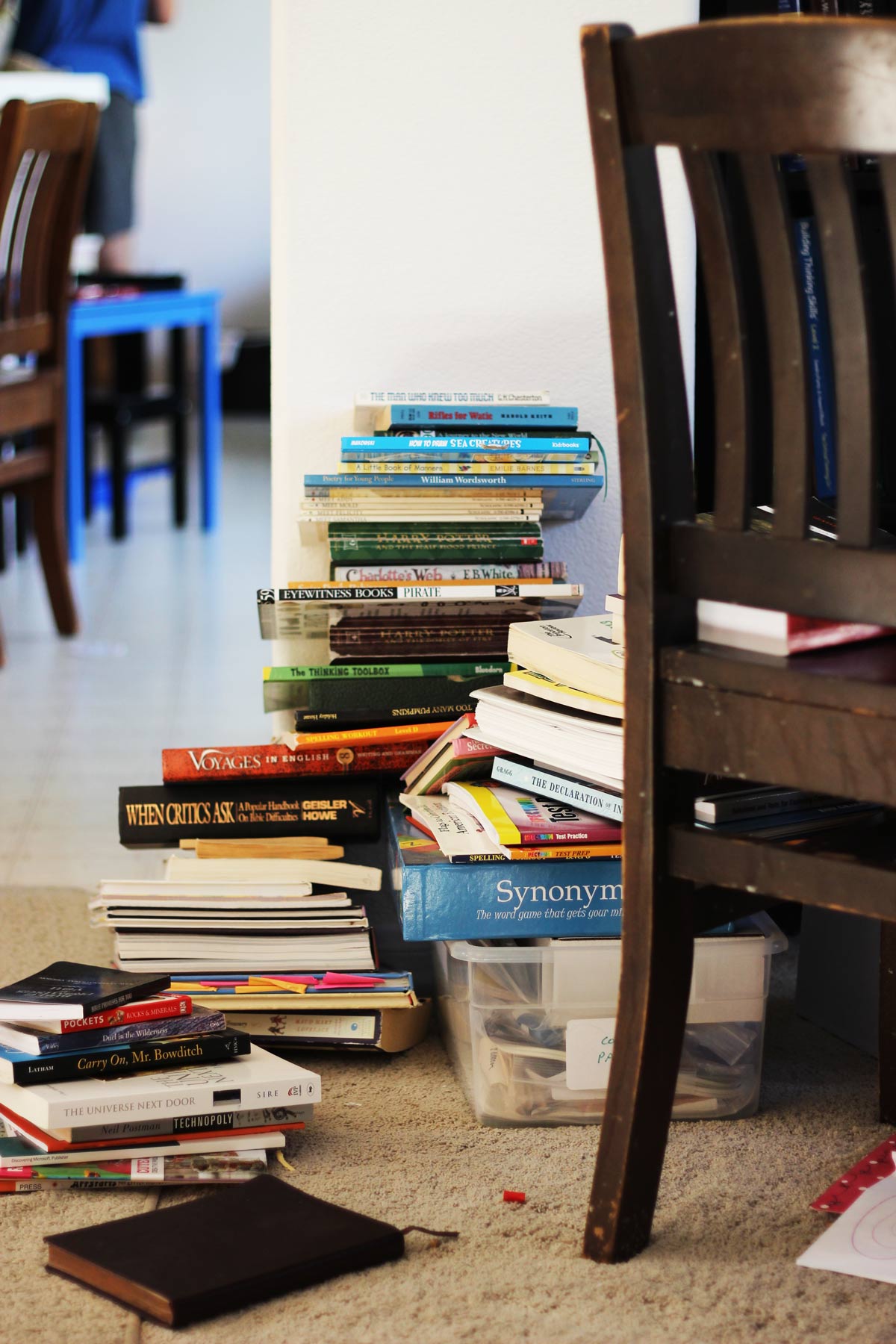 Managing your homeschool involves a fair number of moving parts: schedules, personalities, supplies. While you might not always have control over the first two, you can manage where you put your stuff.
In fact, when you organize books for your homeschool in the way that suits you best, you will become more efficient with both your time and money.
Why This Matters
Every once in awhile, I'll buy a book that I already own. Usually it's a book that I've been meaning to read and haven't gotten to and yes, every once in awhile it's a homeschool book. I forget which level of math or grammar or language we need and instead of going to the school room or our home library to verify, I end up with two of something.
With six kids to teach, it's not a tragedy if you have duplicates, but it can sure make you feel stupid.
That's why it matters to organize books for homeschool in ways that make them easy to find. Not only will you avoid overbuying, but you'll also save time when it comes to getting kids ready for the school year.
Storage Spaces
There are a number of storage spaces you can utilize when you organize books you'll use during your homeschool years. Let's look at three: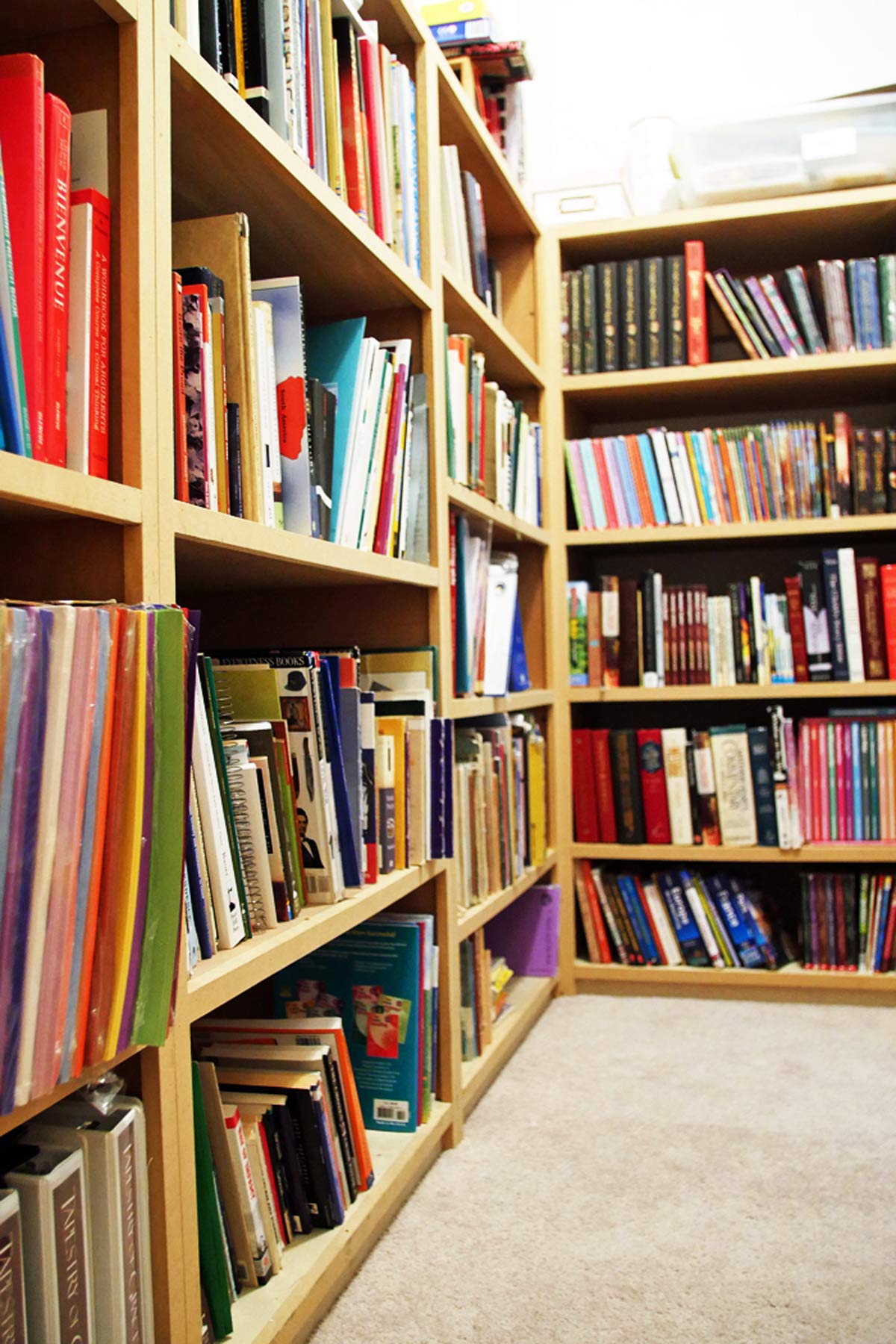 A home library
If your space at home allows, a home library can be such a wonderful space to organize books and keep track of what you have. You don't need an official room, but can, in fact, convert a closet or cubby hole into a home library.
Case in point: Our master bedroom has two walk-in closets. A few years ago we converted one into a library. Bryan built custom shelves.
We use this space to store homeschool curriculum that we're not using during the year, board games and card games, my husband's guitars, and gift-wrapping supplies. These things are easily accessed, but tucked away from plain site.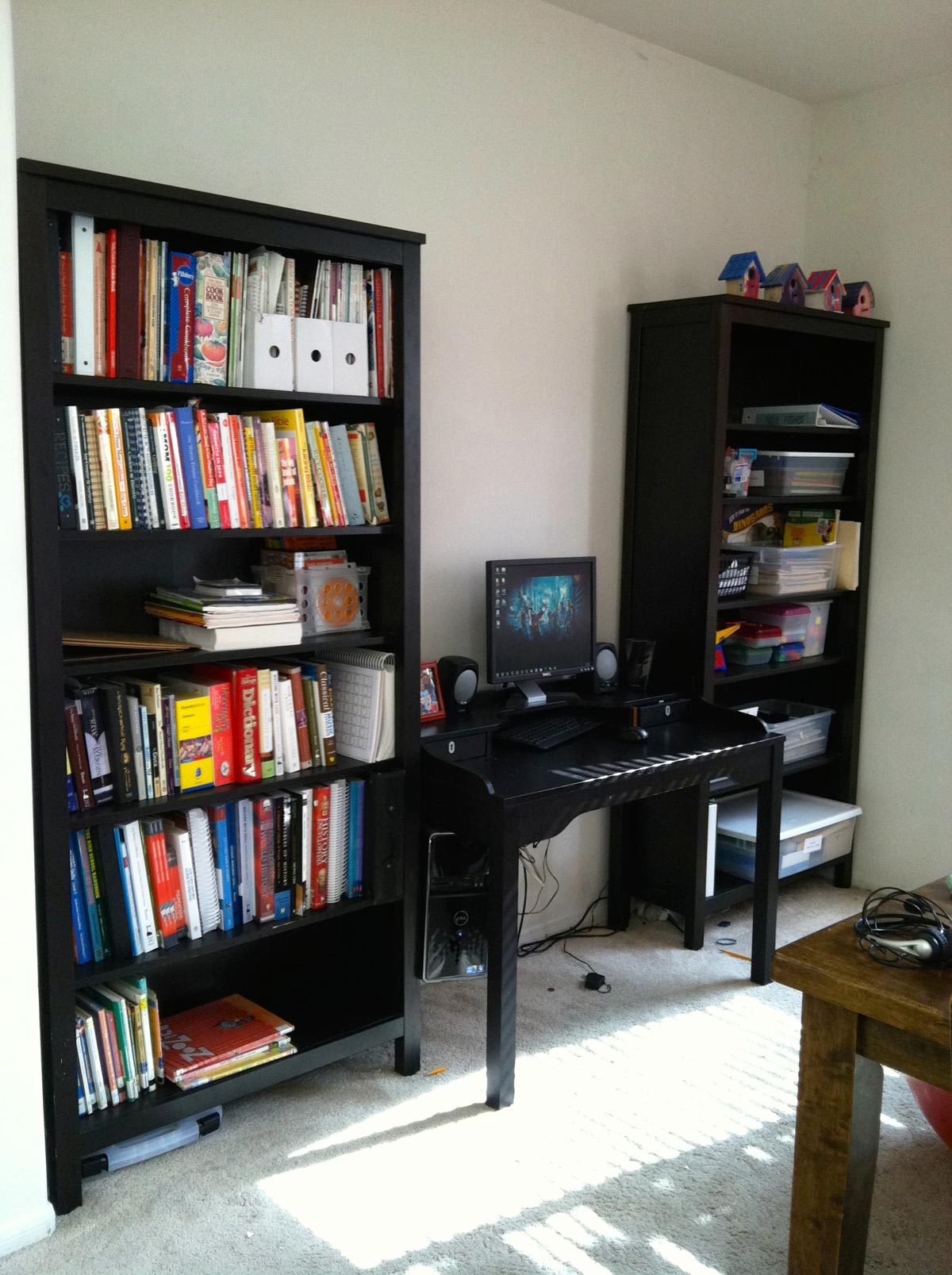 A dedicated school room
If you can swing a dedicated school room in your home, this can be a great place to organize books for homeschooling. Think about how you really use your spaces and how often you do each particular task.
In four of our last five houses, we've dedicated the formal dining room to education. Since we're all happy to eat in the kitchen, this has worked well for us.
We have two large IKEA bookcases in the school room where I organize books we will use in the current school year. Each summer I pull from the library what we'll need, and arrange them on the shelves so the kids have easy access.
The garage or attic
If you don't have the space in your home to organize books on shelves, it's perfectly fine to store them in boxes in the garage or attic.
Keep in mind that valuable books should be kept indoors in climate-controlled spaces, but homeschool workbooks that you're going to use within the next year or two should be fine in your deep storage.
Lest you forget what you have, be sure to mark the boxes clearly so that you can quickly and easily find what you need.
Organization Methods
Once you're clear on where you want to organize books for homeschool, think about how you want to store them.
There are at least two different ways that work well when organizing books for multiple ages and subjects.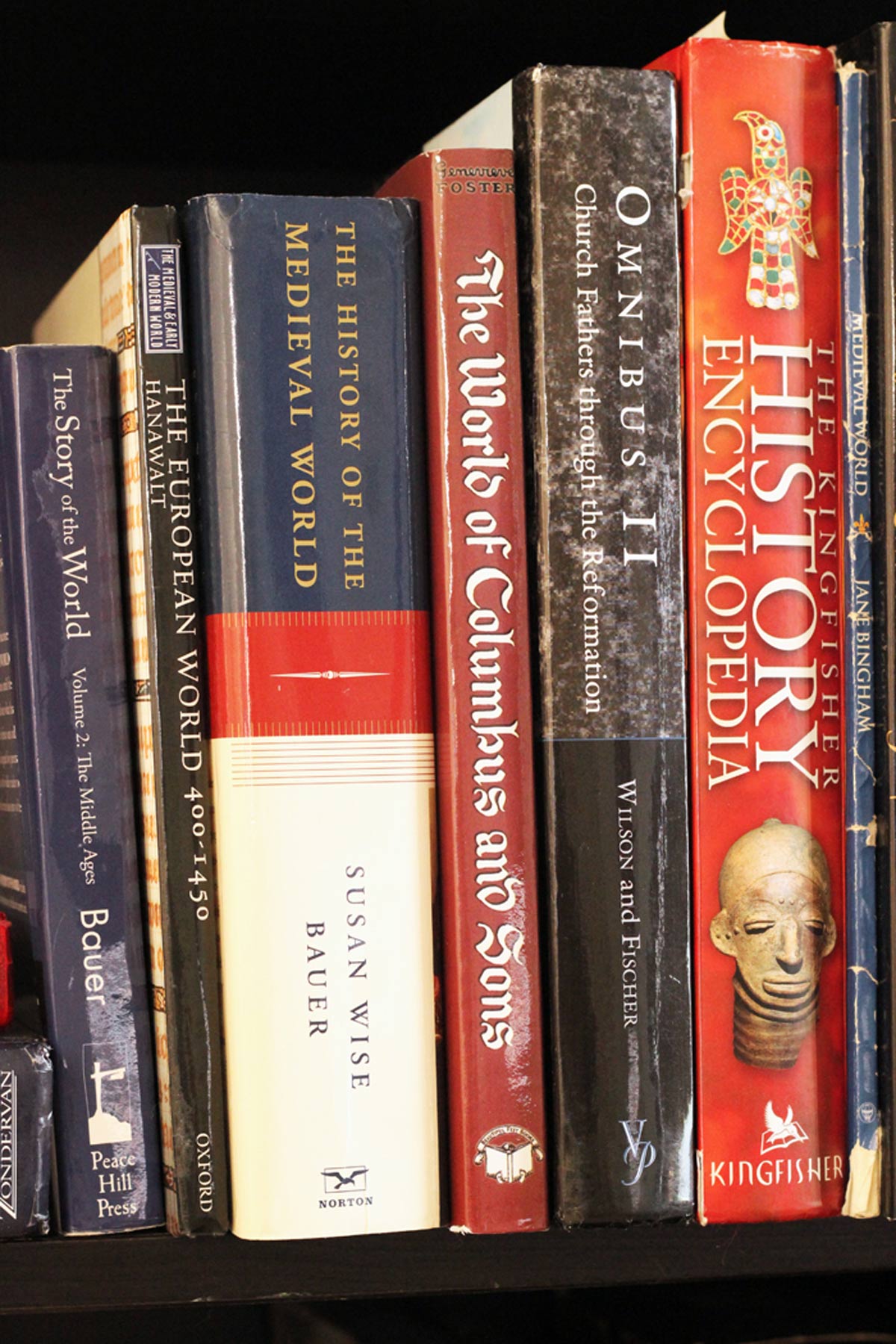 By Subject
Organizing homeschool books according to subject can work well, depending on how you present your curriculum.
Since we follow the classical approach to homeschooling, this works well for us. All the kids study the same era at the same time, but at each one's academic level. For me, keeping all the medieval books together makes sense so I combine the history and literature.
We have the following sections in our library:
science
math
French
history/literature by era
theology
Mom's shelf
fiction
travel
picture books
music books
logic
art
writing
You may want to label the shelves so that your kids can easily identify where each subject is stored.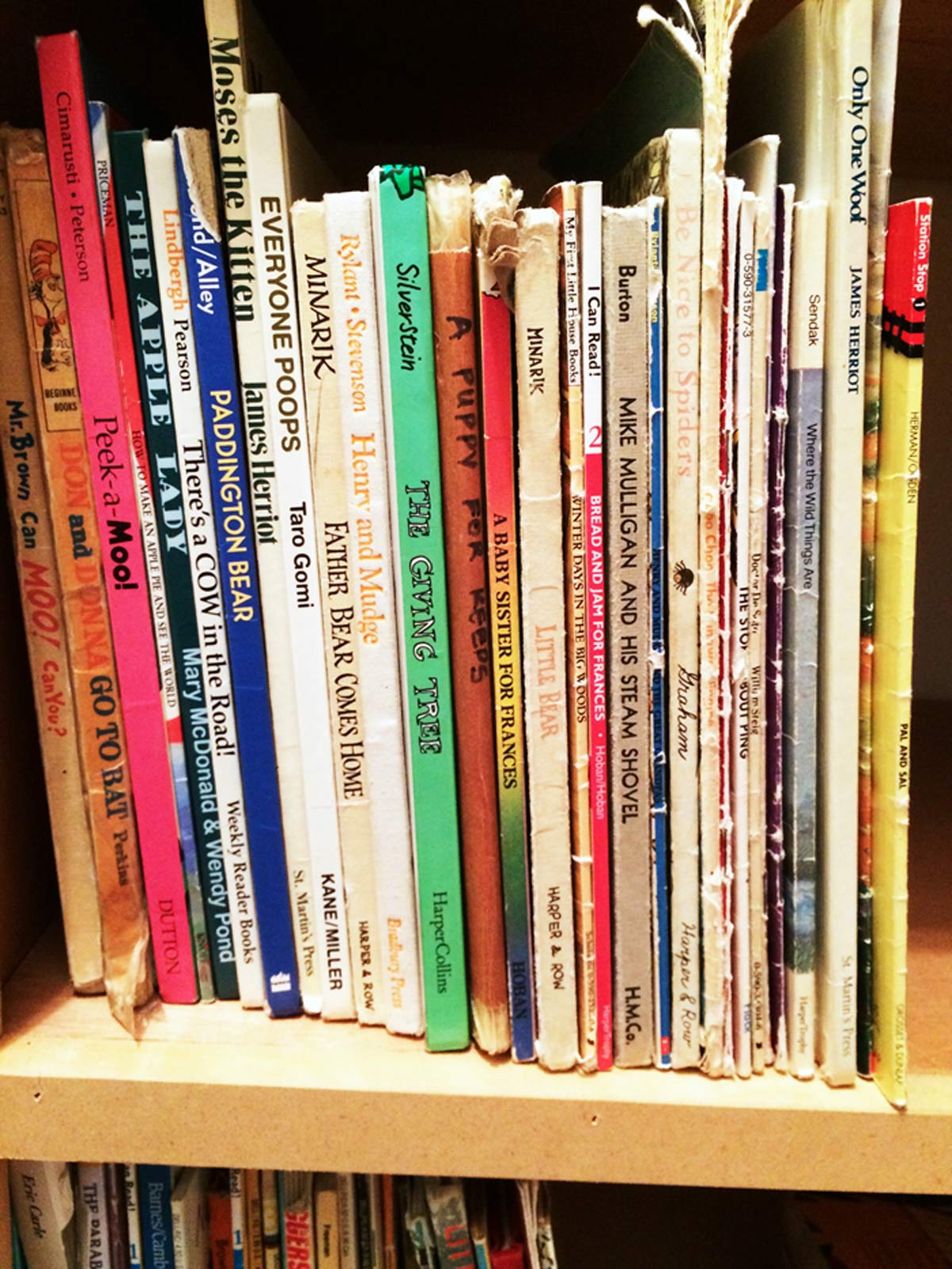 By Grade Level
Alternatively, you may prefer to store and organize books based on grade level so that as each child hits the next level, you can simply grab all the books you have for that age group.
Be sure to label shelves and sections so that you can easily locate each grade's books.
Pro tip for Picture Books
Years ago I read in an organizing book about making things easier to put away that take out. It's a brilliant idea if you can pull it off.
One way that we do this with children's books is to store them in clear Sterilite boxes on the book shelves. It's easier for little hands to toss them into the box than to line them up on a shelf.
And to retrieve a book, they just need to flip through the box like in a card file.
Keeping storybooks in these boxes also makes it easy to pull out a box to use in the car or bedroom or some other place in the house for easy reading.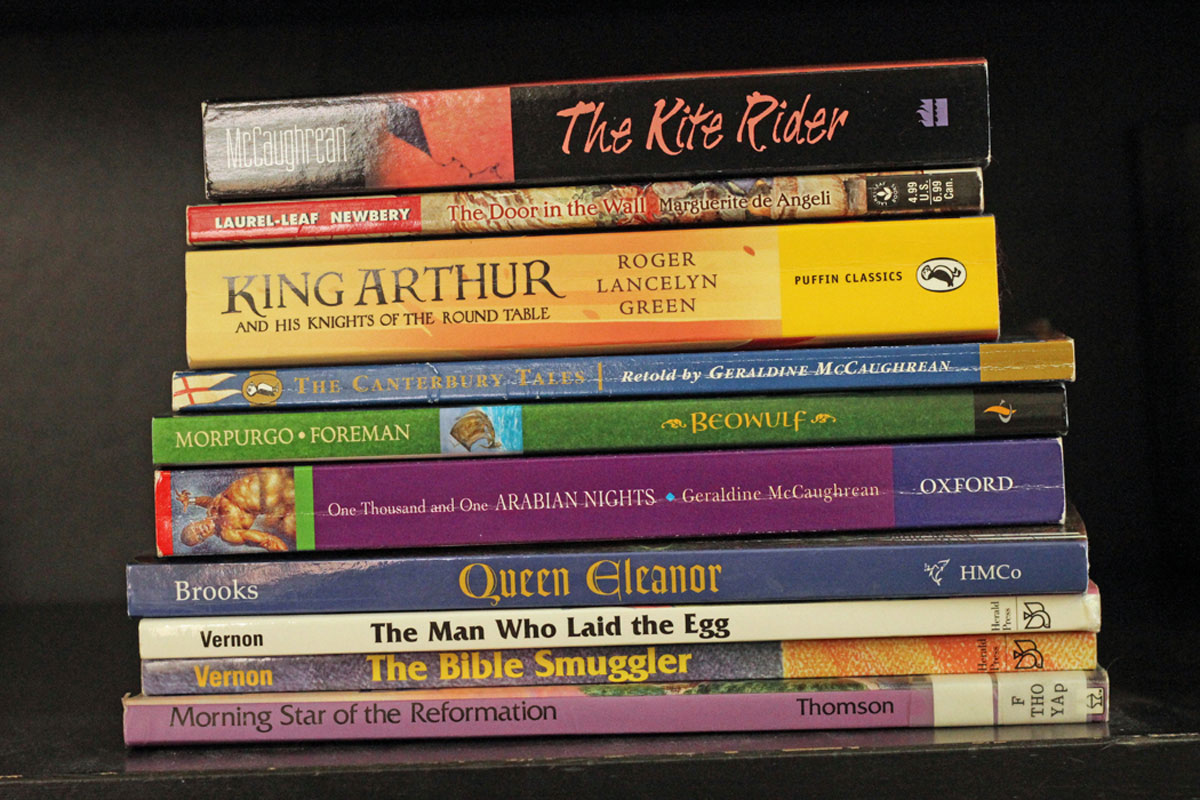 Cataloging & Tracking What You Own
Since I have an open space for storing all our books, I haven't felt the need to catalog our track what we own. However, if you're organizing books in boxes to store in the attic or garage, you may want to have a resource to help you keep track of what you have, especially if you're loaning books out.
You may want to try these apps:
When to Discard Books
You don't need to keep all books forever. Make room for new things and experiences — and less dust!
What they've outgrown
Eventually your kids will grow up and you won't need to keep all those homeschool books. As my own kids have moved beyond elementary and even middle school, I've slowly discarded the ones we no longer need.
If I haven't used it in the last four years, I kiss it goodbye. It's so hard to let go of books that I've paid good money for, but I know that they've served their purpose, even if it is show me that I don't need them.
With the exception of a few favorite books that I'm saving for someday grandkids, I sell or donate away what we don't need.
While most fiction books just don't sell well used, homeschool curriculum tends to hold its value if it's in good condition and not too outdated. Keep that in mind as you downsize your collection.
What can go digital
I've been surprised at how much I've whittled down of books in my personal collection. Once upon a time, I could have filled this home library with just my own books, but not anymore.
It's not that I don't love books, but I've realized that I can read (and reread) on the Kindle so easily.
Plus, since storage space is limited, it's more important to have school books instead of beach reads taking up real estate.
More Homeschool Tips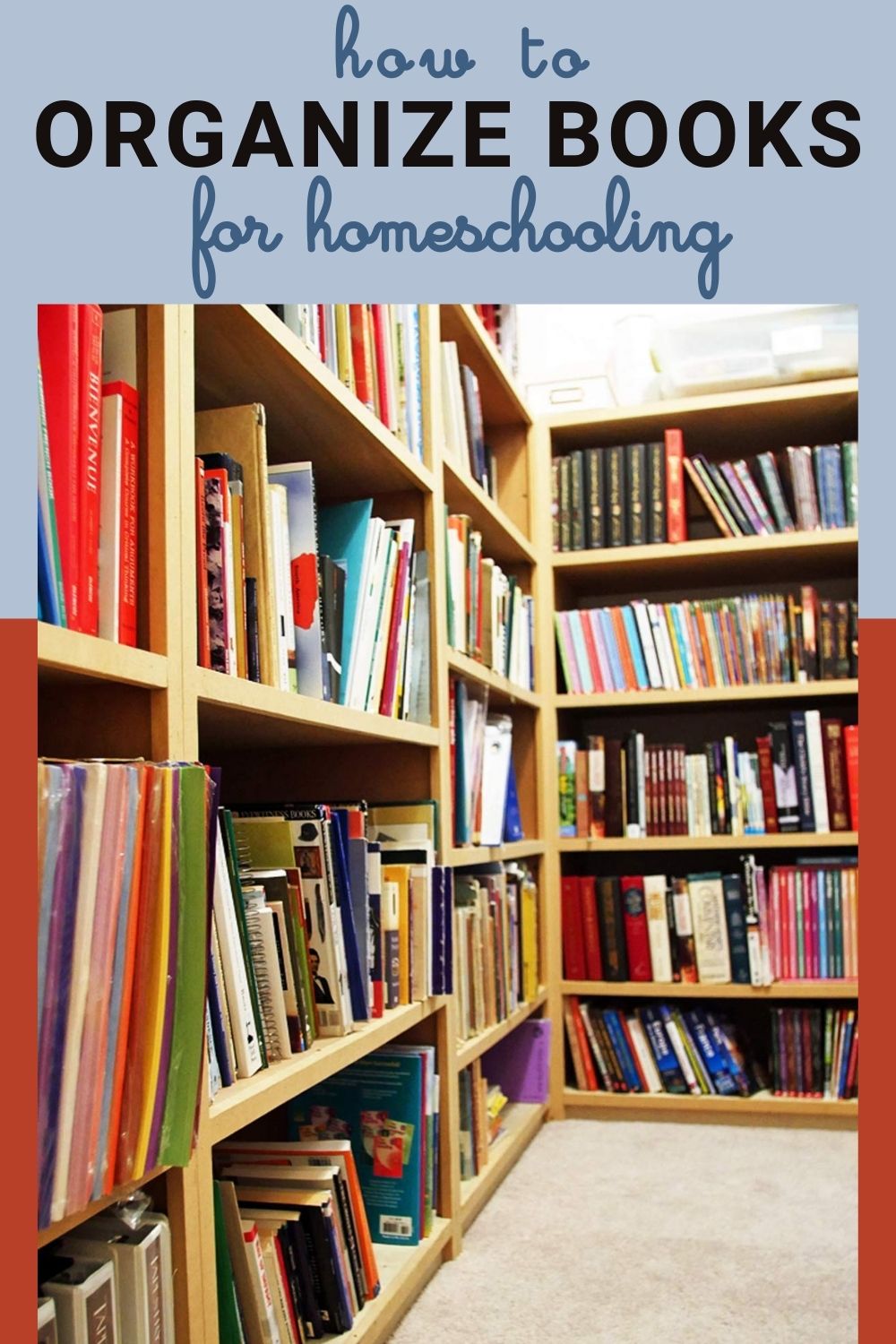 This post was originally published on June 29, 2016. It has been updated for content and clarity.