Display Your Child's Bouquet with a Mini DIY Flower Vase
As an Amazon Associate I earn from qualifying purchases. For more details, please see our disclosure policy.
Picking dandelions and buttercups is spring pastime that children — young and old — enjoy. Let your kids make their own vases for their bouquets with this simple craft from Life as MOM contributor Janel.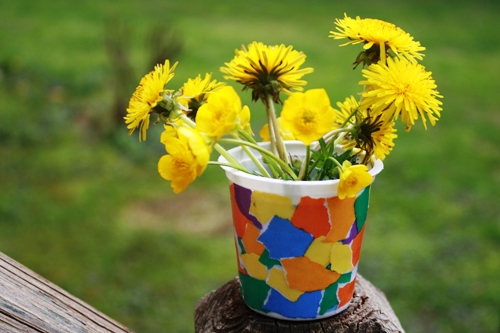 Photo Source: Janel
When I was a little girl, I loved picking dandelions. Now that I live in Virginia, I love picking buttercups…and so do my girls. Spring has finally arrived here and the grass is bursting with beautiful yellow flowers.
My youngest daughter loves picking a collection of the sweet little flowers when we drop off her big sis at the bus stop in the morning. Unfortunately, the stems of these little flowers are too small for a traditional vase. They are such a happy little burst of sunshine that it is a shame to see them wilt. So, we decided to make our own little vases so we can enjoy their beauty just a bit longer.
It's easy! You and your kids can do it too! I'll show you how.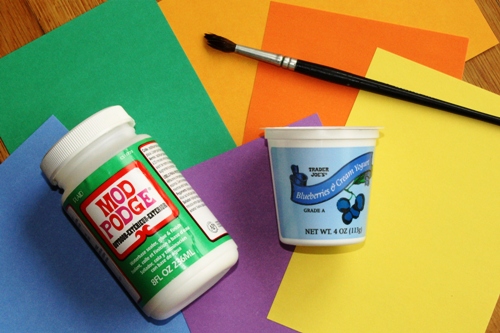 Supplies:
empty and clean plastic yogurt containers (I like the shape of the ones from Trader Joe's)
scraps of thick scrapbook paper
Outdoor Modge Podge (this will provide greater water resistance than regular Modge Podge)
paint brush
Directions:
Tear the scrapbook paper into small pieces. Using dark colored or thicker paper will help prevent any markings on your container from showing through.
Brush some Outdoor Modge Podge onto a small section of the plastic container. Place a piece of paper onto the Modge Podge and press firmly. Coat the top of the paper with some additional Modge Podge.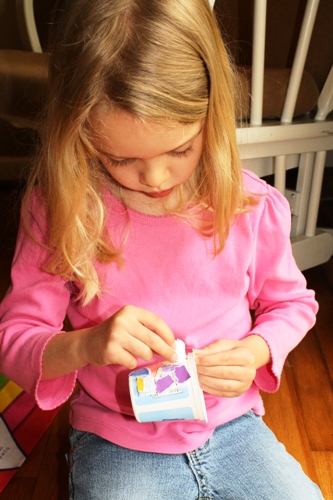 Repeat the process until you've covered your container with colored paper. Allow Modge Podge to dry.
If you wish, you can brush another coat of Modge Podge all over the covered surface of your container for additional protection. Allow to dry thoroughly.

–Janel is a stay-at-home mom of two daughters and a "law school wife" in Virginia. Raised in a budget-conscious and DIY-minded family, she blogs about motherhood, crafts, and living on a law school budget at Life with Lucie and Ella.