Laundry is one of my favorite jobs, particularly now that I've made it easy on myself. These tricks can help you transform your laundry situation as well.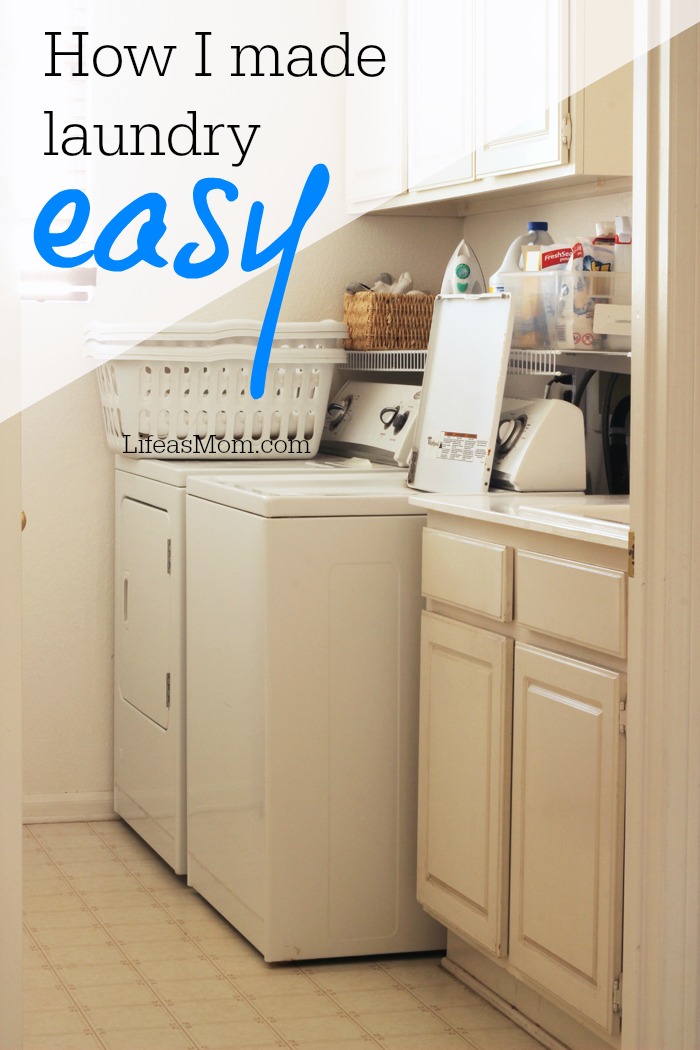 Laundry is an unavoidable job, unless you're Martha Stewart who has a decidedly gorgeous laundry room, but who probably doesn't need to actually do her own laundry. The rest of us do do the laundry, and in some instances it can be a drudge.
After years of struggling I finally came up with some laundry systems that have made laundry not only easy, but actually kinda fun!
While we sometimes get lax in the system, it's designed in a way that makes it easy to catch back up. I know your life isn't exactly like mine — or your laundry room — but I hope they'll help you think through your own laundry situation and find ways to troubleshoot it so that it's easy for you, too.
How I Made Laundry Easy on Myself
1. The laundry is only for one purpose: cleaning.
I decided a few years ago that I was tired of the laundry room becoming this giant holding tank for dirty clothes and linens. It just created chaos and I always felt like I was behind. It took repeating myself 5,432,765 times, but now that doesn't often happen. Each of the kids' rooms has a hamper as does each bathroom. If it belongs to you, it goes in your hamper, not the laundry room.
Please note, I did have to talk myself blue in the face, but I also won. Mostly.
2. I don't sort whites and darks.
My mother just about died when I announced that, but I don't sort colors from whites. We have not had any white underwear or socks turn pink, so I'm not worrying about it. Since we don't sort colors, each bedroom's tenants can do their week's laundry in one or two loads instead of three.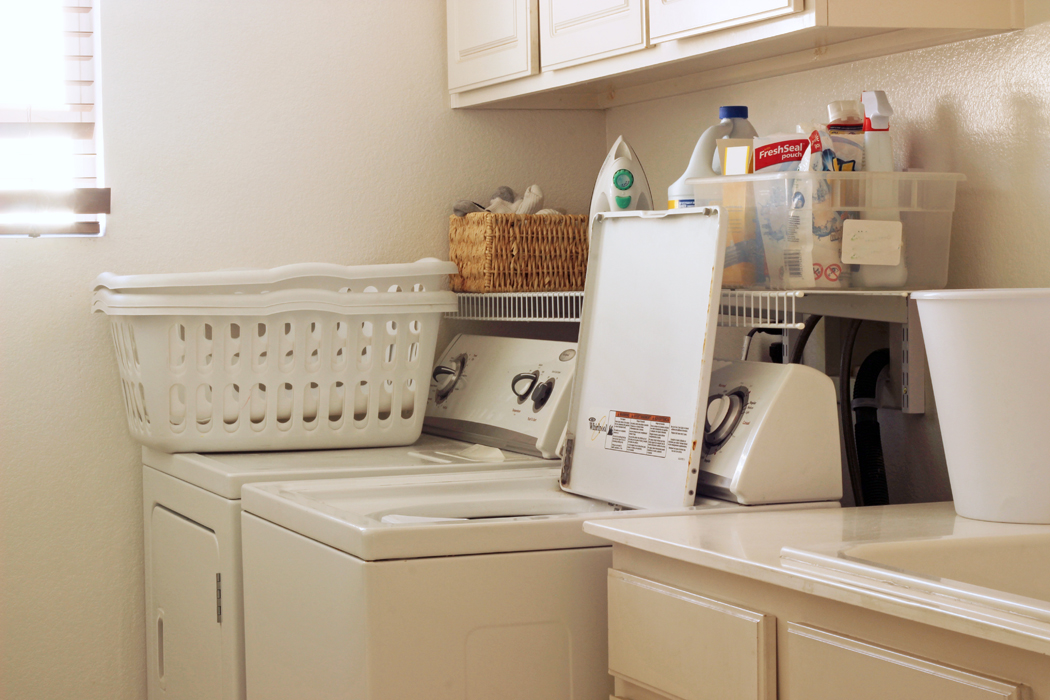 3. I don't sort anyone's laundry.
Instead of doing joint family loads — I used to do one load a day of everyone's clothes mixed up — we do loads based on person or bedroom occupants. The bigger boys, FishPapa, and I all have our own hampers, so we often do our clothes separate. The middles boys share a hamper as do the girls. But, sorting within a bedroom is much better than sorting for the whole household.
4. I don't wash the kids laundry.
The kids do their own laundry. I'm not sure how young you can test this, but we started the process when the girls were 6 and 4. They need a chair to reach into the washing machine, but they were able to do it. Amen, hallelujah.
I took a Sharpie and drew arrows on the machines to show them what buttons to push. Over two years later, the markings are only now starting to fade.
It's been a learning process, sure, but CAN I TELL YOU HOW FREEING IT IS?! Totally worth defacing my household appliances.
5. I buy laundry pods or strips.
Once the kids started doing the laundry, I realized that we needed to step away from the liquid laundry detergent. For awhile I used Dizolve laundry strips, but planning ahead for shipping from Canada was a pain. I now buy All Clear Mighty Pacs.
While the pre-measured laundry detergent may be a bit more expensive, it's probably a wash (punny?). The kids were either spilling so much of the liquid or pouring too much. This way, there's virtually no mess in the laundry room.
6. I made a laundry schedule.
Instead of everyone jockeying for position in the laundry room, I created a schedule and wrote it across the front of the washing machine.
Monday: parents
Tuesday: FishBoys11 and 13
Wednesday: FishChicks 7 and 8
Thursday: FishBoy14
Friday: sheets and towels
Saturday: FishBoy18
Sunday: emergency
Every person or pair of people has a day, as do the beds and bathrooms. I leave Sunday open for whoever missed their day or if we have a back up for some reason.
Again, this has taken a lot reinforcement, but it's been totally worth it!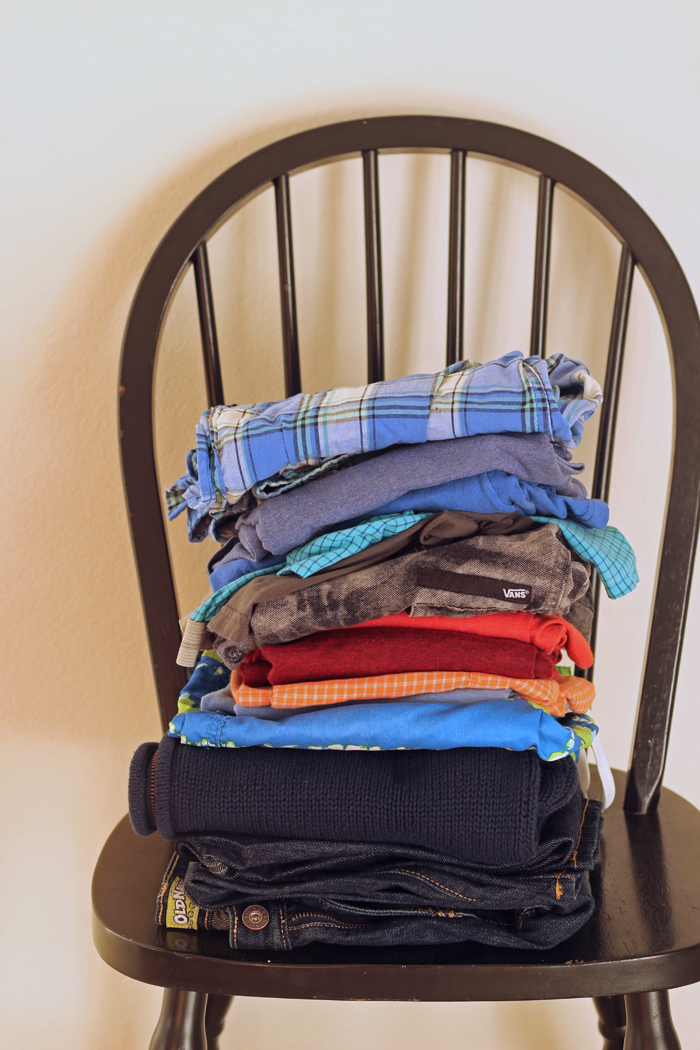 But what if you only have littles?!
I've been thinking about this question: what if you don't have big kids who can do their own laundry? In other words, what would I have done 12 years ago when everyone was six and under?
I'd still keep dirty clothes in the bedroom hampers and not in the laundry area.
I still wouldn't sort, unless it was a bunch of white onesies that needed bleach after too many blow-outs.
I'd keep each bedroom's occupants' laundry together instead of doing massive family piles that need to folded and separated.
I'd still have littles help me. My toddlers loved to put wet clothes in the dryer or fold towels.
I'd ask my husband to help me more. (I did a lot of things on my own in the old days. Neither of us realized how much. Now we know better. FishPapa does a ton of things around the house.)
Doing the laundry for a household all by yourself is hard, so don't knock yourself if your particular situation doesn't seem "easy". Work never really is. I guess after where I've been, this seems easier. And that's really all anyone can ask for.
Do YOU have a tip for making laundry easier?
Don't forget to read the whole series: Organization for Normal People.