To Be More Joyful: Watch Your Words
As an Amazon Associate I earn from qualifying purchases. For more details, please see our disclosure policy.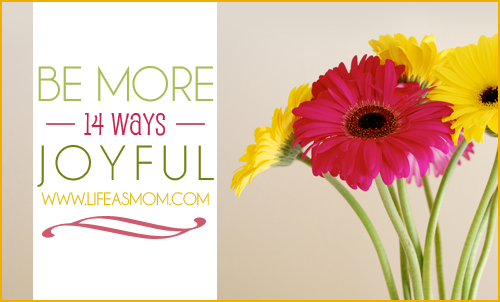 We've all heard about the dangers of the tongue. How we use (or don't use) our words has a tremendous impact on those around us as well as on our own attitudes. How we speak has a direct impact on how much joy we will find in life, especially "life as MOM."
Negativity Breeds More of the Same
A gentle answer turns away wrath, but a harsh word stirs up anger. — Proverbs 15:1
We know this to be true. If we speak harshly or even impatiently with others, chances are we won't get a cheerful response. Negative words beget more negativity. And quite honestly, that's no fun at all. For anyone.
What can I do when fiery words are on the tip of my tongue?
take a deep breath
walk away from the situation
count to 10
think of another way to say it.
These alternatives are easier said than done. But, if I think through the kind of situations that will tempt me toward angry words, I can think through a better response.
Wise Words with Others
Do not let any unwholesome talk come out of your mouths, but only what is helpful for building others up according to their needs, that it may benefit those who listen. — Ephesians 4:29
It matters how we say things to my kids. Many times we can be unaware that we're speakingly in less than uplifting ways. These days with children of varying ages and stages of development, I'm trying to weigh my words carefully and to say what I really mean.
Here are some examples FishPapa and I have learned over the years:
"You stink."
To a baby or toddler in need of a diaper change, "You stink," conveys the wrong message. It's good to help a child of this age to recognize a poopy diaper; that's a necessary part of toilet training. However, saying "Your diaper needs changing," more accurately conveys your meaning and doesn't confuse who your child is with the circumstances of his diaper. It's a subtle difference, but we've found that it helps in making our child feel loved and cared for.
"You're driving me crazy."
I often find myself lamenting to my toddler these words. She is into everything, all the time. Upon reflection, I'm realizing this isn't good for her or for me. The things that annoy me (inquisitiveness, exploration, growing independence) are the things that are developmentally appropriate for her. She's doing what a healthy toddler should be doing. To harp on the annoyance this causes me conveys to her, either through words or tone of voice, that I don't like who she is in this season of life. It also blocks me from truly enjoying this stage of her development. I'm not saying that I shouldn't correct and teach. But, if I stopped complaining, we'd probably both enjoy each other more.
"I love you, but…. (fill in your child's transgression)."
As humans, we tend to dwell on the last message we hear. The "I love you" can fall on deaf ears, while the "you messed up" message lingers, surely not how we want to help our children grow and develop. I've felt convicted to turn it around.
"You made a mistake, but I love you," is a much more powerful and encouraging message.
Clear Thinking About Yourself
How we talk to ourselves impacts how we feel about "life as MOM." I don't know about you, but these thoughts plague me:
I am such a rotten mom.
I sure messed that up.
I can't believe I always do that!
These are not messages that will help us grow and change. It's good for us to assess ourselves as moms and to determine how we're going to grow. But fixating on our blunders doesn't help us change.
Forgetting what is behind and straining toward what is ahead, I press on toward the goal to win the prize for which God has called me heavenward in Christ Jesus. — Philippians 3:13-14
Plan a different response for next time. Be hopeful for a different outcome:
I feel like a rotten mom because I was impatient and didn't hear the whole story. Next time, I will make an effort to listen better.
I sure messed up that outing, but next time I'll get us up earlier so that we won't be rushed and I won't be tempted to snap at the kids.
I often forget to spend individual time with each child, but next week I will schedule playtime/talk time with each one.
Obviously, none of us is the perfect communicator, nor the perfect mom. There is always room for growth in patience, kindness, and love for our families. Watching how we speak to others can significantly improve life as MOM as well as help us be more joyful.
How do YOU watch your words?