Make Jesus Cookies with a Nativity Bake Set
As an Amazon Associate I earn from qualifying purchases. For more details, please see our disclosure policy.
Baking and decorating Jesus Cookies is one of my kids' most favorite things to do every year.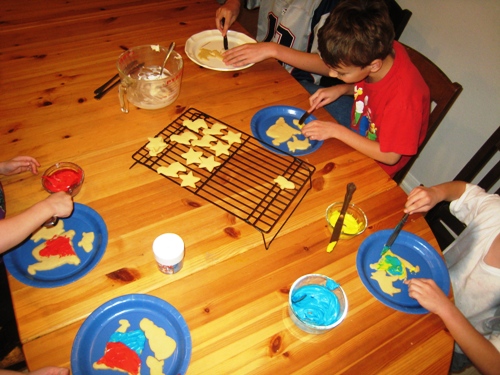 Want to save this post?
Enter your email below and get it sent straight to your inbox. Plus, I'll send you time- and money-saving tips every week!
Jesus Cookies are a highlight of Christmas for my kids. My mom bought us a Nativity Bake Set about ten years ago, and it seriously has been one of the best parts of our holidays — every year. Not only do my kids get to decorate cookies, but they get to do it while reviewing The Christmas Story.
For us it is a wonderfully easy and natural way to keep Jesus in the midst of our celebrations.
Some years, we've made the cookies with gingerbread cookie dough. And once we even went all out and used the cookies for a nativity display in place of a traditional gingerbread house.
The house smelled amazingly good that year as the spices from the homebaked cookies drifted throughout. Yum! This year my gingerbread was a major fail. More on that later….
So, we opted for Sugar Cookies. This recipe is one that my mom made for me and my siblings when we were children. I made it egg white-free this year by using two egg yolks instead of the whole egg. I also omitted the almond extract that she normally used in order to keep it nut free.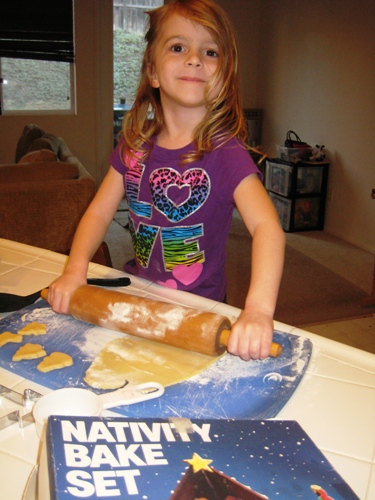 FishChick4 loved it when I said yes to her request to roll and cut the dough herself. I was hesitant, believe me. Efficient Mom and Yes Mom had a battle. Thankfully, the Yes Mom won — at least for one round of dough.
This is the bake set we've used for the past ten years. I was stunned to find it on Amazon. Yeah! I thought they had stopped making them. Our set looks like it's from the dark ages. I'm tempted to buy six sets so that my grandchildren can someday make their own Jesus cookies.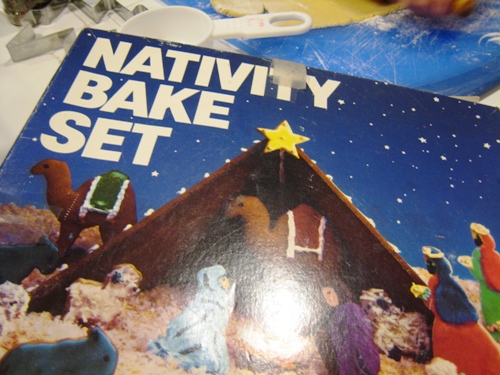 As I've mentioned before, "painting" your cookies with pastry brushes is the best way to let your little people decorate. However, I dumped those during this summer's Great Mouse Invasion and haven't yet replaced them. So, we used knives and very thick powdered sugar icing. And lots of sprinkles.
My kids had a blast decorating Jesus Cookies this year. Here's my mom's cookie recipe, adapted to be nut and eggwhite free.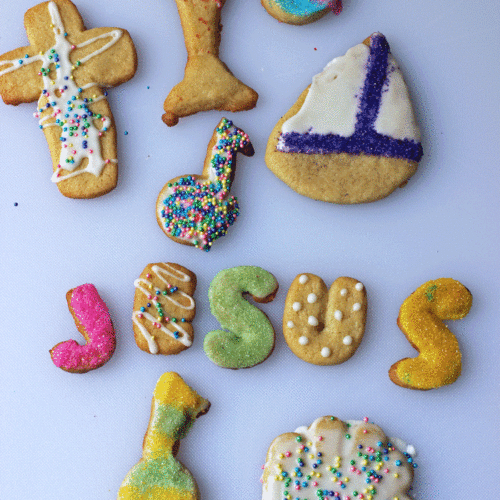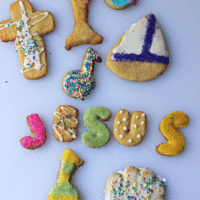 Print Recipe
Cinnamon Sugar Jesus Cookies
Celebrate Easter with cookies that represent Jesus' life and resurrection. These Cinnamon Sugar Cookies are super fun to make to celebrate the Easter holiday.
Ingredients
1

cup

sugar

1

cup

butter

1

egg

1

teaspoon

vanilla extract

2 1/2

cups

unbleached

all-purpose flour

1

teaspoon

baking soda

1/2

teaspoon

cinnamon
Powdered sugar glaze
1/2 cup powdered sugar mixed with enough milk to make a thin glaze.
Instructions
In a large mixing bowl cream together the butter and sugar. Beat in the egg and the vanilla extract. Add the flour, baking soda, and cinnamon and blend until well combined.

Chill for several hours.

Preheat the oven to 400 °. Line several baking sheets with parchment or silpat mats.

On a lightly floured surface, roll dough out. Cut with shapes.

Bake the cookies on the prepared sheets for 5 to 7 minutes. Cool completely on racks before glazing with powdered sugar glaze.

Place the cookies in layers separated by waxed paper in an airtight container; cover. Store at room temperature for 3 days or freeze for up to 3 months.
Notes
Nutritional values will vary based on the shapes and sizes of the cookie cutters you use as well as how much frosting you add.
What special cookie shapes do YOU use at the holidays?