7 Ways to Make Christmas Easier and More Fun with Toddlers & Babies
As an Amazon Associate I earn from qualifying purchases. For more details, please see our disclosure policy.
It's the most wonderful time of the year! And it can be — even with toddlers — if you consider these important points.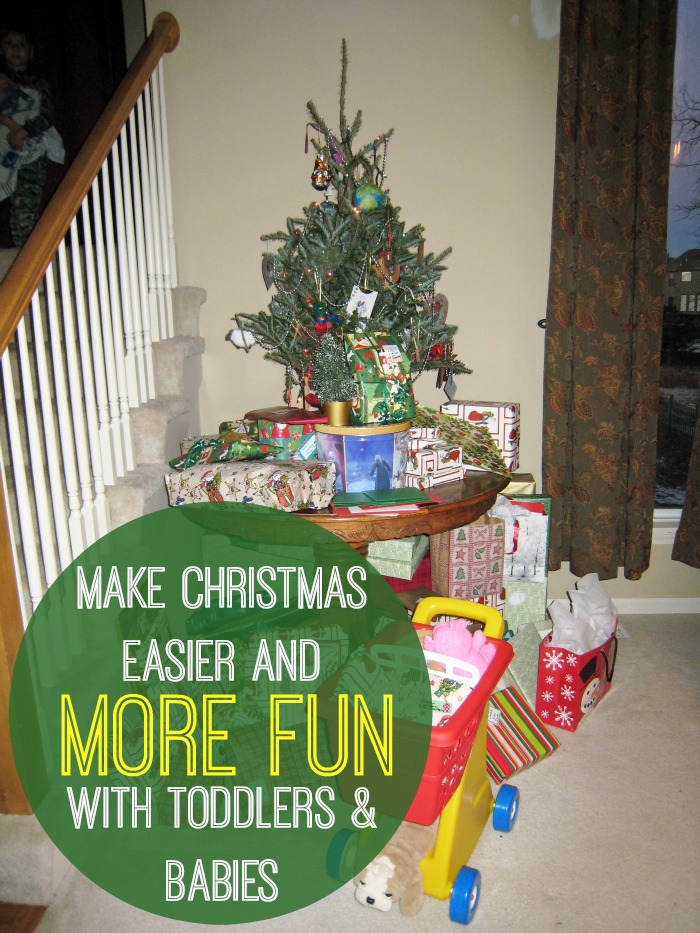 The holidays can be a wonderful time to reunite with friends and family, celebrate another year's passing, and to rejoice in what God has done.
It can also be a crazy time for little people. So much to see. So much to do. This is my 14th Christmas with a toddler in our midst. Rich times, to be sure.
Here are a few tricks we've learned to help our little people — and us — enjoy the season more.

Keep your routines
If at all possible, keep your routines the same during the holiday season. It may not be a big deal to you, but a wacky schedule can wreak havoc on your little people and their sense of peace. Whether you are at home or away, try to have regular naps and bedtimes.
Try to keep a few key practices as part of your daily routines. If you do a Morning or Evening High Five, keep those going to give stability to everyone. Have a few bedtime rituals that you keep even if you are out at parties and other events.
Stay home
That said, try not to drag your kids all over Kingdom Come. They'll do better if they're in calm, quiet surroundings. Be willing to say, "no," to one too many Christmas parties or other holiday events.
But, feel free to invite people over, just try not to go overboard. Limit the number of guests so that your little ones are not overwhelmed.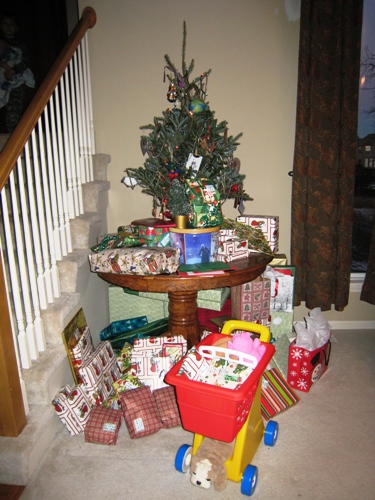 Get a tabletop tree
We have had a tabletop tree for 10 of the past 13 years. Not only are they less expensive than larger trees, but by placing it on the table, you keep it away from curious hands. The few years we have had a full-size tree, the bottom half was devoid of ornaments, though not by design.
With a tabletop tree, you also reduce your chances of 6-ft trees crashing to the ground. Check out these other safety tips for a refresher.
This is probably our last year with a toddler and therefore, a pint-sized tree, but who knows? Maybe I'll go back to it, anyway. It's smaller, easier, and in keeping with old Christmas tree traditions.
Feed the tree with ice cubes
My mother started this tradition when I was a wee lass. I grew up thinking everyone did this. But, no. Anyone I told raised his eyebrow in confusion.
Hand your kid a bucket of ice cubes to keep the tree watered. If they spill, it's no big deal. And little people can help keep the tree fresh. The ice will melt — hopefully in the tree stand — and water the tree.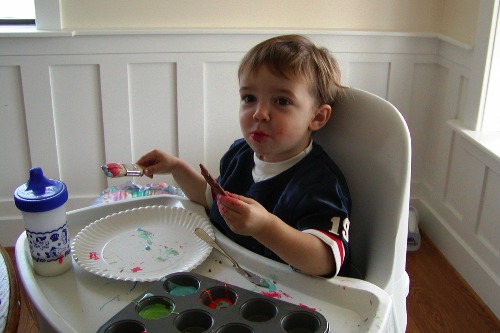 Paint your cookies with pastry brushes
Again, I have my brilliant mother to thank for this idea. We often decorated cut-out cookies when I was a child. Mom would place different colors of powered sugar frosting in the cups of a muffin tin and hand us brushes to decorate our cookies. So much easier than using knives.
I also recommend confining toddlers to their high chairs when this operation is underway. But, I bet you knew that already.
Avoid sugar overload
FishBoy13 lived a fairly sheltered life as our first born and our one and only for 3 1/2 years. We regularly limited his sugar. I was stunned the first time we let it get out of hand.
The child was a different creature due to a sugar overload. And I understood why they called it Kiddie Cocaine.

Lower the volume
Christmas can be noisy — if you let it. But, loud music, blaring tvs, and crying children do not a peaceful season make. Make an effort to keep noises low. I love Rachel's ideas for creating personal filters, especially at holiday time.
Avoid the noises that will make your holiday less peaceful for you and your children.
Limit the presents
I know. What a killjoy! But, really, most kids don't need half of the presents that they get at the holidays. And it's all too easy for the stuff to get out of hand.
Not only does this get in the way of appreciating good things, but it also distracts your little people. Too many toys makes it hard for them to choose. It adds confusion to their minds.
Obviously, not all gift-giving is in your control. Grandparents have been known to go overboard. But, once the presents are opened and thank you's are said, put a few away for another time and help your child play with one or two key items.
These are not fool-proof ways to have a happy holiday. But they do help.
More Holiday Help