10 Great Book Series for Kids – Perfect for Read Alouds
As an Amazon Associate I earn from qualifying purchases. For more details, please see our disclosure policy.
Want to get reading with your kids? Here are ten books series for kids that have been FishFam-tested. They make great Christmas gifts!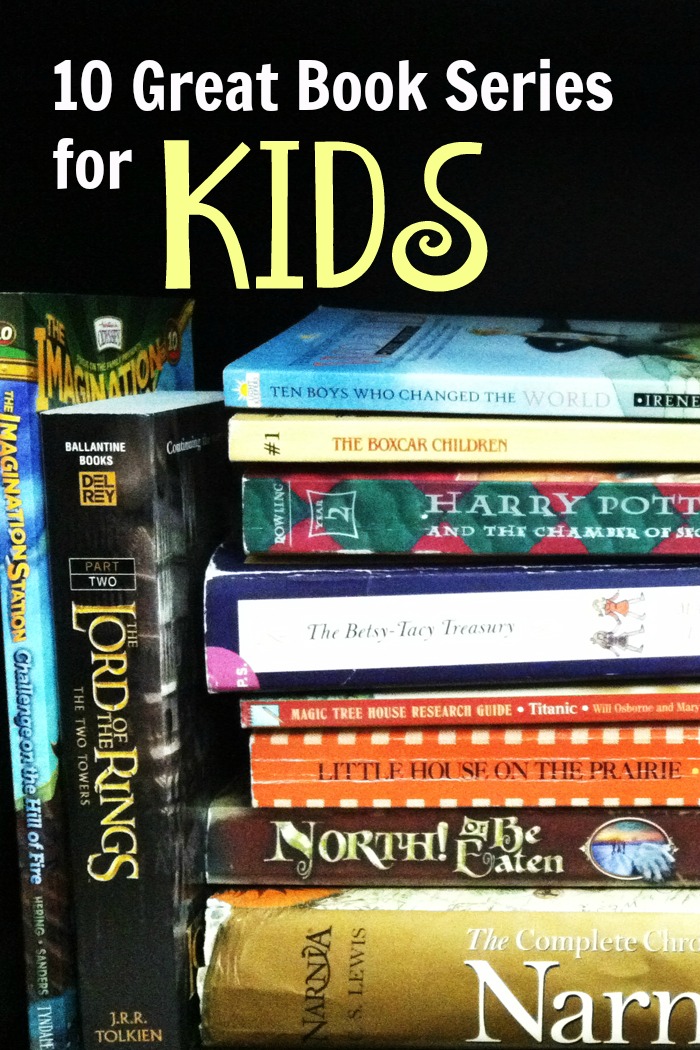 Want to save this post?
Enter your email below and get it sent straight to your inbox. Plus, I'll send you time- and money-saving tips every week!
Since I am a bookworm, it has always been really important to me that our kids love to read. FishPapa loves to read, so it sounded like an easy thing to swing. For the most part, it's working so far.
Everyone loves a good story.
We do have to do a fair amount of battling with electronic devices, but overall, they all like books, especially when we work through a series of books together as a family read-aloud.
I started reading longer chapter books to my eldest son when he was about four or five. It was such a wonderful experience for us. It's been harder to swing a read aloud as the years go by since my older kids can read on their own and don't have to or want to wait for me. But, most still love a family read aloud.
I can't always catch my teens in the same room, but I bet you they're listening.
10 Great Book Series for Kids
There's something about a serial adventure that attracts us all. Whether it's those addicted to Downton Abbey or a
reader waiting for the latest installment of his favorite hero story, we all want to see what happens next. Series books are great for family read-alouds since they encourage discussion and contemplation about how the adventure will continue in the next volume.
Here are some of the series of books that we've enjoyed together:
Head's up: This post does include Amazon affiliate links. If you make a purchase through those links, I am paid a small amount in way of advertising fees.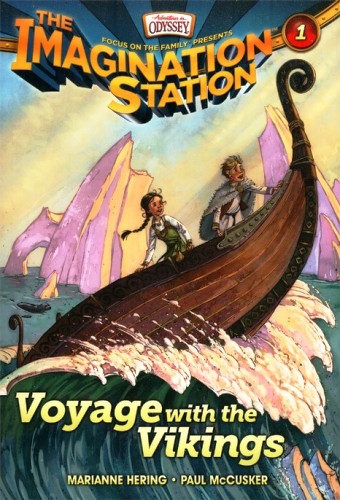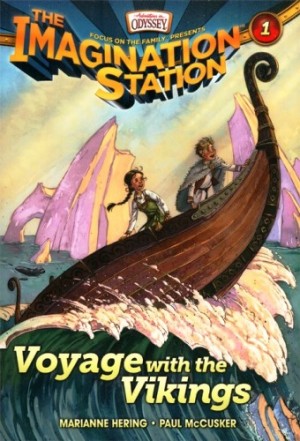 Imagination Station series by Paul McCusker – We've received review copies of the Imagination Station books since the series first began. My 8-year old has been thrilled with each new addition. He can read them himself, but he loves it when we read them together.
Each book is a step back in time by cousins Patrick and Beth as they set out on an adventure to help keep the past the way it's meant to be. We've enjoyed these books as a complement to our own homeschool history study.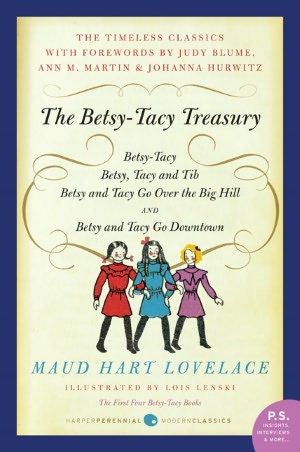 The Betsy-Tacy Treasury by Maud Hart Lovelace – I first read these books when I was in fifth grade. I would have started sooner had I known of their existence. My experience with this early 20th century series was reading out-of-print editions. How thrilled was I that they brought the books back into print so that I can read them with my girls.
The stories follow Betsy from age 5 all the way into adulthood. As she grows, so do the complexity of the stories and subject matter. I loved growing up with Betsy and her best friends Tacy and Tib.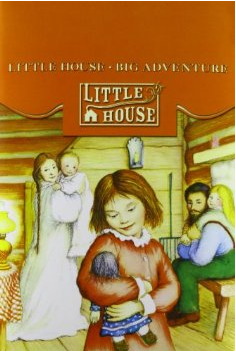 The Little House on the Prairie by Laura Ingalls Wilder – Most of us probably have been exposed to the Little House books in some form, whether it be the novels themselves or the television series that lasted far too long. (I'm sorry but it got really weird once Nelly Olson turned nice and all.)
Boys and girls alike will enjoy these stories. At least our kids have. Farmer Boy is a particular favorite from the series since the food descriptions are so yummy-sounding.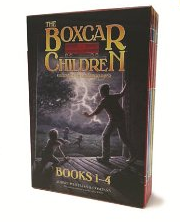 The Boxcar Children by Gertrude Chandler Warner – As soon as my boys could read indepently, these were the books that they were drawn to. The adventures of the  Alden  children, four orphans being raised by their grandfather. They solve mysteries together.
I've only read a small handful of these stories; I must have had a sheltered childhood. They are old, old stories that still hold sway with kids today. My boys have read them all.
The Magic Treehouse by Mary Pope Osbourne – This series of historical fiction/time travel is another one that my boys gravitated to as soon as they could read independently. In fact, FishBoy8 didn't know that he could read a book on his own until we sat down with MTH#1 and went through the first page together. He was stunned. And proceeded to finish the book that day.
These books are a fantastic complement to homeschool history study.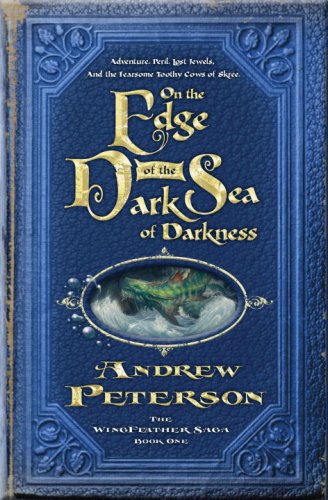 The Wingfeather Saga by Andrew Peterson – This book series ranks high on my list of favorite books, for adult or child. We were fans of AP's music, and are most definitely a fan of his novels. These are such good reads! Everyone in our family loves them, including Papa.
There are three books in the series so far: On the Edge of the Dark Sea of Darkness, North or Be Eaten, and The Monster in the Hollows. The fourth and final book should be released sometime this year. I can't wait.
The Chronicles of Narnia has been a favorite of mine since I was a newlywed. That was the first I ever read the stories. Remember, I lived a sheltered life. For being a childhood bookworm, I missed out on a lot of great books. I must have been too busy reading Sweet Valley High.
CS Lewis created a magical world in Narnia, but he also crafted a beautiful allegory about our relationship with God. These are must-reads for adults and children alike. The movies do not do them justice.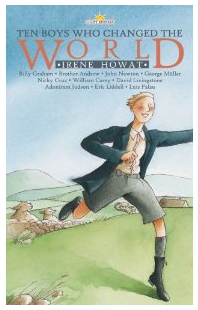 The Light Keepers series by Irene Howat has been a fun one for us to explore. Each book tells the biographies of ten boys or girls who made a difference, changed the world, used their talents, didn't give in, or who made history. It's great fun to read about great men and women who once were children.
For instance, Ten Boys Who Changed the World features the stories of Billy Graham, Brother Andrew, John Newton, George Muller, Nicky Cruz, William Carey, David Livingstone, Adoniram Judson, Eric Liddell and Luis Palau.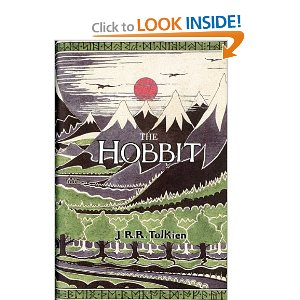 The Hobbit and The Lord of the Rings by JRR Tolkein are some of our family's favorite stories. I laugh about this fact today since I hated it that Mrs. Geary made us read The Hobbit in 8th grade. (Again, too much Sweet Valley High.)
These books have always started out as read alouds for the younger readers. They are immense and intimidating. FishBoy10 hasn't yet made it through LOTR even though he can devour ten books in a day. It's just a little overwhelming right now. I'm hoping we can tackle the story soon since I know that he's missing out on a lot of the story, even though the movies did an amazing job, all things considered.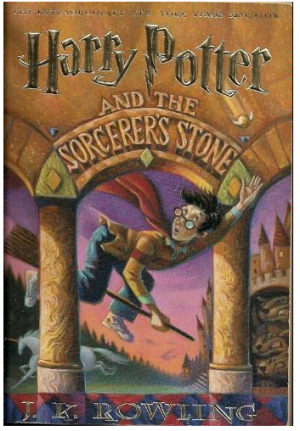 Harry Potter by JK Rowling – I was slow to allow Harry Potter into our home. It was about three years ago that my oldest son expressed his desire to read them and his frustration at my banning them. I agreed that we could read the first one together and then see. I also sought the opinions of folks that I know and respect who happened to have read the books.
I fell in love with the story as did my children. We read all the books in 12 months, just in time to see the last film be released at the movie theater. We have had a wonderful family experience working through the books.
If you're not sure about the books and how they might fit within a Christian worldview, I highly recommend this post by Andrew Peterson. The truth of Jesus is present in the book. He says it all way better than I could.
So, those are some of our favorites.
Do you have a favorite children's book series?
This post was originally posted on January 20, 2013. These books are still my favorites!