To Be More Joyful: Be a Yes Mom
As an Amazon Associate I earn from qualifying purchases. For more details, please see our disclosure policy.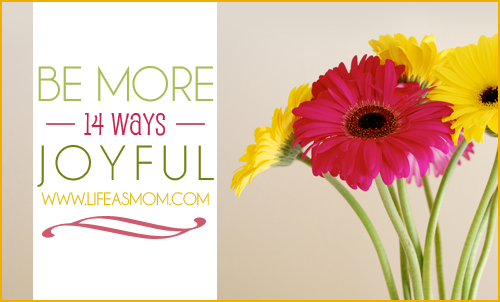 Unless you've got a nanny, a housekeeper, a chauffeur, and a chef, it's hard to manage a home and family–and still keep a smile on your face. But, it's worth trying. Because nobody wants a crabby mom.
Ain't that the truth?
I don't know about you, but for me, crabby can manifest itself in a whole lot of no's. No, we aren't going to the park right now. No, we aren't going to read that story. No, we aren't going to play a game.
No, no, no.
Hmmm…. methinks that doesn't sound much like peace, love, and joyfulness.
I'm not saying that there aren't instances when we should say no. NO is an appropriate response to many situations. No, you may not jump off the roof. No, you may not hit your sister. No, you may not talk to people that way.
But, too often the no's really mean "I don't wanna." At least at my house they do. I may be tired or overwhelmed by the tasks at hand. But, that's not my kids' fault. And sometimes, a break from the tasks at hand is necessary for everyone to get a better outlook. Myself included.

Say Yes When You Can

The Girl asked me one day if I would jump on the bed with her. At the risk of breaking the bed, I did. She was so happy. And it was actually kind of fun.
Over the last few months, three specific instances stand out in my memory as being some of my better YES-MOM moments: Magic Monkey Bananas, the DIY Smoothie Bar, and Tie-Dye Tshirts.
In each of those moments, I didn't have a good reason to say no to a request except my own laziness or "I-don't-wanna." God gave me the wisdom to say, "YES," instead and I think we were all blessed. It felt good to meet my children's requests enthusiastically instead of skirting them with a "Maybe later," or "Not today."
They were pleased and I was pleased. And it makes me think what joy God must take when He blesses us.
For everyone who asks receives; he who seeks finds; and to him who knocks, the door will be opened. Which of you, if his son asks for bread, will give him a stone? Or if he asks for a fish, will give him a snake? — Matthew 7:8-10
God always says yes to the things that He knows are good for us. He lavishes good things on us. And while we don't know perfectly how to do this with our children, I want to be more like Him in having an open hand with good things.
I want to be a Yes Mom.
** This is part of the series, 14 Ways To Be More Joyful.