Parenting a Child with Food Allergies
As an Amazon Associate I earn from qualifying purchases. For more details, please see our disclosure policy.
Food allergies are becoming more and more prevalent. Here's a little of what I've learned parenting a child with food allergies.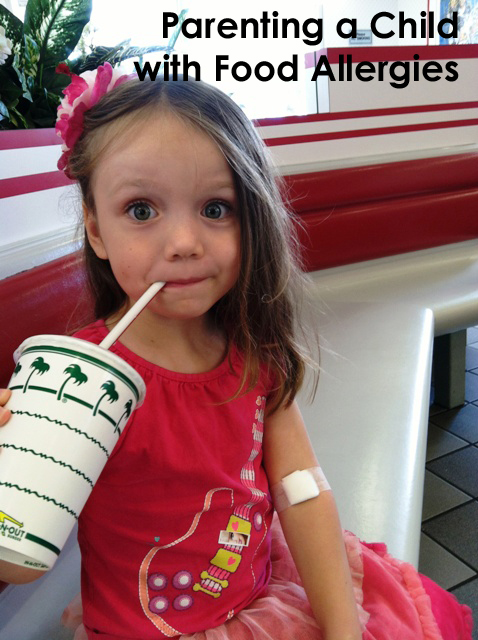 My mother-in-law was allergic to fish and nuts. In all the years I knew her she never had a reaction. She was very cautious about what she ate, but I don't recall her going to the allergist in the 15 years or so that I knew her. She'd been diagnosed as a young child and had steered clear from those forbidden foods.
About four years ago, our youngest started showing signs of possible food allergies. I kept her away from the suspect, peanuts. About a year later she had blood allergy testing after an episode of hives. It came up positive for a number of things, including eggs, peanuts, and a handful of other nuts. At the time, the pediatrics group we were with felt they could handle it themselves. They just said not to let her have those things.
We kept FishChick (now 5) away from all nuts, peanuts, and eggs for 2 1/2 years until a visit to the doctor prompted a conversation about the food allergies. One of the pediatricians claimed that he didn't believe she was truly allergic to any of those things unless she had had a reaction. The only known reaction we were sure about was peanuts.
He gave the okay for her to eat all the other things on the list. [cue: warning bells]
Because we didn't know any better, we did. Thankfully, she consumed many things, including eggs and Nutella without any adverse reactions. We still kept peanuts at bay, but I loosened my no-nuts in the house restriction. Family even gave us a huge bag full of walnuts that the boys relished in cracking open with a hammer.
In the first few months our girl was pretty hesitant to try any of these items. For so long, we'd drilled it into her that she shouldn't have those foods, she was super cautious. Even once she knew things like nutella were safe, she still opted out of things, including those walnuts. She just didn't want them.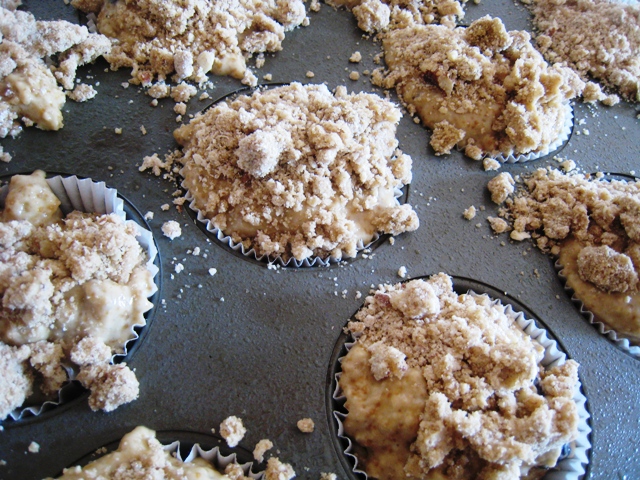 Back in August, I was doing a slough of recipe testing, including Banana Walnut Muffins. Since we'd had nuts in the house, I didn't really give it a thought. She ended up having a severe allergic reaction within minutes of eating two bites of muffin.
Several hours and many drugs later, we were back home from the doctor's office and the pharmacy. Not only was I equipped with an epinephrine injector, but I also had a referral to an allergist. At my request.
In retrospect, I should have insisted on this back in December. My girl could have had a negative reaction at any time of day, anywhere, and we might not have been able to get to Benadryl and a doctor so quickly. I am beyond thankful that God spared her from a worse fate than a night drugged out on antihistamines.
We proceeded to spend a month going back and forth to the allergist and to labs. In the final analysis, we discovered that she is severely allergic to dust mites and most definitely allergic to peanuts and walnuts.
Here are some of the things that I learned about having a child with food allergies over the last few months:
1. You must be your child's advocate.
I wish that I had asked for a referral in December, or even 3 years ago. Clearly, our pediatricians weren't willing to refer us — until I requested it. I assumed that if it were serious, they would automatically do that. Perhaps some doctors do, but ours didn't. This is the same medical practice that refused to xray my hip, so I've chalked it up to inadequate medical providers and moved our care elsewhere.
I'm thankful that we have the opportunity to move our care. I know that isn't always the case for everyone. Regardless, you need to stick to your guns and make sure your child gets the testing and care he or she needs.
Our allergist (not part of that medical group) is a Christian mom of four who drives a Honda. She gets me! I'm so thankful that we are in her hands.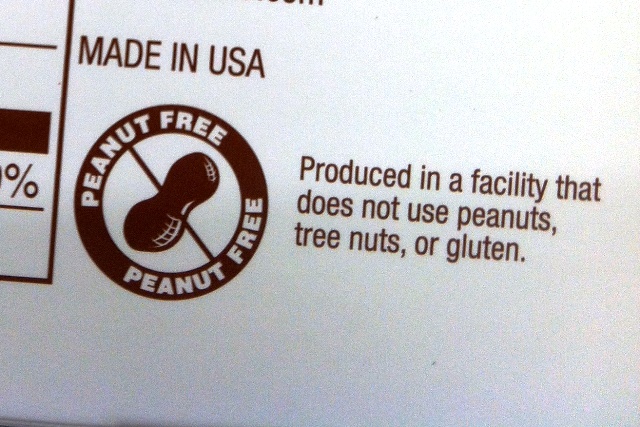 2. You must read every label.
No longer can I just blindly pick things off the shelf. Even if a food item has no nuts, that does not mean it can't be cross-contaminated at the manufacturing facility. Even a take-and-bake pizza had a warning label on it that it was made on equipment that also processed peanuts and tree nuts.
It's been a real challenge to forge ahead. Good thing I like making homemade food!
The irony of all this is that I read the label now for nuts and peanuts, where as before I was concerned about the quality of ingredients. My brother bought the kids donuts. While they were nutritionally corrupt, at least they wouldn't prompt an allergic reaction. I find myself very frustrated with our food system these days.
It's not that she was never allergic to peanuts and now she is. She was always allergic to peanuts, and we always knew that. But, we didn't realize how severe the allergy was until they tested her in the office with real peanut butter. Her lips swelled and her breathing was compromised within 5 minutes of swiping her lips with peanut butter.
As far as I'm concerned, that is poison, and this mama is on red alert.
3. You must be patient but firm with others.
That said, though I am indeed, on red alert, I realize that I need to be patient with others who might not have a memory of racing around the house in search of Bendryl when my daughters lips were swelling so that she looked like one of the Wonder Pets. Many people just don't understand the severity of this allergy.
They also might not have it on their radar like I do. A family member offered peanut-coated ice cream cones to the kids one day, not remembering that there were PEANUTS in them. It's an easy mistake to make, but back to rules number 1 and 2: advocate and read labels!
I need to be as kind and as patient as each situation will allow.
4. You must find your own level of comfort.
I laughed when the nurse started to hand me the brand new bottle of peanut butter we had brought for the in-office challenge. No thank you, ma'am, that belongs to you all now. In her mind, my other kids could have it.
I'm not comfortable with that. I'm not ready to risk that, especially with a product so smeary and greasy.
The doctor and I spoke about this at length. Her counsel as well as that of friends is to find where I feel comfortable. While the doctor herself might feel okay with shared equipment warnings, she wasn't going to push that on me. I need to do my own research, read lots of labels, and make an informed decision about my child's health.
I am super thankful that we know which food allergies we are dealing with. I'm thankful that we have the Auvi-Qs to treat her in the case of an emergency. I'm thankful that we have a great allergy specialist who understands my life as mom. What a blessing that we live in a world where food allergies can be diagnosed, treated, and where allergens can be avoided thanks to clear labeling of products.
I don't have it all figured out. I'm only a couple months into this. Well, three years and a couple months. It is not easy. I hate to tell my girl no or to have to find an alternative product when I'm shopping.
What's YOUR experience with food allergies?
Related posts on Life as MOM or Good Cheap Eats: